COVID-19 Timeline at NIH (JANUARY-FEBRUARY 2021)
COVID-19 Research and Activities at NIH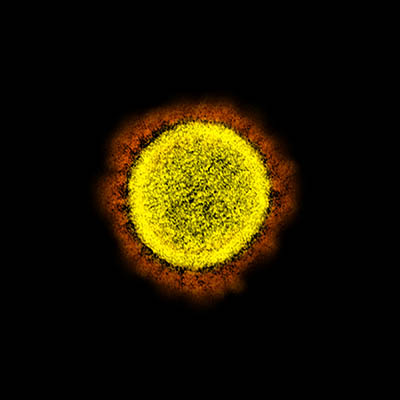 January 5: NIH announces that a large clinical trial, sponsored by NIAID, will test combination monoclonal antibody therapy for people with mild to moderate COVID-19.
January 8: NIH launches a website outlining the COVID-19 Vaccination Plan for NIH Staff.
January 12: NIH Director's blog post is about the journal Science's announcements of breakthroughs of the year for 2020. The biggest breakthrough for 2020 was the development of COVID-19 vaccines. Science also selected nine runner-up breakthroughs, three of which "involved efforts supported by NIH: therapeutic applications of gene editing; basic research understanding HIV, and scientists speaking up for diversity," according to the blog post.
January 15: Seventh Virtual Town Hall is held to discuss the NIH COVID-19 Vaccination Plan. Videocast link (NIH only): https://videocast.nih.gov/watch=41396.
January 15: President-elect Joseph Biden announces key members of his White House Science Team and asks Francis Collins to remain as NIH director.
January 19: NIAID Director Anthony Fauci and others receive their second COVID-19 vaccine.
January 19: HHS Secretary Alex Azar gives the HHS State of the Department address in which he highlights NIH's accomplishments in fighting COVID-19 and developing the vaccine to fight it. This is his final address before leaving office on January 20 when President-elect Joseph Biden and Vice-President-elect Kamala Harris will be inaugurated.
January 20: Inauguration of President Joseph Biden and Vice-President Kamala Harris.
January 21: NIAID Director Anthony Fauci is immediately integrated into the White House COVID team. In December 2020, Biden had asked Fauci to serve as his chief medical advisor and on his COVID team.
January 21: Eli Lilly announces that the phase 3 BLAZE-2 COVID-19 trial (conducted in partnership with NIAID) showed that prophylactic use of its monoclonal antibody bamlanivimab (LY-CoV555) reduced the risk of contracting symptomatic COVID-19 among residents and staff of long-term care facilities by as much as 80%.
January 22: In his email message to staff, NIH Director Francis Collins shares all kinds of COVID-related news and updates on the COVID-19 Vaccination Plan for NIH Staff. "Until we receive additional vaccine from state health departments in the states where we have facilities, staff may see a slowdown in vaccination scheduling for first doses. We ask for your patience as we await additional supplies," he writes. He also advises that people who are 65 years of age check with their county health departments to see if they are to receive a vaccine there. The goal is to have staff vaccinated as soon as possible.
January 22: NIH announces the results of an arm of the Accelerating COVID-19 Therapeutic Interventions and Vaccines (ACTIV)–4 inpatient trial, part of an international study, showing that administration of full-dose heparin provided significant benefit to moderately ill hospitalized patients with COVID-19 compared with the more traditional use of low-dose heparin. This trial was mounted by NHLBI through the ACTIV partnership, motivated by observations that COVID-19 induces a state of overactive blood clotting that can contribute to bad outcomes.
January 26: Vice President Kamala Harris and Second Gentleman Douglas Emhoff receive their second doses of the Moderna COVID-29 vaccine, known as mRNA 1273, at the NIH Clinical Center. After the event NIAID Director Anthony Fauci joins the Vice President and Second Gentleman in filming a public service announcement to build confidence in COVID-19 vaccines.
January 26: NIH launches a database to track neurological symptoms associated with COVID-19. The new NINDS-supported database—COVID-19 Neuro Databank/Biobank (NeuroCOVID), which was created and will be maintained by NYU Langone Health, New York City—will collect information from clinicians about COVID-19-related neurological symptoms, complications, and outcomes as well as COVID-19 effects on pre-existing neurological conditions. The database will be a resource of clinical information as well as biospecimens from people of all ages who have experienced neurological problems associated with SARS-CoV-2 infection.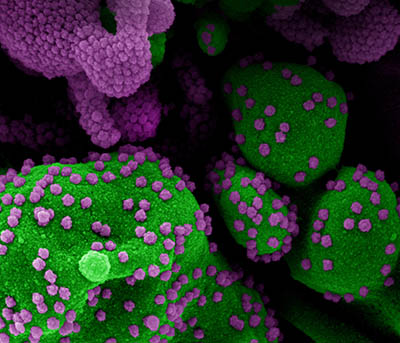 February 8: An international phase 3 clinical trial, part of the NIAID-supported Accelerating COVID-19 Therapeutic Interventions and Vaccines (ACTIV-3 inpatient master protocol), will evaluate the safety and efficacy of ADZ7442, a combination of two investigational long-acting monoclonal antibodies developed by AstraZeneca. Initial participants will be hospitalized patients with mild-to-moderate COVID-19 and fewer than 13 days of symptoms.
Week of February 8: Other trials for therapeutics for COVID-19 are underway. This week, NIAID announces the start of five substudies under two master protocols of the Accelerating COVID-19 Therapeutic Interventions and Vaccines (ACTIV) partnership. This brings the total ACTIV and ACTIV-associated trials to 27 studies testing 20 therapeutic agents, with several already showing promising results. NIAID also announces the addition of four substudies under the ACTIV-2 outpatient protocol to test interventions for safety and efficacy in participants who have tested positive for SARS-CoV-2 within 10 days and started experiencing symptoms within 8 days of enrolling, but do not require hospitalization. Participants also must have a risk factor that puts them at higher probability of progressing to severe COVID-19. The investigational agents being tested are SNG001, an inhalable beta interferon developed by Synairgen that is delivered by nebulizer; AZD7442, a long-acting monoclonal antibody combination developed by AstraZeneca that will be studied as both an infusion and an intramuscular injection; and camostat mesilate, an orally administered serine protease inhibitor developed by Sagent Pharmaceuticals that may block SARS-CoV-2 from entering cells.
February 9: Walter Reed Medical Center (Bethesda, Maryland) provides doses of both the Pfizer and the Moderna vaccines to NIH to help with the shortfall of vaccines.
February 10: In a Journal of the American Medical Association "Viewpoint" essay by NICHD Director Diana W. Bianchi and colleagues, NIH calls for greater inclusion of pregnant and lactating people in COVID-19 vaccine research. (JAMA 2021; DOI:10.1001/jama.2021.1865).
February 11: President Joseph Biden visits NIH's Vaccine Research Center (NIAID) and later gives a virtual presentation to NIH employees thanking everyone for their important work on COVID-19: "On behalf of a grateful nation, I want to thank you and your families for your work and sacrifice." He also talks about his plans to expand the distribution of the COVID-19 vaccine.
February 11: NIH receives 2,400 doses of the Pfizer vaccine through the federal supply chain.
February 12: In an NIDDK-led study, published today in the Biophysical Journal, researchers found that facemasks substantially increase the humidity in the air that the mask-wearer breathes in. This higher level of humidity in inhaled air, the researchers suggest, could help explain why wearing masks has been linked to lower disease severity in people infected with SARS-CoV-2, because hydration of the respiratory tract is known to benefit the immune system. (Biophys J 2021; DOI:10.1016/j.bpj.2021.02.002)
February 12: In his email to NIH staff, NIH Director Francis Collins announces that "We expect that the federal supply chain will be our primary source of vaccines moving forward."
February 12: NIH Director Francis Collins also announces, in his all-staff email, that the genetic sequencing of SARS-CoV-2—in NIHers who have tested positive for COVID-19 and have given consent—initiative, led by NIAID Senior Investigator Elodie Ghedin, identified one case of B.1.351 (the South African variant) and one case of B.1.1.7 (the U.K. variant) out of 108 samples tested. Collins also recommends that all nonclinical staff in high-exposure situations follow new guidance from the CDC on how to improve mask fit and the use of a cloth mask over a medical-grade mask to improve protection from these fast-spreading variants.
February 12: Enrollment has begun to test additional investigational drugs in the NIAID-sponsored Accelerating COVID-19 Therapeutic Interventions and Vaccines (ACTIV) program.
February 12: In an editorial published today in JAMA, NIAID Director Anthony Fauci, John R. Mascola, director of NIAID's Vaccine Research Center (VRC), and Barney S. Graham, deputy director of the VRC, outline how new COVID-19 variants have arisen, concerns about whether current vaccines will continue to protect against new variants, and the need for a global approach to fighting SARS-CoV-2 as it spreads and acquires additional mutations. (JAMA 2021; DOI:10.1001/jama.2021.2088)
February 12: A new study, supported by NIMH, has identified early risk factors that predict heightened anxiety in young adults during the COVID-19 pandemic. (J Am Acad Child Psy 2021; DOI:10.1016/j.jaac.2021.01.021)
February 17: NICHD announces the launch of a new study to evaluate the effects of remdesivir in pregnant women who have been prescribed the drug to treat COVID-19. The study will be conducted at 17 sites in the United States and Puerto Rico.
February 24: NCI study finds that people with SARS-CoV-2 antibodies may have a low risk of future infection. (JAMA Intern Med 2021; DOI:10.1001/jamainternmed.2021.0366)
February 26: In his all-staff email, NIH Director Francis Collins announces that this week NIH received 4,400 doses of the Moderna vaccine—3,400 doses from the federal supply chain plus 1,000 doses from the Maryland Health Department.
February 26: Today the FDA Advisory Committee is reviewing the results of a phase 3 clinical trial of the single-dose Johnson & Johnson/Janssen COVID-19 vaccine.
February 27: The FDA issues an Emergency Use Authorization (EUA) to the Janssen Pharmaceuticals Companies of Johnson & Johnson for its single-shot COVID-19 vaccine, called Ad.26.COV2S or JNJ-78436725. NIAID and the Biomedical Advanced Research and Development Authority, part of HHS, supported late-stage clinical testing of the vaccine. The Johnson & Johnson vaccine, which can be kept in regular refrigerators and does not require the ultracold storage that the Moderna and Pfizer vaccines do, is a recombinant vector vaccine that uses a human adenovirus to express the spike protein found on the surface of the SARS-CoV-2 virus that causes COVID-19. It is the third COVID-19 vaccine in the United States to be granted an EUA by the FDA.
This page was last updated on Tuesday, February 15, 2022