Announcements
FAES BOOKSTORE (IN BUILDING 10) TO REOPEN ON MARCH 29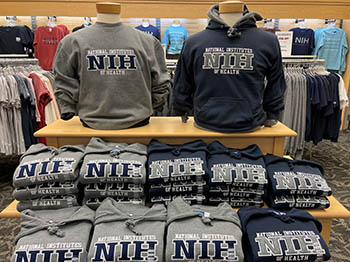 The Foundation for Advanced Education in the Science (FAES) is happy to announce that the FAES Bookstore in Building 10 (just down the hall from Masur Auditorium) will reopen at 10:00 a.m. on Monday, March 29, 2021. They are excited to welcome customers once again and have worked diligently with the Office of Research Services Division of Occupational Health and Safety experts on the proper protocols to protect everyone's health and shopping experience. They are practicing all safety measures, including limiting the total number of shoppers, so please be patient with them as they do what they can to service each customer safely. The store will be open weekdays from 10:00 a.m. to 4:00 p.m. (Customers can also still shop online anytime at www.shopfaes.com and choose in-store pickup as an option.)
As a bonus, the store will be running many different promotions until June, with many clothing and gift items 25% off (or more).
If you have any questions about the FAES Retail stores, please contact the retail team at faesbookstore@nih.gov, or contact FAES' Retail Program Manager, JT Knight-Inglesby (jt.knight-inglesby@nih.gov), directly. The FAES loves feedback and suggestions about potential new items for every occasion, so please feel free to reach out, and let them know your ideas!
---
UNITE
Ending structural racism and promoting racial equity and inclusion
On March 1, 2021, NIH Director Francis Collins announced a new NIH initiative called UNITE to end structural racism and racial inequities in biomedical research. He also delivered a public apology to those who have endured disadvantages, and committed NIH to identifying and dismantling any polices and practices that may harm our workforce and our science. Here's how you can learn more and get engaged:
---
MANAGEMENT INTERN PROGRAM UNLOCKS NEW CAREER PATHS
Now Recruiting
Information Session: March 9, 2021
Have you heard of the NIH Management Intern (MI) Program? It is a highly competitive, two-year career development program for current NIH employees. MIs come from a variety of job backgrounds, including both scientific and administrative fields. Recent MIs have joined the program from positions as diverse as intramural program specialist, police officer, contract specialist, high-voltage electrician, and extramural support assistant. MIs rotate through different administrative career fields to gain invaluable insight into the NIH while contributing to the work of NIH through targeted assignments and challenging projects. After two years and upon completion of the program, MIs transition into an administrative-management career in one of many areas throughout NIH.
The Management Intern Program is now recruiting, and will be hosting virtual Information Session on March 9. To learn more about the program and register for an information session, click here.
---
NEW VIRTUAL ENVIRONMENT WEBSITE OFFERS HIGHLIGHTS OF ORWH'S 30TH ANNIVERSARY VIRTUAL MEETING SERIES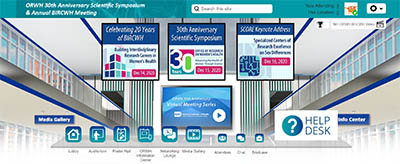 The Office of Research on Women's Health (ORWH) created a virtual environment website for its 30th Anniversary Virtual Meeting Series, held December 14–16, 2020. This extensive virtual environment includes video recordings from the meetings, scholarly posters from the symposium's research presentations, informational videos about ORWH and its signature programs, historical information about ORWH, and other resources. The virtual environment will be available until December 2021.
You can access the virtual environment website here. New users should click the "REGISTER NOW FOR ON DEMAND" button to enter their information and access the virtual environment. Registered users can log in and click "WATCH ON DEMAND" to access the site.
---
NLM ANNOUNCES 2021 HISTORY OF MEDICINE TALKS
The History of Medicine Division at the National Library of Medicine (NLM) announces its 2021 NLM History Talks. All talks are free, livestreamed globally, and subsequently archived by NIH VideoCasting. Interviews with the speakers in this series are published in Circulating Now, the blog of the NLM History of Medicine Division. Explore informed about NLM History Talks on Twitter at #NLMHistTalk.
March 25, 2021: Annmarie Adams, Ph.D. (McGill University) will speak on "Placing Women in Medicine: Maude Abbott and the Archaeology of Friendships."
September 9, 2021: Sarah Eilers, M.A., M.L.S. (NLM History of Medicine Division) and Angela Saward, B.A., M.T.A. (Wellcome Collection) will speak jointly on "Peril in the Air: Pollution Activism on Film."
June 3, 2021: Allison Hill-Edgar, M.D., M.F.A. (New York Academy of Art and the Fenimore Art Museum; 2020 NLM Michael E. DeBakey Fellow) will offer the 5th Annual Michael E. DeBakey Lecture in the History of Medicine, "Dissecting Gender: Reframing Anatomical History Through the Female Body."
October 28, 2021: Farren Yero, Ph.D. (Duke University) will speak on "A Family Drama: The Sexual Politics of Smallpox Vaccination in the Spanish Empire."
---
POSTBAC POSTER DAY (VIRTUAL)
April 27–April 29, 2021
Deadline To Submit Poster Titles: Monday, April 5, 5:00 P.M.
This year, Postbac Poster Day will be virtual again! We are scheduling Virtual 2021 Postbac Poster Days from April 27 through April 29, 2021. All current NIH postbacs are encouraged to present at this virtual event. All kinds of posters welcome: Even if you aren't ready to share a full story, please consider a literature review or a new proposal. Posters will be reviewed by teams composed of graduate students, postdocs, and staff scientists. The authors of the top 20% will receive a letter acknowledging their accomplishments. Note: The first author is responsible for presenting the poster and eligible to win an outstanding poster award.
---
NIH LIBRARY MARCH AND APRIL CLASSES
NIH Library March and April classes are now available. All classes are being offered online via WebEx. Descriptions and registration are available through the links below.
March 12: Bibliometric Analysis Using InCites
March 15: Exploring the Cochrane Library: Systematic Reviews, Clinical Trials, and More
March 18: Data Management and Sharing: Part 1
March 19: Data Management and Sharing: Part 2
March 24: Introduction to Artificial Intelligence and Machine Learning
March 26: NIH Library Resources for NIH Staff
April 1: Identifying Scientifically Sound Journals for Publication
April 6: Introduction to Scoping Reviews
April 7: How to Write an Abstract
April 9: Biosketch: Telling Your Research Stories
April 12: Introduction to EndNote Desktop
April 14: Ingenuity Pathway Analysis (IPA)
April 14: How to Write a Research Paper: Part 1
April 15: Tips for Creating Scientific Posters
April 16: Introduction to PubMed
April 19: Animal Model and Model Organism Information Resources
April 20: How to Write a Research Paper: Part 2
April 21: Expression and Variant Data Analysis with CLC Genomics Workbench
April 22: Tables, Charts, and Figures for Publication
April 23: Introduction to UpToDate
April 26: Biosketch: Telling Your Research Stories
April 27: Genome Browser
April 28: Metagenomic and De-novo Sequencing Analysis Using CLC Genomics Workbench
April 29: Introduction to Scoping Reviews
Full-text online journals, the library catalog, and information about Library resources and services are available on the Library's website: https://nihlibrary.nih.gov. For more information, contact the Library at 301-496-1080 or email nihlibrary@nih.gov. To stay updated on NIH Library classes, events, resources, and services, subscribe to our e-news.
The NIH Library serves the information needs of NIH staff and select Department of Health and Human Services agencies. The NIH Library is part of the Office of Research Services in the Office of the Director.
This page was last updated on Tuesday, February 15, 2022