Research Briefs
NEI, NINDS, CHI: STEM CELLS FROM HIBERATORS MAY HAVE MEDICAL APPLICATIONS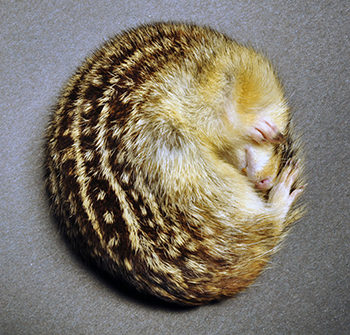 Hibernating mammals can survive hypothermia without injury at temperatures of less than 10 degrees Celsius (50 degrees Fahrenheit). This remarkable feat of cellular preservation may hold significance for medical applications. But scientists don't yet understand the mechanisms that impart cold resistance—such as the stability of the cytoskeleton (the network of protein filaments and tubules in the cytoplasm of cells). Using the first induced pluripotent stem cells (iPSC) line from a hibernating ground squirrel, NIH scientists uncovered cellular pathways critical for cold tolerance. Comparison between human and ground squirrel iPSC-derived neurons revealed differential mitochondrial and protein quality-control responses to cold. In human iPSC-derived neurons, cold temperatures triggered events that led to cell death: mitochondrial stress, overproduction of reactive oxygen species, and increased lysosomal membrane permeabilization. Manipulations of these pathways endowed cold stability on human iPSC-derived neurons as well as on rat (a non-hibernator) retina, preserving its light responsiveness after prolonged cold exposure. Furthermore, these treatments significantly improved microtubule integrity in cold-stored kidneys, demonstrating the potential for prolonging the shelf life of organs that will be used for transplant. Thus, ground squirrel iPSCs offer a unique platform for bringing cold-adaptive strategies from hibernators to humans in clinical applications. (NIH authors: J. Ou, J.M.Ball, Y. Luan, T. Zhao, K.J. Miyagishima, Y. Xu, H. Zhou, J. Chen, D.K. Merriman, Z. Xie, B.S. Mallon, and W. Li, Cell 173:1–13, 2018; DOI:10.1016/j.cell.2018.03.010)
---
NIAMS, NICHD: RESEARCHERS CRACK MYSTERY BEHIND RARE BONE DISORDER
Researchers in NIAMS and NICHD worked with 15 patients from around the world to uncover a genetic basis of "dripping candle wax" bone disease. The rare disorder—only 400 cases are known worldwide—is called melorheostosis and causes excess bone formation that on X-rays resembles dripping candle wax. The condition causes pain and bone deformity that can limit the function of bones. The study's results offer potential treatment targets, provide important clues about bone development, and may lead to insights about fracture healing and osteoporosis. The patients volunteered to come to the NIH Clinical Center to undergo biopsies of both affected and unaffected bones. Researchers compared samples of healthy and affected bone from each participant to look for differences in the exome, the portion of the genome that codes for proteins. The analysis revealed that eight of the 15 participants had mutations in the MAP2K1 gene—which produces the protein MEK1 in the affected bone only. The gene was previously linked to some types of cancerous growths as well as to conditions that lead to abnormal blood-vessel formation in the head, face, or neck. In melorheostosis, all the identified MAP2K1 mutations affect a region of the MEK1 protein that normally suppresses its activity; thus, they cause MEK1 to become overactive. The bone growth is benign and does not spread to other parts of the body. The study not only identified the responsible mutation in half of the patients but also uncovered fundamental information about the role of a cancer-related gene in the metabolic pathways of normal bone. Further studies on how this pathway works in both normal and mutant bone cells may have broad implications that could benefit a wider population. (NIH authors: H. Kang, S. Jha, Z. Deng, W.A. Cabral, A. Ivovic, F. Meylan, E.P. Hanson, E. Lange, J. Katz, E.W. Cowen, R.M. Siegel, J.C. Marini, and T. Bhattacharyya, Nat Commun 9:article 1390, 2018; DOI:10.1038/s41467-018-03720-z)
---
NCI: HIV USES NATIVE IMMUNE MOLECULES TO THWART THE BODY'S DEFENSES
A group of NCI researchers has discovered that human immunodeficiency virus (HIV)–positive individuals with a specific set of immune-system genes have poorer outcomes because those gene variants allow the virus to inhibit the immune system. Molecules known as human leukocyte antigens (HLAs) allow the immune system to distinguish between healthy native cells and those contaminated by viruses or bacteria. There are multiple types of HLA proteins, each encoded by a different gene, and each type of HLA can come in different forms depending on the gene variants a person has. The NCI team first observed that HIV-positive patients with a more active form of the HLA-A gene had more HIV virus in their blood, lower numbers of the CD4+ T cells that HIV infects, and a faster progression to AIDS. Moreover, a specific variant of the HLA-B gene magnified the negative effects of that HLA-A genotype. Further experiments revealed that those two genetic variations inhibit immune cells called natural-killer cells by boosting a type of HLA, called HLA-E, on the surface of the T cells that HIV infects. HLA-E, in turn, inhibits natural-killer cells via their cluster of differentiation 159 type A (NKG2A) receptors, thereby decreasing their ability to destroy T cells harboring the HIV virus. A drug that prevents HLA-E from binding to the NKG2A receptor is currently being tested in clinical trials for rheumatoid arthritis and certain cancers. The NCI study suggests that the compound could potentially be repurposed to boost the body's immune response against HIV. (NCI authors: V. Ramsuran, V. Naranbhai, Y. Qi, M.P. Martin, Y. Yuki, X. Gao, J.J. Goedert, and M. Carrington, Science 359:86–90, 2018; DOI:10.1126/science.aam8825)
---
NHLBI: ADP PLATELET HYPERREACTIVITY PREDICTS CARDIOVASCULAR DISEASE
Platelet function plays a key role in arterial blood clots that underlie heart attack, stroke, and other cardiovascular diseases (CVD). But there's conflicting evidence about whether there's an association of platelet function with CVD risk in healthy people. Some studies show a positive association, whereas others show a negative one. NHLBI investigators set out to resolve the conflict. In the largest study to date (2,831 participants)—with the longest follow-up surveillance (20 years)—NHLBI researchers demonstrated that platelet hyperactivity—specifically to ADP—predicts future heart attack and stroke in individuals with no CVD. The study involved participants in the community‐based longitudinal Framingham Heart Study, which is celebrating its 70th anniversary this year.
"There's a lot of evidence that overactive platelets contribute to plaque formation in blood vessels, which ultimately leads to heart attacks and strokes," said NHLBI investigator Andrew D. Johnson, who was the senior author on the study.
Platelet reactivity was assessed by a technique called light-transmission aggregometry, using three different agonists that are contributors to the platelet activation process—ADP, collagen, and epinephrine. The researchers found that hyper-reactivity to ADP was associated with heart attack and stroke, whereas hyper-reactivity to the other two agonists was not. These data surprised the investigators, particularly because collagen plays an important role in initiating plaque formation.
"Data suggest that ADP reactivity in patients who have had a heart attack predicts worse outcomes and secondary cardiac events," said Johnson. "Similarly, mouse models indicate that ADP-reactive platelets form the outer shell of plaques in blood vessels, which rupture and burst to trigger heart attacks and strokes."
In addition, the data suggest that ADP platelet hyper-reactivity could predict adverse cardiac events in healthy people and may potentially be a biomarker for CVD. However, further studies are needed to find the optimal concentrations of ADP required to detect an increased risk for CVD. These findings also support the mechanism by which ADP inhibitor drugs effectively reduce CVD rates, either alone or in combination with other platelet-inhibiting drugs such as aspirin. Although there is still a lot to be discovered about ADP mechanisms of cardiovascular dysfunction, the researchers point out that the results demonstrate the importance of investigating platelet activation for diagnostic purposes and preventative therapies to reduce CVD. (NIH authors: M.K. Puurunen, S.‐J. Hwang, M.G. Larson, R.S. Vasan, C.J. O'Donnell, and A.D. Johnson, J Am Heart Assoc 7:e008522, 2018; DOI:10.1161/JAHA.118.008522)
---
NIAAA: LACK OF SLEEP MAY BE LINKED TO RISK FACTOR FOR ALZHEIMER DISEASE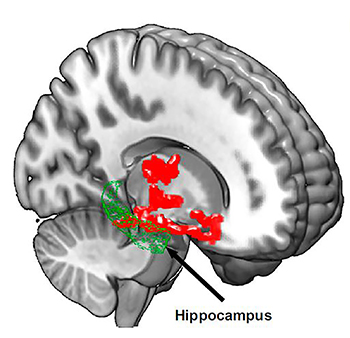 Losing just one night of sleep led to an immediate increase in beta-amyloid, a protein in the brain associated with Alzheimer disease, according to a small, new study by researchers at the NIAAA. In Alzheimer disease, beta-amyloid proteins clump together to form amyloid plaques, a hallmark of the disease. The study is among the first to demonstrate that sleep may play an important role in human beta-amyloid clearance. Amyloid plaques harm communication between neurons. To understand the possible link between beta-amyloid accumulation and sleep, the researchers used positron-emission tomography (PET) to scan the brains of 20 healthy subjects, ranging in age from 22 to 72, after a night of rested sleep and after sleep deprivation (being awake for about 31 hours). The researchers found, in the sleep-deprived subjects, beta-amyloid increases of about five percent in brain regions including the thalamus and hippocampus, regions especially vulnerable to damage in the early stages of Alzheimer disease. The researchers also found that study participants with larger increases in beta-amyloid reported being in a worse mood after losing a night of sleep. Future studies are needed to assess the generalizability to a larger and more diverse population. It is also important to note that the link between sleep disorders and Alzheimer risk is considered by many scientists to be "bidirectional," because elevated beta-amyloid may also lead to sleep disturbances. (NIH authors: E. Shokri-Kojori, G-J. Wang, C.E. Wiers, S.B. Demiral, M. Guo, S.W. Kim, Kim, E. Lindgren, V. Ramirez, A. Zehra, C. Freeman, G. Miller, P. Manza, T. Srivastava, D. Tomasi, N.D. Volkow, Proc Natl Acad Sci U S A 201721694, April 9, 2018; DOI:https://doi.org/10.1073/pnas.1721694115)
---
NIDCD: USING GENOMICS TO SET SQUAMOUS-CELL CARCINOMAS APART FROM OTHER CANCERS
NIDCD researchers have uncovered molecular characteristics that link the genomic profiles of squamous-cell carcinomas (SCCs) from five areas of the body and that set these SCCs apart from other cancers. Using a robust dataset of SCCs from the head and neck, lung, esophagus, cervix, and bladder, the researchers also found defining characteristics in subtypes of SCCs associated with tobacco use or human papillomavirus infection. This research may lead to more effective diagnosis and treatment of these cancers by helping researchers develop tailored strategies for specific cancer subtypes. (NIH authors: J. Chen, H. Cheng, Z. Chen, and C. Van Waes, Cell Rep 23:194–212.e6, 2018; DOI:10.1016/j.celrep.2018.03.063)
---
NHLBI: NEW TECHNIQUE MAKES HEART-VALVE REPLACEMENT SAFER FOR SOME HIGH-RISK PATIENTS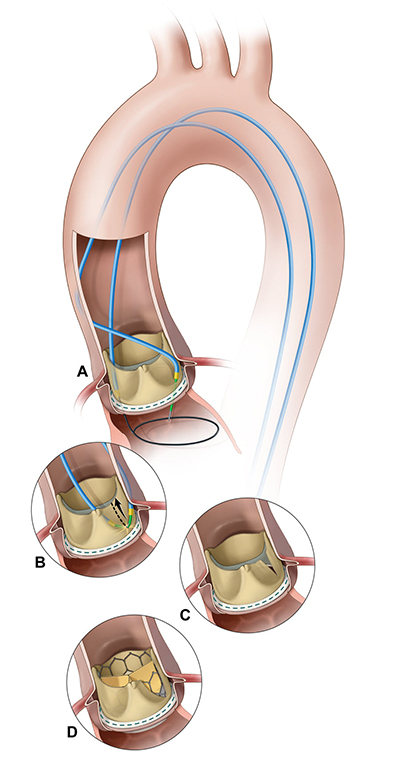 In most elderly or frail patients who need heart-valve procedures, the transcatheter aortic valve replacement (TAVR) offers an effective and less-invasive alternative to open-heart surgery. But a small subset of people who receive TAVR may develop a coronary-artery obstruction during the procedure that has been fatal for more than half of them. NHLBI scientists have come to the rescue: They developed a novel technique that prevents the obstruction: the bioprosthetic aortic-scallop intentional laceration to prevent iatrogenic coronary-artery obstruction (BASILICA) technique. With the BASILICA method, the interventional cardiologist weaves an electrified wire the size of a sewing thread through a catheter and uses it to split the original leaflet in two so that it cannot block the coronary artery once it has been pushed aside by the transcatheter heart valve. The technique will be evaluated in a multicenter early-feasibility study sponsored by NHLBI, which began enrolling patients in January. The researchers hope the BASILICA technique will eventually help reduce the number of deaths from heart-valve disease. (NIH authors: J.M. Khan, T. Rogers, W.H. Schenke, and R.J. Lederman, JACC Cardiovasc Interv 11, 2018; DOI:10.1016/j.jcin.2018.01.247)
---
NCI-DCEG: GET 150 MINUTES/WEEK OF MODERATE PHYSICAL ACTIVITY: IT DOESN'T MATTER HOW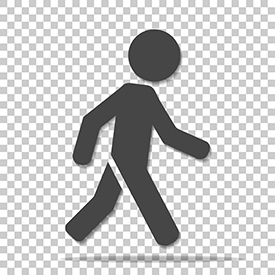 Researchers at NCI have shown that people who engage in more minutes of moderate-intensity physical activity enjoy health benefits (measured by likelihood of dying during the study period), but it does not matter how those minutes are accumulated. Doing more activity in short increments of time had similar benefits to exercising in increments of 10 minutes at a time or more. Moderate physical activity is defined as brisk walking or slow jogging. The researchers compared accelerometer-measured physical activity in roughly 5,000 adults aged 40 and older who participated in the National Health and Nutrition Examination Survey, a nationally representative study, and followed them prospectively over seven years. When they compared participants with few simultaneous minutes of moderate-intensity physical activity with those with more minutes (called "bouts" in this study), they determined that the increments in which those minutes were accumulated, in bursts of 10 minutes, five minutes, or even shorter, resulted in the same statistically significant reductions in risk of death over the study period. (NIH authors: P.F. Saint‐Maurice, R.P. Troiano, and C.E. Matthews, J Am Heart Assoc 7:e007678, 2018; DOI:10.1161/JAHA.117.007678)
---
NICHD: ELEVATED BLOOD PRESSURE BEFORE PREGNANCY MAY INCREASE CHANCE OF PREGNANCY LOSS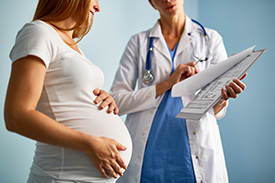 Elevated blood pressure before conception may increase the chances for pregnancy loss, according to an analysis by NICHD researchers. The authors concluded that lifestyle changes to keep blood pressure under control could potentially reduce the risk of loss. The analysis found that for each 10-mmHg increase in diastolic blood pressure (pressure when the heart is resting between beats), there was an 18-percent-higher risk for pregnancy loss among the study population. Millimeter of mercury, or mmHg, is the unit of measure used for blood pressure. The researchers also found a 17 percent increase in pregnancy loss for each 10-mmHg increase in mean arterial pressure (pressure in the arteries during full heartbeat cycles). The researchers noted that the study, which included 1,200 women, does not prove that elevated blood pressure causes pregnancy loss. It is possible that another, yet-to-be identified factor could account for the findings. They added, however, that the relationship between preconception blood pressure and pregnancy loss remained the same when they statistically accounted for other factors that could increase pregnancy loss, such as increasing maternal age, higher body-mass index, or smoking. (NIH authors: C.J. Nobles, P. Mendola, S.L. Mumford, E.H. Yeung, K. Kim, H. Park, N.J. Perkins, L. Sjaarda, and E.F. Schisterman, Hypertension DOI:10.1161/HYPERTENSIONAHA.117.10705)
---
NINDS: NEURODEGENERATIVE DISORDERS MAY SPEED UP AGING PROCESS
To understand the link between aging and neurodegenerative disorders such as Alzheimer disease, NINDS scientists compared the genetic clocks that tick during the lives of normal versus mutant fruit flies (Drosophila). They found that altering the activity of a gene called Cdk5 appeared to make the clocks run faster than normal and the flies appear older than their chronological age. This "aging" effect caused the flies to have problems walking or flying later in life, show signs of neurodegeneration, and die earlier. On average, the normal flies in this study lived for 47 days. The team found that eliminating Cdk5 activity or increasing it above normal shortened the lives of the flies to about 30 days.
To create a genetic clock, the team measured the levels of every gene encoded in messenger RNA molecules from cells from the heads and bodies of flies at three, 10, 30, and 45 days after birth. Then the researchers used advanced analysis techniques to search for the genes that seemed to be sensitive to aging; they created a standard curve, or timeline, that described the way they changed. For example, when they performed the same experiments on 10-day-old mutant flies and compared the results with the standard curve, they found that the flies were "older" than their chronological age. Altering Cdk5 activity made the brains of the flies appear genetically to be about 15 days old and their bodies to be about 20 days old.
Preclinical studies suggested that Cdk5 is a gene that is important for the normal wiring of the brain during early development and may be involved in some neurodegenerative disorders including amyotrophic lateral sclerosis, Parkinson disease, and Alzheimer disease. More analysis showed that altering Cdk5 activity changed the level of several groups of genes that were also affected by aging, including those that control immunity, energy, and antioxidant activity.
"Acceleration of aging may actually be part of the mechanism by which degenerative disease disrupts the structure and function of the brain," said Edward Giniger, NINDS senior investigator and the senior author of the study. "We hope that our approach will help researchers untangle the mysteries behind several neurodegenerative disorders." His team plans to continue investigating the role of aging in the process of neurodegeneration. (NIH authors: J. Spurrier, A.K. Shukla, K. McLinden, K. Johnson, and E. Giniger, Dis Models Mech 11:dmm.031161, 2018; DOI:10.1242/dmm.031161)
---
NIDA: STUDY CHANGES LONG-HELD CONCEPTS OF CELL DECODING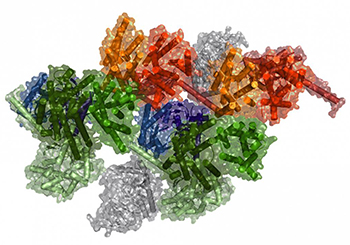 Scientists at NIDA—in collaboration with researchers from the University of Barcelona (Barcelona, Spain) and the University of Texas Health Science Center (Houston)—have uncovered evidence that shows a more complex and elaborate role for the body's hard-working G protein–coupled receptors (GPCRs) than previously thought, suggesting a conceptual advance in the fields of biochemistry and pharmacology. With more than 800 members in the human genome, GPCRs are the largest family of proteins involved in decoding signals as they come into the cell and then adapting the cell's function in response. Manipulating how cells respond to signals is key to developing new medications. Although pharmacologists have studied GPCRs for many years, there is still a debate on how they operate. Are they isolated units that randomly collide with each other, or are they deliberately coupled together to receive signals? The NIDA scientists concluded that GPCRs form part of very elaborate precoupled macromolecular complexes. Simply put, they act as little computing devices that optimally gather and process information coming into the cell, allowing the cells to adapt and change their function. (NIH authors: N.-S. Cai and S. Ferré, Nat Commun 9:article 1242, 2018; DOI:10.1038/s41467-018-03522-3)
---
NCI: NORMALLY HELPFUL NATURAL BACTERIA MAY ALSO TRIGGER LUPUS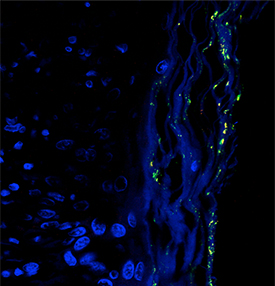 NCI scientists—in collaboration with researchers from the Yale School of Medicine (New Haven, Connecticut) and Brigham and Women's Hospital (Boston)—have discovered that a protein produced by bacteria that naturally inhabit our bodies may trigger the autoimmune disease lupus. Although the causes of lupus are complex and involve both genetic and environmental factors, nearly all people with lupus produce antibodies against their bodies' own normal proteins, sometimes years before they develop the disease. The earliest of these antibodies are against a 60-kDa protein called Ro60, which normally binds to RNA molecules in our cells. The researchers investigated whether proteins similar to Ro60 that are produced by the body's natural bacteria can trigger the production of antibodies to human Ro60 in people genetically predisposed to developing lupus. The study showed that showed that bacteria collected from the gut, skin, and mouths of healthy people and lupus patients produce a protein that is so similar to the human Ro60 protein that it is recognized by human antibodies. Scientists suspect that, in healthy individuals, bacterial proteins that resemble Ro60 initiate a mild and temporary immune response. But in people who are susceptible to developing lupus, these bacterial proteins can mistakenly trigger and sustain a debilitating autoimmune response. The results of the study could unveil an entirely new set of drug targets for treating lupus and other autoimmune diseases, although a lot of work remains to be done. (NIH authors: X. Chen, K. Hughes, M. Boccitto, S. Sim, and S.L. Wolin, Sci Transl Med 10:eaan2306, 2018; DOI:10.1126/scitranslmed.aan2306)
---
NICHD, NIAMS: WHY IRON CAN WORSEN MALARIA INFECTION
NIH researchers have a possible explanation for why iron can sometimes worsen malaria infection. By studying mice and samples from malaria patients, the researchers found that extra iron interferes with ferroportin, a protein that prevents a toxic buildup of iron in red blood cells and helps protect these cells against malaria infection. They also found that a mutant form of ferroportin that occurs in African populations appears to protect against malaria. These basic findings may help researchers and health-care officials develop strategies to prevent and treat malaria infections, which numbered nearly 216 million worldwide in 2016. (NIH authors: D.L. Zhang, J. Wu, M.C. Ghosh, H. Ollivierre, X. Su, and T.A. Rouault, Science 359:1520–1523, 2018; DOI:10.1126/science.aal2022)
---
NCI: MOLECULAR CLASSIFICATION REVISED FOR MOST COMMON TYPE OF LYMPHOMA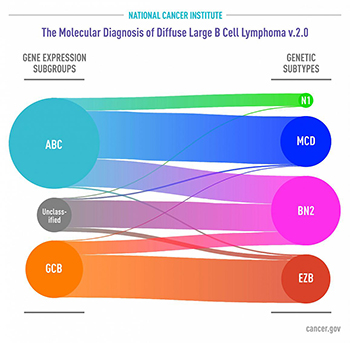 In a new study, NCI researchers—and scientists from several institutions around the world—identified genetic subtypes of diffuse large B-cell lymphoma (DLBCL) that could help explain why some people with the disease respond to treatment and others don't. DLBCL is the most common type of lymphoma, and although aggressive, it is potentially curable. The standard treatment is a combination of chemotherapy drugs plus the monoclonal antibody rituximab. Several years ago, researchers defined two major subgroups of DLBCL that arise from different cells of origin and that have different patterns of gene activity. They found that patients with activated B-cell-like (ABC) DLBCL have about a 40 percent average survival rate, whereas those with germinal center B-cell-like (GCB) DLBCL have about a 75 percent average survival rate. But even in the GCB subgroup, many patients experience disease relapse after treatment. The investigators performed a multiplatform analysis of genomic alterations and gene expression on tumor samples from 574 patients with DLBCL. This analysis identified four prominent genetic subtypes that each share a group of genetic aberrations. Patients with two of the subtypes, called BN2 and EZB, respond well to treatment, whereas those with the other two, MCD and N1, do not. The researchers hope that treatments can move away from chemotherapy as much as possible, toward more-targeted therapies that have fewer side effects. (NIH authors: R. Schmitz, G.W. Wright, D.W. Huang, C.A. Johnson, J.D. Phelan, J.Q. Wang, L.M. Staudt, et al., N Engl J Med 378:1396­–1407, 2018; DOI:10.1056/NEJMoa1801445)
This page was last updated on Thursday, April 7, 2022