Senator Mikulski's Farewell Visit to NIH
Continuing to Advocate for NIH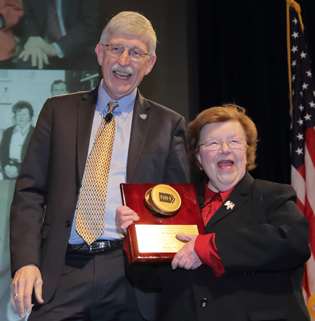 Soon-to-retire U.S. Senator Barbara Mikulski (D-Md.) promised to continue to be an advocate for NIH, in a town hall meeting held in Masur Auditorium on April 11, 2016. She had spent the day visiting with NIH Director Francis Collins and other institute directors, reassuring them and the assembled crowd that although this will be her last year as Maryland's senator, she will continue to fight for increased NIH funding. Senator Mikulski, who served for 10 years in the U.S. House of Representatives (1976–1986) and 30 years in the U.S. Senate (1986–2016), has often described herself as "working her earrings off" for NIH. So Collins presented her with a backup pair—ones emblazoned with the NIH logo.
Collins and Mikulski both spoke of the remarkable progress biomedical research has made over the past decades, from discovering and mapping the human genome to reducing cancer and heart disease mortality rates. The senator also highlighted her role as an advocate for the inclusion of women in clinical trials and health research, which led to the formation of the present-day NIH Office of Research on Women's Health.
Senator Mikulski outlined her priorities for her final year on the Senate Appropriations Committee. She has served on that committee since 1987, and in 2012 became the first woman and the first Marylander to chair it. She is now vice chair. Three principles would guide her actions, she said: Do no harm, meaning no sequesters or shutdowns; make sure that current successful programs do not lose funding; and find new money for programs such as the BRAIN initiative, precision medicine, and the "moonshot" initiative to end cancer.
She addressed a future challenge facing scientific research—the declining quality of K-12 education in science, technology, engineering, and mathematics fields. "We need to stand up for the future," said Mikulski. "We need to make sure we have education [that] isn't determined by your ZIP code." She also addressed the affordability and accessibility of college and graduate school and proposed a 20-year term limit on student loans.
"To serve is in my DNA," said Mikulski. "If you take the sample… you'll find the serve gene." Until her last hours in office, Senator Mikulski has vowed to continue her fight for the future of biomedical research.
"No matter where I go, I will continue to be your advocate," said Mikulski. "I will never forget you."
As a thank you, Collins presented the senator with a plaque sporting a gold-plated petri dish and read the engraved message aloud: "For her extraordinary vision, boundless enthusiasm, and tireless efforts on behalf of biomedical research during her 40 years in Congress, her work has been vital to ensuring the National Institutes of Health remains the National Institutes of Hope for all of human kind."
---
To watch the videocast online, go to https://videocast.nih.gov/launch.asp?19608.
This page was last updated on Wednesday, April 13, 2022