NIH Dental Clinic
Brace Yourself for Collaborations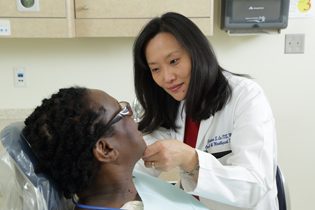 Many intramural clinical investigators and research nurses may be unaware of the NIH Dental Clinic tucked away on the first floor of the NIH Clinical Center, despite the fact that the dental group has been caring for patients since 1953. The clinic is well known, though, for its wisdom-tooth studies: recent studies on tooth and tissue samples collected during the removal of wisdom teeth as well as past studies to test the efficacy of pain medications. And, the Dental Clinic's consult services can guide the overall treatment plan for Clinical Center patients and lead to multidisciplinary-research collaborations between the National Institute of Dental and Craniofacial Research (NIDCR) and other institutes.
Over the past five years, NIDCR has renovated the Dental Clinic and recruited many board-certified staff and investigators—including NIDCR Clinical Director Janice Lee and three additional oral and maxillofacial (jaw and face) surgeons—Kalpakam Shastri, Bonnie Gitman, and Andrea Burke. In addition, Clinical Center patients now have access to oral-medicine specialist Pamela Gardner, hospital dentist Bob Range, and dental hygienist Laurie Brenchley. Patients with complex medical conditions such as Sjögren syndrome (an autoimmune disease that typically includes dry mouth and dry eyes and is often associated with rheumatologic disorders) can see two physicians who specialize in rheumatology: Alan Baer (his primary appointment is at Johns Hopkins) and Brian Walitt (his primary appointment is in the National Institute of Nursing Research). Other important members of the clinical team include specialists in pediatric dentistry and periodontics (for gum-tissue disorders), dental assistants, and research nurses.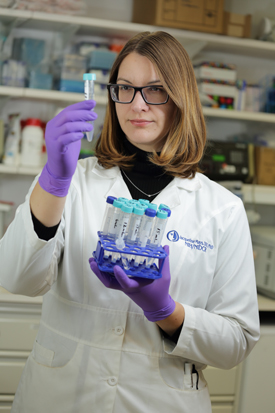 "We're here to help NIH clinical investigators understand how the disease they are studying impacts oral health," said NIDCR Deputy Scientific Director and former Clinical Director James Melvin. "The oral cavity is a big part of overall systemic health. We can explain what oral health means for their research."
"Five years ago, things were very quiet," said Assistant Clinical Investigator Jacqueline Mays, whose clinical care and laboratory research focus on oral mucosal immunity. "There wasn't the bustling research enterprise that there is now. There certainly wasn't the critical mass of dentists and scientists together to push the translational research enterprise. That has really grown."
Mays, who treats people who have had organ and stem-cell transplants at the Clinical Center, is an example of how NIDCR's five clinical investigators work with the dental clinical team and also collaborate with investigators at other institutes. In the lab, Mays uses salivary proteomics and immunology techniques to determine what triggers graft-versus-host disease (GVHD), a process in which transplanted cells sometimes attack the transplant patient's tissues. People with GVHD who are referred to Mays may be part of transplant-research protocols at the National Cancer Institute, the National Heart, Lung, and Blood Institute, or the National Institute of Allergy and Infectious Diseases. About 85 percent of Dental Clinic patients are referred by intramural investigators at other institutes.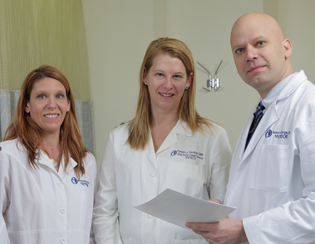 "Although we have doubled the annual number of Clinical Center patients that we care for, the Dental Clinic has room for growth," Lee said. "It's time that we tell the NIH intramural program that we are here to care for patients and collaborate."
---
Janice Lee invites NIH clinical staff and investigators to participate in the weekly NIDCR Clinical Case Conference, a forum to discuss rare conditions that have dental, oral, or craniofacial manifestations. The forum has enriched collaborations with specialists at the Dental Clinic and focused on the unique care required by many patients. These case conferences are held on Fridays at 11:00 a.m. in the Clinical Center (Building 10), Conference Room 5-2550. For more information, contact Janice Lee at janice.lee@mail.gov or check her website: http://www.nidcr.nih.gov/research/NIDCRLaboratories/OfficeoftheClinicalDirector.
To request a dental consult, NIH clinical investigators and research nurses may contact Pamela Gardner at pamela.gardner@nih.gov or Bob Range at bob.range@nih.gov.
Dental Clinic Contacts
For research collaborations
Janice Lee: Craniofacial anomalies
Michael Collins: Metabolic skeletal disease
Ilias Alevizos: Salivary gland dysfunction
Niki Moutsopoulos: Periodontal disease and immunodeficiency
Jacqueline Mays: Oral chronic graft-versus-host disease
For dental consults
Pamela Gardner: Oral medicine specialist*
Bob Range: Hospital dentist*
Kal Shastri: Oral and maxillofacial surgeon
Bonnie Gitman: Oral and maxillofacial surgeon
This page was last updated on Wednesday, April 13, 2022