News You Can Use
Attention Intramural Investigators:
Do You Know about Bench-to-Bedside?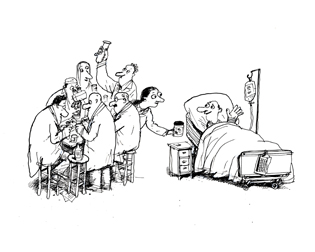 Scientific collaboration is the name of the game these days, but did you know that NIH's Bench-to-Bedside (BtB) program was the first formal intramural effort that encouraged NIH investigators to seek funding for collaborative projects that involved other institutes and centers (ICs)? Established in 1998 by NIH Clinical Center Director John Gallin, the program has fostered longstanding, successful partnerships between basic and clinical researchers and has supported cross-institute projects that have accelerated the translation of promising laboratory discoveries into new medical treatments. BtB awards have financed research on AIDS, behavioral and social sciences, minority health and health disparities, women's health, pharmacogenomics, rare diseases and rare-diseases drug development, and other areas.
At first, the BtB program monies came from the Clinical Center's carryover funds, but by 2000 other NIH ICs were stepping in to help. Since 2003, most BtB awards have been provided by the Office of AIDS Research, the Office of Rare Diseases Research, the Office of Behavioral and Social Sciences, the Office of Dietary Supplements, the Office of Research on Women's Health, and the National Institute on Minority Health and Health Disparities. In addition, the Office of Intramural Research funds worthy BtB projects—intramural only—that might not fit into the other partners' research categories. And sometimes, other ICs may fund highly ranked projects when BtB program funds are not available.
In 2006, the program's scope expanded to encourage partnerships between intramural and extramural investigators. Since then, more than 90 percent of BtB projects have included an extramural collaborator (including investigators from international institutions).
Each BtB award—which provides investigators with small seed grants of up to $135,000 a year for two years—helps spur new collaborative translational research projects. About 20 percent of the BtB projects have gone on to receive funding from other sources including from the Opportunities for Collaborative Research at the NIH Clinical Center (U01) program.
Success Is All about the Numbers
Since 1999, more than 800 investigators have collaborated on 237 funded projects with approximately $54 million distributed in total BtB funding.
Since 2006, about 93 percent of BtB awards have involved extramural partners, and 100 percent have involved intramural collaborations:

156 awards included partnerships at a total of 90 institutions (10 international).
189 publications have resulted, with 134 articles in high-impact journals.
The publications have yielded more than 6,400 citations.
76 new or amended clinical protocols at the NIH CC have been or are associated with BtB awards.

The application success rate for the current BtB award cycle is 23 percent.
16 patents associated with BtB-awarded projects include 9 licensed technologies and 2 drug licenses.
Become Part of BtB's Success Story!
Look for the 2016 BtB Call for Proposals to be launched early this summer. Remember, the program provides an excellent opportunity to seed new research as well as to establish collaborations with intramural investigators outside your own institute or with extramural investigators. BtB offers intramural PIs the experience of applying for and receiving award funds in a manner that aligns with the NIH grants process.
To learn more about the program, join a pre-application information session on Tuesday, May 24, 9:30–11:00 a.m. in the Clinical Research Center's Medical Board Room (Building 10, Room 4-2551). Program administrators will be available to answer questions, and previous awardees will share their BtB experiences. You can also visit http://www.cc.nih.gov/ccc/btb/ or e-mail your questions to BenchtoBedside@mail.nih.gov.
To learn about other successes, read the March–April 2002 issue of the NIH Catalyst at http://nihsearch.cit.nih.gov/catalyst/2002/02.03.01/ or visit http://cc.nih.gov/ccc/btb/pdfs/b2b-report-august-2014.pdf for a full report on the BtB program.
This page was last updated on Wednesday, April 13, 2022