The SIG Beat: Global Health
NEWS FROM AND ABOUT THE NIH SCIENTIFIC INTEREST GROUPS
NIH Global Health Interest Group: How Climate Change Affects Health
Climate change affects general and mental health, the spread of infectious diseases, and health security. To address these issues, the NIH Global Health Interest Group (GHIG) gathered climate-change experts for a symposium on October 15, 2015, in the Natcher Conference Center (Building 45).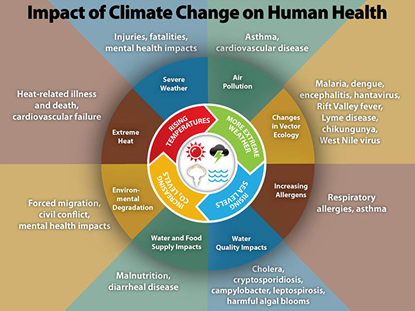 The experts included National Institute of Environmental Health Sciences Director Linda Birnbaum and her senior advisor, John Balbus; ophthalmologist Sheila West from Johns Hopkins University (Baltimore); public-health physician-epidemiologist Jean-Paul Chretien from the Armed Forces Health Surveillance Center; global mental-health expert Inka Weissbecker from the International Medical Corps; and Mike Gremillion, chief of the Weather Strategic Plans and Interagency Integration Division of the United States Air Force.
General health: Climate change can make people more vulnerable to damaging pollutants and diseases, especially in developing countries that have poor health-care systems or in which people lack access to health care. In one example, Sheila West explained her work in Africa battling trachoma, an eye infection that is the world's leading cause of preventable blindness. It occurs where people live in overcrowded conditions with limited access to water and health care.
Infectious diseases: Jean-Paul Chretien discussed how global climate anomalies change the habits of infectious-disease vectors (such as mosquitoes, ticks, and rodents), increasing the potential for infectious diseases including dengue, cholera, and malaria. Given that most of these diseases affect the poorest populations around the world, it is no surprise that lack of medical facilities, increasingly severe weather challenges, and dwindling food and water resources not only lower survival rates but also affect the overall quality of life.
Mental health: Climate change can affect mental health, too. Millions of people will be displaced due to coastal flooding that stems from rising sea levels; millions more will migrate from expanding desert regions with reduced agricultural output and water shortages. Inka Weissbecker described how the loss of loved ones or population displacement resulting in loss of work, belongings, social networks, and identity are among the multiple stressors that undermine mental health. Unfortunately, people in such underserved areas are particularly vulnerable because their countries have the fewest resources for mental-health care, particularly those countries in Africa that have only one psychiatrist for the entire country.
Security: Mike Gremillion stressed how climate change influences economic security and security of the food and water supply. Flooding, droughts, tsunamis, heat waves, and other disasters kill thousands of people each year in developing and developed nations. As seen by bread shortages in Egypt, lost crops due to droughts in Central America, and food and water shortages due to unseasonable monsoons and droughts in India, the world's livelihood is becoming increasingly compromised. Consequently, these events have led to humanitarian crises, economic hardships, and stressed national and international security.
Solutions: Although climate change threatens human well-being, many consider it an opportunity to change global health. John Balbus quoted Margaret Chan, World Health Organization Director-General, who said, "The evidence is overwhelming: Climate change endangers human health. Solutions exist, and we need to act decisively to change this trajectory." It is the health-care sector, more than the technological and economic sectors, that has the potential to educate the public about the connection between climate change and their own health and well-being.
---
For more information on the NIH-Global Health Interest Group (NIH-GHIG), visit http://sigs.nih.gov/globalhealth/Pages/default.aspx or contact Gyan "John" Prakash (prakashg@mail.nih.gov) or Amy L. Kullas (amy.kullas@nih.gov).
This page was last updated on Monday, April 25, 2022