Inflammation Insights
NIEHS Science Days Celebration
Researchers at the National Institute of Environmental Health Sciences (NIEHS) in Research Triangle Park, North Carolina, have long faced the difficulty of traveling en masse from their labs to participate in the NIH Research Festival at the Bethesda, Maryland, campus. But since 2002, NIEHS has held its own festival—called NIEHS Science Days—at its own campus so scientists could share their work, explore collaborations, and have their excellence recognized.
The 2015 event, which took place on November 5 and 6, included a minisymposium on inflammation, a poster session with more than 90 posters by scientists from all divisions of the institute, and recognitions for trainee and mentor of the year as well as for the best trainee poster and talk.
"Science Days is, in part, a training exercise. It gives trainees a forum to develop their techniques in giving poster and oral presentations," said Joel Abramowitz, special assistant to the NIEHS scientific director. "No other institute has the breadth of the types of science that we do here, so the trainees have to explain themselves to a broad audience."
The minisymposium on the connections between inflammation and disease featured presentations by an intramural scientist, a grantee, a researcher with NIEHS's National Toxicology Program (NTP), and a former postdoc. Their research further confirms that although inflammation is the body's way of responding to injury and fighting off infection, it can lead to illness if it persists and can be a major player in the origins of certain human diseases.
The first speaker was senior investigator Michael Fessler, deputy chief of the NIEHS Immunity, Inflammation, and Disease Laboratory and head of the Clinical Investigation of Host Defense Group. Fessler discussed how oxysterols help clear inflammation in the lungs. He made the case that oxysterols may be important in acute respiratory distress syndrome, a lung condition with a mortality rate of 25 to 40 percent.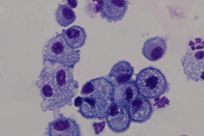 Fessler said cells, including macrophages, avoid cholesterol overload by relying on a transporter, ATP-binding cassette subfamily G member 1 (ABCG1), to export cholesterol from the cell. The absence of functioning ABCG1 leads to the inability to remove cholesterol, driving macrophages into a hyperinflammatory state and toward cell death.
Fessler's group found that 25-hydroxycholesterol activates anti-inflammatory properties of the liver X receptor (LXR), which is involved in clearing lung inflammation and promoting cholesterol export from cells.
NIEHS grantee Sven-Eric Jordt, an associate professor in anesthesiology at Duke University School of Medicine (Durham, North Carolina), described how sensory neurons become sensitized during injury and chronic-pain conditions, such as inflammation. He studies transient receptor potential (TRP) channels, a superfamily of proteins involved in the senses of sight, smell, taste, touch, and hearing.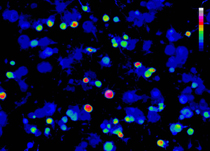 TRPs exist in the trigeminal nerves of the head and connect to the eyes, nose, and mouth. Airborne irritants such as smoke excite these nerve endings. TRPs also exist in the dorsal nerves connecting to the skin, where heat and chemical stimuli are sensed.
Jordt said that during chemically induced inflammation, TRPA1 and sensory nerves promote an inflammatory response. His work has demonstrated that the lungs make peptides that rely on sensory nerves to provide biochemical cues.
"Our hypothesis is that inflammation activates pulmonary neuroepithelial cells so that they produce neural peptides," Jordt said. "The sensory neurons become more sensitive to these peptides, inducing coughing and other symptoms during a pulmonary infection from a pathogen that produces the endotoxin lipopolysaccharide."
According to NTP researcher Dori Germolec, head of the Systems Toxicology Group, mold spores are ubiquitous and are not a concern in healthy individuals unless they reach extremely high concentrations. Germolec studies the inflammatory responses that occur after long-term exposure to the mold Aspergillus fumigatus.
To evaluate potential health effects after mold exposure, Germolec used an enclosed exposure system that provides a real-life inhalation exposure scenario. The system was developed by colleagues at the National Institute for Occupational Safety and Health in Morgantown, West Virginia.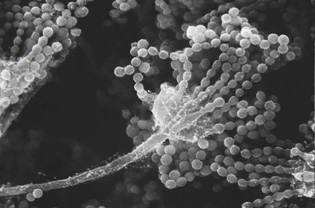 The researchers exposed mice to either viable spores from A. fumigatus or heat-inactivated spores, which are considered nonviable. The nonviable spores generated some inflammatory responses, but the viable spores produced a much more potent inflammatory response that appeared to be related to spore germination in the lungs.
Germolec explained that the life stages of mold depend on temperature and humidity, and spore germination can occur when conditions are optimum for growth. "Everything we've looked at indicates that germination is critical to the development of the allergic response in mice," he said.
Next, former NIEHS trainee Michelle Block, now an associate professor in the Department of Anatomy and Cell Biology at Indiana University School of Medicine (Indianapolis), talked about her research on inflammation. She explained that microglia, the primary immune cells in the brain, sometimes stop being a neuronal police force and become instead a source of chronic inflammation and oxidative stress. The switch is an important one, according to Block, because neuroinflammation is a common denominator in several central nervous system (CNS) disorders, such as autism, Parkinson and Alzheimer diseases, stroke, multiple sclerosis, and traumatic brain injury.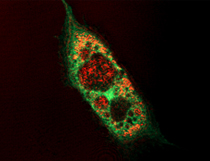 "My obsession with understanding how and why microglia damage brain neurons started when I was at NIEHS," Block said. "We call the process neurotoxic reactive microgliosis, and we believe it underlies the chronic nature of CNS diseases, particularly many of those associated with aging."
For NIEHS scientists, getting up to the Bethesda campus to share their work is always special, but the "local" Science Days can be equally rewarding.
---
A Fitting Surprise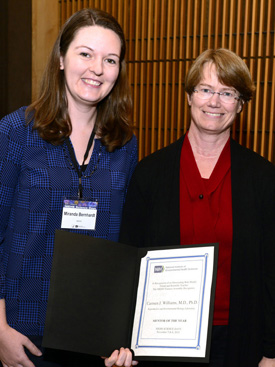 The NIEHS Office of Fellows Career Development selects a fellow of the year based on nominations evaluated by a panel of scientists. The 2015 winner was Miranda Bernhardt, an Intramural Research Training Award fellow in the Reproductive Medicine Group, headed by Carmen Williams.
"Miranda has a passion for reproductive biology," said Williams. "And she's an intellectual powerhouse." She cited Bernhardt's successful demonstration of a novel calcium channel involved in egg fertilization (Development 142:2633–2640, 2015). Williams also noted Bernhardt's commitment to service, especially science education, among her qualifications for the prize.
The NIEHS Trainees Assembly (NTA) names a mentor of the year based on nominations from trainees and researchers alike, and in a fitting surprise, the NTA choice was Williams. "I've been able to accomplish so much more than I would have without her leadership and guidance," Bernhardt said. Other nominators cited Williams's commitment to training the next generation of reproductive scientists and clinicians. One letter noted the possible key to Williams's success. "She listens to all ideas, no matter how outside the box they are."
This page was last updated on Monday, April 25, 2022