The Training Page
FROM THE FELLOWS
Curiosity of Curiologie
Two seventh-grade girls were intently watching three nightcrawlers (earthworms) positioned on a table between wet and dry paper towels. Which direction would they go, the girls wondered. Meanwhile, a previously sassy and nonchalant classmate peered over their shoulders and squealed, "O M G [oh my God], it moved!"
Thus began a typical Saturday morning science-enrichment session for middle-school students taking part in "Curiologie in the Classroom" (CiC) at the Shaw Campus of Center City Public Charter Schools (Washington, D.C.). CiC has been going strong since 2013, when a group of NIH trainees who wanted to share their knowledge of science joined forces with a Shaw middle-school science teacher who wished to expose her students to more opportunities in science, technology, engineering, and mathematics (STEM).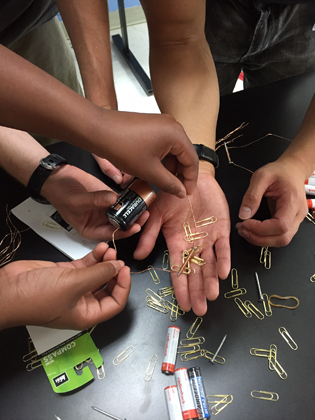 The half-dozen CiC volunteers plan and facilitate science experiments for a group of 10 to 15 middle schoolers (grades 6–8). Initially, the volunteers paid for the science-experiment materials themselves. But soon CiC partnered with RESET (Raising Excitement for Science Engineering and Technology), which provided funding for materials as well as for field trips to the Merkle Wildlife Sanctuary (Upper Marlboro, Maryland) and the Marian Koshland Science Museum (Washington, D.C.). RESET is a nonprofit organization of volunteer STEM professionals who motivate children to discover and explore science and math and encourage them to consider educational and career choices in related fields.
CiC differs from most RESET programs in several ways, however. It targets the middle-school level (RESET focuses mostly on elementary schools); it takes place on weekends; it happens at regular intervals throughout the school year; and it has a lower ratio of students to volunteers. (RESET's ratio is one volunteer per 20 students; CiC's is one volunteer per one to four students.)
As CiC volunteers, we facilitate learning by drawing on our own experiences and encouraging the students to learn to work independently and take ownership of their science. We get students involved and invested by highlighting science in the context of their lives. Our interactive experiments often emphasize the biomedical sciences in such areas as human digestion, epidemiology, and animal behavior. Other topics have included physics (electromagnets, polymers), chemistry (chromatography), and earth science (viscosity, erosion).
In one experiment, the kids had fun building electromagnets. Each magnet consisted of insulated copper wire wrapped around a nail; the wire ends were attached to the terminals of a flashlight battery. The students measured the magnet's strength by picking up metal paperclips. We encouraged the students to experiment with the length and size of the coiled wire to vary the magnet's strength (the longer the wrapped wire, the stronger the magnet). They tried picking up the paperclips from various distances and used a compass to demonstrate the lines of magnetic force emanating from the electromagnet. It was gratifying to encourage the students to engage in the type of thinking and questioning that NIH scientists use on a daily basis.
"I notice a marked difference in the students who regularly participate in CiC," said Shaw science teacher Nina Barcelli. "CiC helps to empower students to feel confident in science, a discipline that can often be intimidating. Furthermore, CiC helps to foster creativity and analytical thinking skills, which are tantamount to academic success in every subject area."
The National Science Teachers Association (NSTA) recommends a strong emphasis on middle-school-level science education and cautions that "if educators don't capture students' interest and enthusiasm in science by seventh grade, students may never find their way back to science" (http://www.nsta.org/about/positions/middlelevel.aspx). Programs such as CiC are consistent with the NSTA's position and aim to broaden the exposure of middle-school students to science topics, empirical questioning, and data collection.
The CiC has also begun working with underserved communities through the Homeless Children's Playtime Project (HCPP). HCPP provides weekly educational and play activities for children living in emergency and transitional housing. This summer, CiC started running evening science-enrichment sessions for middle-school and high school students at Washington, D.C.'s largest shelter, DC General. This program will run through the school year. Our aim is the same as for the Shaw program—nurturing students' interest in science through experimentation with an emphasis on fun.
We will also continue our weekend work with middle-school students and coach them through scientific experiments like the one with the nightcrawlers. The worms, which prefer a damp environment, eventually gravitated toward the wet paper towels. Further testing revealed that the worms also liked dark spaces and did not like to be touched with a Q-tip. As to whether they enjoyed being the facilitators of science engagement…the results were inconclusive.
---
The author joined CiC in Fall 2014. NIH Trainees who would like to volunteer with CiC can contact April Killikelly at april.killikelly@nih.gov. CiC is not affiliated with nor sponsored by NIH. Volunteers provide services during their free time.
This page was last updated on Monday, April 25, 2022