ROK-Solid Research
Top Korean Scientists Visit the NIH
The usually unflappable NIH scientists Minkyung (Min) and Byoung-Joon (B.J.) Song were nervous and paced restlessly outside Lipsett Amphitheater (Building 10) on April 16. They were the lead organizers for an inaugural NIH-Korea symposium that was about to begin, and the 18 guests from South Korea hadn't arrived. Among the missing guests were the head of the Korea NIH (KNIH), the director of the Korean Health Industry Development Institute (KHIDI), the president of the Korea National Cancer Center (KNCC), and a representative from the South Korean Embassy. There seemed to be some confusion about which entrance to the NIH campus they were supposed to use, and they were at the wrong one. Finally, after a volley of cell-phone calls, the last-minute issues got sorted out and the guests arrived—almost on time, as it turned out—to a warm welcome. And the Songs could relax.
The symposium highlighted groundbreaking research in health issues that are common in the Republic of Korea (ROK)—also known as South Korea—and the United States: obesity, diabetes, metabolic syndromes, neurodegenerative diseases, immunological disorders, and infectious diseases. In addition, other sessions focused on stem-cell therapy, big-data analysis, cancer-drug discovery, and cancer treatments.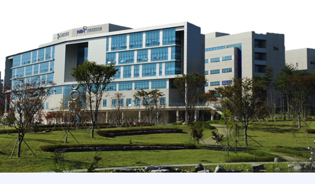 "This is the first but certainly not the last" gathering of NIH and South Korean scientists, Deputy Director for Intramural Research Michael Gottesman told the audience at the beginning of the two-day event.
"The core value of the symposium is collaboration and sharing our knowledge and experience," said Min-Soo Park, who spoke on behalf of the Honorable Ho-Young Ahn, South Korea's ambassador to the United States. "This kind of collaboration and sharing leads to [the success] of the next generation."
There are already several ongoing collaborations—with promises of more—between the two NIHs, said KNIH Director General Joo-Shil Lee, who also explained the structure and mission of her organization.
One of those collaborations is between South Korea and the National Institute of Allergy and Infectious Diseases' (NIAID) Global Research Program, which, since 2003, has focused on tuberculosis (TB). Clifton Barry, chief of NIAID's Tuberculosis Research Section in the Laboratory of Clinical Infectious Diseases, and South Korea's National Masan Tuberculosis Hospital worked together to conduct clinical trials testing the combination of two existing drugs to treat drug-resistant TB.
Other NIAID investigators are working on the human and Mycobacterium tuberculosis genomes to understand the specific mechanisms leading to drug-resistant bacterial infection in TB patients. NIAID senior investigator Alan Sher, one of the speakers at the symposium, is also investigating the immunological aspects of and therapeutic options for multidrug-resistant TB.
Cancer is another area in which NIH and South Korea researchers are collaborating. The National Cancer Institute (NCI) Center for Global Health and the Division of Cancer Treatment and Diagnosis have been facilitating these collaborations. The scientists can study the genomic profiles that are specific to Korean people as well as distinct molecular differences—relative to other ethnic groups—in cancer sites and pathogenic pathways.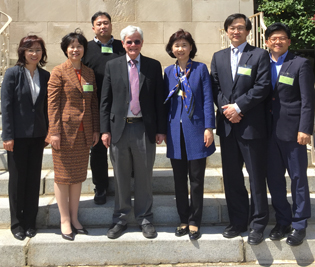 As a result of the differences, "U.S. drugs with low efficacy may be more suitable for Korean subpopulations with better responses," said Craig Thomas (National Center for Advancing Translational Sciences) in his talk on the discovery and development of cancer therapies. Min Song, an NCI program director, has been promoting the repurposing of U.S.-made drugs for use in South Korea as cancer treatments.
Another health issue of concern to both countries is obesity. It is becoming a problem in South Korea as the traditional diet of fish and vegetables slowly shifts to a more Westernized high-fat and high-sugar diet, said B.J. Song, a senior investigator in the National Institute on Alcohol Abuse and Alcoholism.
"With the Westernization of diets, and changes in lifestyle and behaviors, including heavy drinking and/or smoking, we [Koreans and Americans] have increasing examples of common chronic diseases, like obesity, diabetes, cardiovascular disorders, and aging-related diseases, that may share pathogenic pathways," said Min Song. NIH and Korean scientists could collaborate to investigate those pathways.
About one third of the population is obese in both South Korea and the United States, but there are only a handful of modest therapeutic options available, said symposium presenter Marc Reitman, chief of the Diabetes, Endocrinology, and Obesity Branch in the National Institute of Diabetes and Digestive and Kidney Diseases. Obesity contributes to type 2 diabetes, cardiovascular disease, and other co-morbidities.
Neuroscience is another field ripe for collaboration. National Institute on Aging senior investigator Mark Mattson and South Korea neurologist Duk L. Na (Samsung Medical Center, Sungkyunkwan University, South Korea) met at the symposium and have started working together. Mattson reported on his findings that intermittent fasting and exercise bolsters brainpower in animal models for Alzheimer and Parkinson diseases. Na's presentation was on the benefits of using mesenchymal stem-cell therapy for Alzheimer disease in animal models, and a phase 1 clinical trial with encouraging results.
Jong Wook Chang, also from South Korea's Samsung Medical Center, pointed out that his country has strong information-technology resources and less-stringent government regulations for stem-cell research. Both countries, he said, could share the "know-hows" of each field and work together as a team to develop therapeutic candidates for Alzheimer disease and other common diseases.
KNIH researcher Seong Beom Cho gave an overview of the "Korean Reference Genome Variation Project," which has revealed novel genomic variations specific for the Korean population that differ from other Asian populations. As Koreans are almost a homogeneous population genetically, Korean genome information can be beneficial to researchers who want to understand the ethnic variability in the human genome and facilitate the discovery of genotype-phenotype relationships.
The oral presentations on the first day were followed by a session in which 54 NIH postdoctoral fellows presented posters on research done in common disease areas. Awards for outstanding research were given to 18 fellows. The Korean visitors "took those abstracts for oral and poster presentations to Korea, and they are going to share them with the larger scientific community," said Min Song, who hopes this sharing might inspire future collaborations.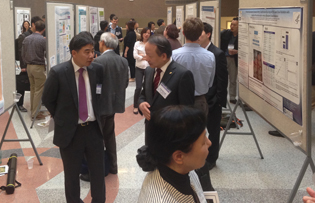 The NIH and KHIDI have supported many fellows from South Korea; when they return home, they have become successful in their fields, with some attaining high-ranking positions. This success is an inspiration for the younger generation to come to NIH and exchange valuable knowledge, said B.J. Song.
The "exchange is a two-way street," said Gottesman near the end of the symposium. He hopes to overcome the common barriers in biomedical research by "comparing the tech-transfer issues and through many more fruitful collaborations."
The symposium also had an unforeseen benefit. Both the Songs were delighted to see second-generation Korean-Americans participate in the symposium and relate to their Korean identity. "Many of them came to the symposium and were proud to be a part of the Korean community," said Min Song.
The Songs have already started planning for the next symposium, which will take place in South Korea next year. "We are learning and trying to get topics of mutual interest based on a scientific agenda," said NIAID Scientific Director Kathryn Zoon. She and Gottesman were, according to B.J. Song, the most enthusiastic NIH scientists who made the symposium possible.
The symposium was just "the beginning," said B.J. Song. "I hope it will expand to include participation from several other Korean biomedical research institutes to foster NIH collaborations with the best Korean scientists."
For more information on the symposium, go to http://wals.od.nih.gov/us-korea/.
---
DOING SCIENCE DIFFERENTLY
The Korea National Institute of Health (KNIH) and the U.S. National Institutes of Health (NIH) are alike in name only. The two organizations differ significantly in the way they conduct research.
"Korea has a different system [than] the U.S.A., particularly in the part of health R[esearch] and D[evelopment] governance," said KNIH Director General Joo-Shil Lee. "The U.S. NIH has the authority to allocate funds for intramural and extramural research."
KNIH conducts only intramural research and is under the umbrella of the Korea Centers for Disease Control and Prevention (KCDC) under the Ministry of Health and Welfare, which is similar to the U.S. Department of Health and Human Services (HHS). Although NIH and the U.S. CDC are both part of the U.S. HHS, they work independently. A large portion of NIH's research is public-health oriented, but many labs at NIH study basic science as well as translational and clinical sciences. On the other hand, KNIH's mission is to strengthen research and development capacity in public health, and so it emphasizes epidemiology-based research.
Byoung-Joon (B.J.) Song and Minkyung (Min) Song, along with few other scientists, initiated the idea of a series of NIH-Korea joint symposia. The first one was held on April 16 and 17, 2015, in Lipsett Amphitheater (Building 10). They plan to bring the best researchers from the NIH and the Korean biomedical research institutes together "so that they learn from each other and advance the fields together," said B.J. Song. In addition, Min Song said she hoped the event would be a great opportunity for the Korean leaders to gain more knowledge about translational and clinical sciences, and possibly lead to an increase in South Korea's funding for translational and clinical research.
But the Songs are not done building scientific bridges. As Min Song said, "We are always thinking about the gaps and barriers and how to fill those gaps by leveraging and facilitating collaborations."
This page was last updated on Monday, April 25, 2022