News Briefs
WEICKER BUILDING DEDICATION REVISITED
Building 4 on the NIH Bethesda campus was dedicated this spring to Lowell P. Weicker Jr., former U.S. representative (1969–1971) and U.S. senator (1971–1989), the 85th governor of Connecticut (1991–1995), and longtime champion for NIH and biomedical research. This is the second time a building at NIH has been dedicated to him. The first was in 1991 when Building 36 was named for him, but "that building is no more," said NIH Director Francis Collins at the dedication ceremony held on May 5 in front of Building 4. Building 36 was torn down to make room for the Porter Neuroscience Building (Building 35).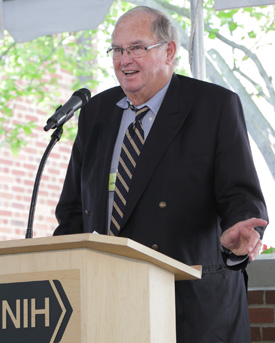 "Buildings come and buildings go, but reputations—and sometimes solidly built historic buildings—actually endure," said Collins. "This one does." The recently renovated Building 4 is one of the first six original buildings on campus and now houses laboratories for the National Institute of Allergy and Infectious Diseases (NIAID).
"We were in the trenches together [with] HIV," said NIAID Director Anthony Fauci, who has known Weicker for more than 30 years and was on hand as one of the speakers at the dedication. "Very few politicians were courageous enough to support the scientific and public-health measures necessary to address a newly recognized disease that affected mostly the disenfranchised. Senator Weicker was one of the few and the brave."
In addition to being an NIH champion, Weicker was the "proud parent of the Americans with Disabilities Act," said former U.S. Senator Tom Harkin (D-IA), who served with him on the Senate Appropriations Committee. The building dedication recognizes Weicker for his support for "basic biomedical research [and for giving] courage to others to continue the fight for the public support of the National Institutes of Health and its mission."
Weicker was one of the first senators to hold hearings on AIDS and sought $46 million in funding to test the then experimental drug zidovudine. When he was chairman of the Senate Appropriations Subcommittee for Labor, Health, and Education, the NIH budget grew from $4.3 billion to $6.7 billion in five years. In 1988, Weicker received a Lasker Public Service Award for his "compassion and dedication in the fight to eradicate disease and disability through federal funding of medical research and public health programs." In 1989, Weicker was the founding president of Research!America, the nation's largest not-for-profit public-education and advocacy alliance working to make research to improve health a national priority.
The crowd welcomed Weicker with a standing ovation when he came to the podium. "The campus of health and hope almost wasn't in the early 1980s," he said. But progress will continue to be made, "not because of buildings named after ex-politicians, but because of the people who reside in these buildings who are plodding along day after day and because citizens participated in their government." He hopes that in Building 4, "generations [will] bring their skills [and] their talents together in the interest of life."
To watch a video of the dedication ceremony, visit http://videocast.nih.gov/launch.asp?19038.
---
ALAN ALDA AND ROGER ROSENBLATT VISIT NIH
On May 21, actor/director/writer Alan Alda and writer Roger Rosenblatt joined NIH Director Francis Collins on the Masur Auditorium stage for an informal, funny, and entertaining conversation about communicating science.
Alda, who is best known for his role as Captain Hawkeye Pierce on the hit television series M*A*S*H (1972–1983), has always loved science. From 1993 through 2005, he hosted PBS's Scientific American Frontiers and interviewed hundreds of scientists. He realized that although they had good stories to tell, they had a hard time explaining their work so others could understand it. He began using improvisational theater games to coach scientists and in 2009, helped create the Alan Alda Center for Communicating Science at Stony Brook University (Stony Brook, New York). He leads workshops that use improvisational theater games to help scientists communicate their research in an personal and engaging way.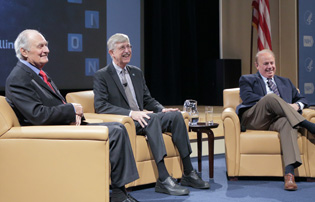 One bit of advice that Alda shared was to avoid using PowerPoint presentations to simply read what is on the screen. "That's not communication, that's excommunication."
For more communications tips from Alda and Rosenblatt, watch the videocast (NIH only) at http://videocast.nih.gov/launch.asp?19016. You can also read an article in the June 19, 2015, issue of the NIH Record at https://nihrecord.nih.gov/sites/recordNIH/files/pdf/2015/NIH-Record-2015-06-19.pdf.
This page was last updated on Monday, April 25, 2022