News Briefs
FDA LEAVES THE BETHESDA CAMPUS
Sadly, the Building 29 complex on NIH's Bethesda campus is no longer home to the Food and Drug Administration's (FDA's) Center for Biologics Evaluation and Research (CBER) and Center for Drugs Evaluation and Research (CDER). The complex's occupants were relocated to FDA's new White Oak campus in Silver Spring, Maryland, as part of an effort to consolidate operations. The CBER and CDER divisions were once part of NIH's Division of Biologic Standards before becoming part of FDA in 1972.
The Building 29 complex consists of three interconnected buildings located just south of the Clinical Center: Building 29, built in 1960; 29A, built in 1968; and 29B, constructed in 1994. Building 29 will remain vacant for the time being while the cost of renovation is being assessed; Building 29A will be used as swing space to facilitate ongoing renovations of Building 10; Building 29B will be occupied by NICHD, NIAID, and NIMHD.
Both 29 and 29A were , originally referred to as the Center for Biologics Annex and have been determined eligible for listing in the National Register of Historic Places. They not only hosted the research labs of illustrious NIH women scientists such as Margaret Pittman and Ruth Kirschstein, but also were the only facilities in the United States dedicated to the regulation of biological medicines.
To read a recent story in the August 29, 2014 issue of the NIH Record, go to https://nihrecord.nih.gov/sites/recordNIH/files/pdf/2014/NIH-Record-2014-08-29.pdf.
---
OLD INFECTIOUS AGENTS DISCOVERED ON CAMPUS
In July, 327 vials of infectious agents—including six safely sealed glass vials of Variola (smallpox) virus—that were stored in a cold room in an FDA laboratory in Building 29A, were discovered as the scientists were packing up to move to FDA's new White Oak facility. The discovery was handled appropriately and the smallpox was safely and securely transferred to the Centers for Disease Control and Prevention's (CDC) high-containment facility in Atlanta. The materials dated back to the 1950s and were under NIH control until 1972, when the labs' responsibility for regulating vaccines and other biologics were transferred to the FDA. Back in the 1950s, some of the materials in question were routinely used in research and not considered select agents at the time.
"This incident underscored the need to keep close track of all potentially pathogenic materials," NIH Director Francis Collins wrote in an all-staff e-mail. NIH quickly developed a plan to "conduct a comprehensive search of all facilities to be certain that no other select agents, toxins, or hazardous biological materials are improperly stored in any NIH facilities." The "clean sweep" of all NIH intramural labs is underway and expected to be completed by the end of September. So far, the clean-sweep operation has found more misplaced pathogens, and NIH officials promptly reported the discoveries to the CDC.
"Good lab practices demand that we only store materials we need," said Deputy Director for Intramural Research Michael Gottesman, who is overseeing the clean-sweep operation. "Dangerous materials should be properly handled and registered."
---
ERADICATING EBOLA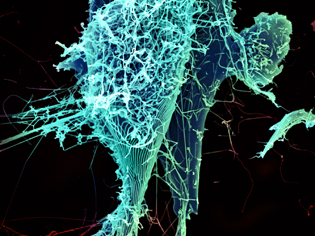 As the Ebola virus continues to spread in West Africa, NIH has begun a clinical trial to test an investigational vaccine, co-developed by the National Institute of Allergy and Infectious Diseases (NIAID) and GlaxoSmithKline—to prevent the disease. NIH intramural and NIAID-supported extramural researchers have also been working for decades to improve the understanding of the Ebola virus and to develop diagnostics, therapeutics, and vaccines. In addition, the NIH Clinical Center has a special clinical studies unit with high-level isolation capabilities and is prepared to accept Ebola patients if necessary. And NIAID Director Anthony Fauci, through media interviews, is helping to educate the public about the disease. To read more, visit the NIH Director's Blog and search for Ebola: http://directorsblog.nih.gov.
This page was last updated on Tuesday, April 26, 2022