Why Do Tumors Keep on Growing?
Cancer Therapy Kills Only Part of a Tumor
"I want to get you to change your thinking about how we evaluate cancer," Antonio "Tito" Fojo told the audience that had gathered in Lipsett Amphitheater (Building 10) on June 12 for the Great Teachers Tenth Annual John Laws Decker Memorial Lecture. Cancer therapy, he said, kills only part of a tumor—the part that's sensitive to a cancer-fighting drug. The rest is resistant and continues to grow.
Fojo, a senior investigator in the National Cancer Institute, strives to identify the mechanisms of drug resistance so that one day it can be prevented. He conducts basic science and translational research as well as clinical studies in the hopes of finding better therapies. He also excels at teaching clinical fellows to rigorously evaluate cancer therapies, work toward improved patient outcomes, and provide empathetic patient care.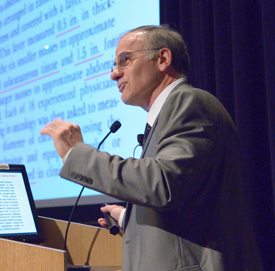 In recognition of his skill in training physicians, the NIH Clinical Fellows Committee selected him as the recipient for this year's Distinguished Clinical Teacher Award.
During his lecture, "Novel Paradigms in Cancer That May Lead to Better Therapies," Fojo pointed out the blind spots in modern-day cancer treatments: Even after years of research by NIH scientists and others, clinicians still rely on the same small arsenal of nonspecific cancer-fighting drugs to treat patients. And he bemoaned the proliferation of "me too" drugs that mimic successful therapeutics by targeting, ineffectively, the same signaling pathways.
Fojo challenged the audience to think more critically about cancer treatments and develop better ones. He also highlighted NIH's innovative research that explores how to get the immune system to attack tumors.
But better research wasn't all that was on Fojo's mind—empathetic patient care was, too. "The most important thing NIH clinical fellows can learn is how to take care of patients [who] are enrolled in clinical trials," he said. Fellows need to learn "how to listen to a patient, empathize with the patient, and be able to attend [to] their needs in diverse ways."
---
The Decker Lecture is named in honor of John Laws Decker, director of the Clinical Center (CC) 1983–1990, who was lauded by colleagues for both his bedside manner and his careful design of clinical trials. He oversaw major advances at the CC including the development of the positron emission tomography program and the clinical use of magnetic resonance imaging. To view the June 12, 2013 lecture, visit http://videocast.nih.gov/launch.asp?17996. For more on Fojo, visit https://irp.nih.gov/pi/antonio-fojo.
This page was last updated on Thursday, April 28, 2022