Making Progress against Rare Adrenal Tumors
People suffering from rare diseases often feel isolated and have few opportunities to share their experiences with one another. But at NIH recently, people with two types of rare adrenal tumors—pheochromocytoma and paraganglioma—met at a gathering that included physicians and scientists to learn about the latest in research and treatments. On June 20 and 21, the second annual International Patient Symposium on Pheochromocytoma, hosted by the Pheo Para Alliance (Arlington, Va.), was held in Building 60 and featured 27 speakers including several from NIH.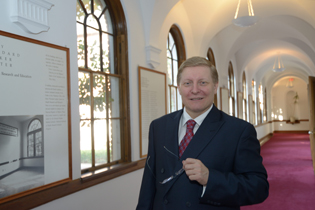 Pheochromocytomas are rare, usually benign, tumors that originate inside the adrenal glands; paragangliomas are similar tumors that form outside the adrenals. These difficult-to-diagnose tumors—which can occur at any age but are most common between the ages of 30 and 50 years old—can trigger the release of excess adrenaline and dopamine, causing dangerously high blood pressure, pounding headaches, and heart palpitations. Two to eight people per million are diagnosed with these tumors each year. The conventional treatment is the surgical removal of the tumor sometimes accompanied by chemotherapy.
"Right now, 50 percent of cases go undiagnosed and treatments are suboptimal or not effective," said Karel Pacak, a senior investigator and a leading pheochromocytoma researcher in the Eunice Kennedy Shriver National Institute of Child Health and Human Development (NICHD). Pacak, who focuses on improving the diagnosis and treatment of pheochromocytoma and paraganglioma, advanced imaging strategies, and novel therapeutic options, went on to describe recent research on the genes associated with the onset of these tumors and NIH's exploration of diagnostic imaging techniques such as positron emission tomography scans.
Other NIH scientists presenting at the symposium included NICHD staff clinician and genetics counselor Margarita Raygada, National Cancer Institute senior investigator Tito Fojo, and Clinical Center radiologist Aradhana Venkatesan.
Raygada is interested in the improved management of chronic genetic conditions and described the seven major gene mutations that predispose an individual to pheochromocytoma and paraganglioma. The mutations are typically passed on from parent to child, but can occur spontaneously, she said. "Every single patient who has pheochromocytoma [or] paraganglioma has to be offered genetic testing" to determine whether other members of the family are at risk of having mutated genes.
Fojo, an expert in the mechanisms of chemotherapeutic drug resistance, presented an overview of the different types of chemotherapy used to treat certain pheochromocytoma and paraganglioma tumors. His findings suggest that tumors created by a mutation in the SDHB gene respond well to chemotherapy, whereas tumors resulting from other mutations do not.
Venkatesan, a radiologist and imaging clinician, described a relatively new treatment that has become an alternative to the surgical excision of adrenal tumors: radiofrequency ablation (RFA), which uses high-energy radio waves to heat and destroy cancerous cells. RFA has been in use for a long time to treat nerve-related chronic pain, heart arrhythmias, and some cancers, but has only recently been expanded to treat adrenal tumors. Venkatesan has demonstrated that RFA is successful in destroying small and large tumors, but because it's been in use for such a short time, she strongly advises patients who are considering it to "seek out experienced locations" such as the NIH Clinical Center.
"It is important that we at the National Institutes of Health work with research and patient groups in the United States and around the world" to advance the research, Pacak said. "Together we stand a chance; separately we fail."
This page was last updated on Thursday, April 28, 2022