The Training Page
NIH Medical Arts
We're Much Alive and Changing the Way We Do Business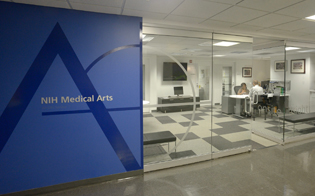 Despite what you may have heard, the Division of Medical Arts is still in business and continuing to provide services to its NIH customers. We have served the NIH community for more than 50 years and distinguished ourselves by winning numerous awards for our work, and our services are unmatched by outside providers.
But Medical Arts is a fee-for-service organization, and our budget depends on billable work requests from Institutes and Centers (ICs). Recently, there have been fewer requests for our services because ICs have smaller budgets and have had to cut or postpone projects that would have required Medical Arts' help; advances in technology have allowed ICs to do some things themselves that they used to rely on Medical Arts for; and some ICs are procuring similar services from outside vendors.
Medical Arts, therefore, is restructuring and changing the way we do business by reducing our space, refining our technology, and modifying the way our designers and artists work. In essence, Medical Arts is becoming a storefront that will manage and provide the services that support the NIH's mission, to the extent that revenue continues to cover expenses.
As Medical Arts transitions through this restructuring into FY2014, we will continue to provide:
Express services such as scientific and event posters, programs and brochures, plaques, campus photos, and custom framing
Medical and visual information services such as:
Design services: identity graphics, publication, poster, brochure, signage, and exhibit design
Three-dimensional modeling and animation ranging from simple moving diagrams to photorealistic animations revealing even the most complicated processes
Digital animations for presentations that can illuminate surgical procedures, educate patients, and communicate complex research by showing a series of steps instead of a single static image
Illustrations: journal covers and publications, medical and biological drawings, and accurate technical charts, diagrams, and depictions of laboratory equipment
We encourage our customers to continue using our services during the transition. As the budget is developed for FY2014, we will have a better understanding of our ability—and of our customers' needs—to ensure the future viability of the Medical Arts capabilities. We will keep you posted and will adjust our business plan accordingly.
Medical Arts will be able to complete the services outlined in established Inter/Intra-Agency Agreements. These formal agreements have resulted in vital collaboration with other government agencies. You, the Medical Arts customer, can be assured that service levels will not decline.
We also encourage ICs that are procuring similar services from outside entities to try using Medical Arts instead during the transition. Our team is ready to do whatever it takes to get the job done—creatively, efficiently, and expertly. No outside provider can match our unique qualifications, convenience, expertise, and understanding of the NIH community. Medical Arts is dedicated to meeting your needs—each and every time.
For more information, visit our Web site to see what services are offered and browse our portfolio of award-winning work; follow us on Twitter or Tumblr; or call us.
Web site: medarts.nih.gov
Twitter: NIHMedicalArts
Tumblr: nihmedarts.tumblr.com
Phone: 301-496-3221
This page was last updated on Thursday, April 28, 2022