Laboratory Confessions
Ode to DeMystifying Medicine
Stem cell, versatile progenitor,
creature of many faces—Come, wake up!
Show us the types of cells you can engender.
Smell, with you we travel
across time in an instant.
But if we lose you and cannot sense
the burning toast or spring lilacs
that bear no emblem of their perfume,
forget steroids, antibiotics.
Send us a growth factor to awaken
our sleeping stem cells.
Though the doctor reassures his patient,
"Your brain, my dear, has shrunk a bit
but for an aged one it's nothing
out of the ordinary," don't fret.
He means no harm. If all is lost upstairs
I tell you, Song will stay.
And may we thank Aretaeus belatedly
for his detective work on celiac disease.
May the villi rise, the lymphocytes
find other homes.
Just when it seems the world's gone sour,
tanks and missiles, war never to end,
take heart. The wondrous minds
of curious folks at work in labs
are puzzling out intricate designs,
the keys to how molecules assemble.
In the ventricle of memory new
constellations arise.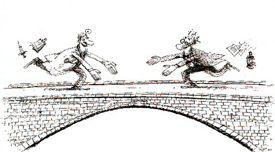 ---
Biologist, poet, and writer Myra Sklarew is a professor emerita of literature at American University (Washington, D.C.). She attends the "Demystifying Medicine" lectures and confesses that she wrote this poem for its director, Win Arias. For information about the 2013 season, go to https://irp.nih.gov/catalyst/v20i6/announcements.
This page was last updated on Friday, April 29, 2022