Research Briefs
Intramural Research Briefs
NHGRI: HUMAN MICROBIOME PROJECT DEFINES NORMAL BACTERIAL MAKEUP OF THE BODY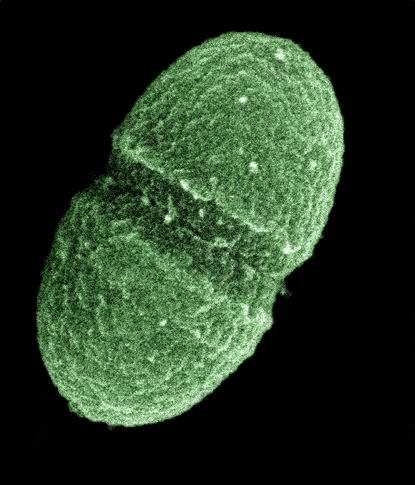 For the first time, a consortium of researchers—the Human Microbiome Project (HMP)—organized by NIH has mapped the normal microbial makeup of healthy humans, producing numerous insights and a few surprises. Researchers found, for example, that nearly everyone routinely carries pathogens. In healthy individuals, however, pathogens cause no disease; they simply coexist with their host and the rest of the human microbiome, the collection of all microorganisms living in the human body. Researchers must now figure out why some pathogens turn deadly and under what conditions, likely revising current concepts of how microorganisms cause disease.
To define the normal human microbiome, HMP researchers sampled 242 healthy U.S. volunteers (129 male, 113 female), collecting tissues from 15 body sites in men and 18 body sites in women. Historically, doctors studied microorganisms in their patients by isolating pathogens and growing them in culture. This painstaking process typically identifies only a few microbial species, as many others are hard to grow in the laboratory. In HMP, researchers purified and analyzed all human and microbial DNA in each of more than 5,000 samples. Doctors had previously isolated only a few hundred bacterial species from the body, but HMP researchers now calculate that more than 10,000 microbial species occupy the human ecosystem. Moreover, researchers calculate that they have identified between 81 and 99 percent of all microorganismal genera in healthy adults.
HMP researchers also reported that this plethora of microbes contributes more genes than are currently thought to be present in the human genome, which contains some 22,000 protein-coding genes. HMP researchers estimate that the human microbiome contributes some eight million unique protein-coding genes, or 360 times as many genes as human genes. In a series of coordinated scientific reports published on June 14, 2012, in Nature and several journals in the Public Library of Science (PLoS), the HMP reports on five years of research. (NHGRI intramural author: J. A. Segre; Nature 486:207–221, 2012). To read the series of PLoS articles, go to http://www.ploscollections.org/article/browseIssue.action?issue=info:doi/10.1371/issue.pcol.v01.i13.
---
NCI: HIGH-DENSITY MAMMOGRAMS DO NOT INDICATE INCREASED RISK OF DEATH
High mammographic breast density, which is a marker of increased risk of developing breast cancer, does not seem to increase the risk of death among breast cancer patients, according to a study led by NCI researchers in collaboration with investigators from the NCI-sponsored Breast Cancer Surveillance Consortium. In the study of over 9,000 women with a confirmed diagnosis of breast cancer—age 30 or older at diagnosis and followed for an average of 6.6 years—high mammographic density was not associated with the risk of death from breast cancer or risk of death from all causes combined. (G. Gierach, L.Brinton, C. Schairer, S. Taplin, M. Sherman; J Natl Cancer Inst 104:1218–1227, 2012)
---
NIAAA, NIMH, NIDA: A NEW DRUG REDUCES WEIGHT AND APPETITE IN OBESE MICE
A new drug studied by researchers at NIAAA may aid those suffering from obesity by harnessing the body's own appetite-reducing mechanisms. People who are obese overproduce leptin, a hormone that signals the body when it is no longer hungry. Overproduction of leptin desensitizes cell receptors, and the body no longer effectively receives that signal. Introduce JD5037, a cannabinoid receptor blocker, to diet-induced obese (DIO) mice, and they begin to lose weight within days. A similar cannabinoid receptor blocker, rimonabant, was used throughout Europe as an anti-obesity drug from 2006 until 2008, when it was taken off the market because its side effects included anxiety and depression. Using positron-emission tomography and behavioral tests, researchers found that JD5037, unlike rimonabant, does not cross the blood-brain barrier or cause similar psychological effects. JD5037, however, does act on the periphery, resensitizing DIO mice to leptin by decreasing its release from adipocytes and increasing its clearance via the kidneys. This major difference gives researchers hope for JD5037 as an effective anti-obesity drug as it moves forward into a period of toxicology testing. (NIH authors: J. Tam, R. Cinar, J. Liu, G. Godlewski, D. Wesley, T. Jourdan, G. Szanda, B. Mukhopadhyay, L. Chedester, J.S. Liow, R.B. Innis, K. Cheng, K.C. Rice, G. Kunos; Cell Metab 16:167–179, 2012) [contributed by Shaun Flynn, NIAAA]
---
NHLBI, NIA: MRIs SHOW THAT SILENT HEART ATTACKS ARE COMMON
Magnetic-resonance imaging is more effective than electrocardiography) at identifying "silent" heart attacks, also known as unrecognized myocardial infarctions, according to NIH researchers and international colleagues. They found that silent heart attacks are more frequent than previous studies have reported, particularly in certain populations such as older adults with diabetes. Silent heart attacks appear to be much more common than those with recognized symptoms. The study involved 936 participants aged 67 to 93 years enrolled in the Age Gene/Environment Susceptibility-Reykjavik Study. Of these participants, 337 had diabetes and 599 did not. The authors suggest that people who have an increased risk for silent heart attacks, such as older people with diabetes, may benefit from following cardiovascular disease prevention methods, given the high prevalence of silent heart attacks and their association with increased mortality. (NIH authors: E. Schelbert, J. Cao, P. Kellman, A. Aletras, C. Dyke, A. Arai; L. Launer, T. Harris; JAMA 308:890–897, 2012)
---
NIA, NIAID: NIH STUDY FINDS CALORIE RESTRICTION DOES NOT AFFECT SURVIVAL
Scientists have found that calorie restriction—a diet with the same nutrients as a standard diet but with approximately 30 percent fewer calories—does not extend years of life or reduce age-related deaths in a 23-year study of rhesus monkeys. Calorie restriction did, however, extend certain aspects of health. Past research has shown that calorie restriction has extended the lifespan of yeast, worms, flies, and some strains of mice. To date, research does not provide evidence that calorie restriction is an appropriate age regulator in humans. The survival results reported in this study differ from those published in 2009 by NIA-supported investigators who found that rhesus monkeys on a calorie-restricted lived longer than those on a standard diet. (NIH authors: J. Mattison, D. Barnard, A. Handy, R. Herbert, D. Longo, E. Tilmont, J. Young, R. de Cabo; Nature DOI:10.1038/nature11432)
---
NIAID: SCIENTISTS MAP FIRST STEPS IN FLU ANTIBODY DEVELOPMENT
NIAID scientists have identified how one kind of immature immune cell responds to a part of influenza virus and have traced the path those cells take to generate antibodies that can neutralize a wide range of influenza virus strains. The new understanding of how an immature immune cell transforms into a mature B cell capable of producing antibodies that neutralize a wide variety of influenza viruses could speed progress toward a universal flu vaccine that would provide protection against most or all influenza virus strains. (NIAID authors: D. Lingwood, P. McTamney, H. Yassine, J. Whittle, X. Guo, J. Boyington, C.-J. Wei, G. Nabel; Nature DOI 10.1038/nature11371)
---
NINDS, CC: NIH RESEARCHERS IMPLICATE UNIQUE CELL TYPE IN MULTIPLE SCLEROSIS
NIH scientists have found evidence that a unique type of immune cell contributes to multiple sclerosis (MS). Their discovery helps define the effects of one of the newest drugs under investigation for treating MS: daclizumab. The new study shows that one effect of daclizumab is to thin the ranks of lymphoid tissue inducer (LTi) cells. LTi cells are known to promote the development of lymph nodes and related tissues during fetal life, but their role during adulthood has been unclear. The new study marks the first time that LTi cells have been implicated in any human autoimmune disorder. The research team found that among MS patients participating in clinical trials of daclizumab, the number of LTi cells was elevated in patients not receiving daclizumab compared with the number in those on the drug. Patients receiving daclizumab also had reduced signs of inflammation in the cerebrospinal fluid. It appears that daclizumab steers the body away from producing LTi cells in favor of another cell type that counteracts autoimmunity. (NIH authors: J. Perry, S. Han, Q. Xu, M. Herman, L. Kennedy, G. Csako, B. Bielekova; Sci Transl Med 4:145ra106, 2012)
---
OFFICE OF TECHNOLOGY TRANSFER (OTT) BRIEFS
OTT: DENTAL PULP STEM CELLS
Many individuals with severe dental problems face the possibility of losing their permanent teeth and may have to replace them with dentures or artificial implants. But NIH researchers may have found a solution.
NIDCR senior investigator Pamela Robey and colleagues developed a technology to engineer living teeth by isolating and transplanting a patient's own dental pulp stem cells from their own postnatal dental pulp tissue (from wisdom teeth). These cells can be induced to form calcified nodules in vitro and have been shown to differentiate into a dentin- and pulplike structure in vivo. OTT has executed its first license for stem cell therapy—with Angioblast Systems Inc., a U.S.-based biotechnology company acquired by Mesoblast Ltd. in 2010—to develop and commercialize products that will regenerate human periodontal, dental pulp, and neural tissue to its pre-disease state.
---
OTT: GLYBERA
A European advisory panel recently recommended the approval of the first gene therapy to be sold in a Western country—a drug to treat lipoprotein lipase deficiency (LPLD), a rare genetic disease that disrupts fat production in the body. Glybera, a product of the Dutch biotechnology company UniQure, is a recombinant adeno-associated virus (rAAV). Because patients with LPLD have abnormally high concentrations of serum triglycerides and of very low-density lipoprotein, they suffer severe pancreatitis attacks and are at risk for cardiovascular diseases. Glybera, which is administered by intramuscular injection, expresses lipoprotein lipase in the patient's own tissue, restoring the body's ability to break down fat particles in the blood.
UniQure entered into a licensing agreement with NIH to adopt a method developed by NHLBI senior investigator Robert Kotin and colleagues to manufacture large quantities of rAAV. The combined effort of NIH and UniQure has the potential to greatly increase the therapeutic reach of gene therapies to benefit far larger patient groups than thought possible.
---
This page was last updated on Friday, April 29, 2022