Clinical Center Welcomes Extramural Investigators
NIH intramural investigators may soon have company at the NIH Clinical Center (CC) when a new grant program offers access to extramural researchers who want to partner with them.
The move will help maintain the CC's status as a "national treasure," said NIH Director Francis Collins. "Opening its doors to a greater pool of researchers will welcome fresh perspectives and cultivate new opportunities for discovery that will translate to greater human health."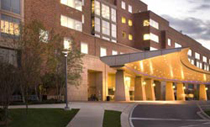 The CC launched a new Web site (http://clinicalcenter.nih.gov/translational-research-resources/index.html) that offers a "Collaborator's Toolkit" that includes a listing of the hospital's research resources—such as its metabolic unit, pharmaceutical-development capabilities, and advanced research–related radiology imaging services—and instructions for how extramural researchers can initiate partnerships with intramural scientists.
"The Clinical Center should be available for collaborations that will further enhance the translation of scientific observations and laboratory discoveries into new approaches for diagnosing, treating, and preventing disease," said CC Director and NIH Associate Director for Clinical Research John Gallin.
In addition to the new grant program called Opportunities for Collaborative Research at the NIH Clinical Center (http://grants.nih.gov/grants/guide/notice-files/NOT-HD-12-025.html), extramural investigators may access Clinical Center resources through previously existing funding relationships such as contracts, grants, and cooperative agreements. Administrative supplements to grants are also available for short-term Bedside-to-Bench Awards Program projects that involve partnerships between intramural and extramural investigators for translational research projects.
The CC, which received the 2011 Lasker-Bloomberg Public Service Award (http://clinicalcenter.nih.gov/ccaward.html) from the Albert and Mary Lasker Foundation, is a 240-bed hospital and research facility with more than 1,500 clinical research protocols underway. The recommendation that the NIH allow external investigators to use CC resources to stimulate a broader range of research came from the Congressionally mandated Scientific Management Review Board (SMRB). The SMRB was authorized by the NIH Reform Act of 2006 and charged with examining the NIH's organizational structure and providing recommendations for enhancing the agency's mission.
For more information, contact the Clinical Center Partnerships at ClinicalCtrPartner@mail.nih.gov or 301-496-4121 or visit these Web sites:
This page was last updated on Friday, April 29, 2022