News Briefs
Jeter's Leaders Visit NIAAA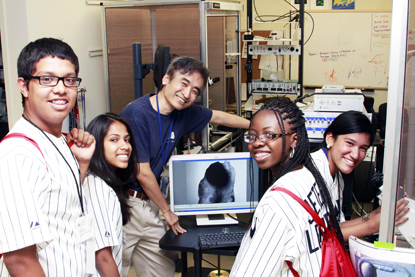 Summer is baseball season, and on July 24 intramural scientists at the National Institute on Alcohol Abuse and Alcoholism (NIAAA) hosted the all-star team "Jeter's Leaders" to teach them about the latest research in alcohol abuse and alcoholism. Approximately 100 high school students from Michigan and New York traveled to NIH to catch a glimpse of the big leagues in scientific research.
The Jeter's Leaders Program is a youth leadership-development and social-change program started by Derek Jeter, captain of the New York Yankees. Funded by his Turn 2 Foundation, Jeter's Leaders promote academic achievement and healthy lifestyles free of alcohol and substance use.
"By interacting with our Ph.D.s and health professionals, the students can gain a new perspective as they think about college majors and their future," said NIAAA public liaison officer Fred Donodeo, who first invited Jeter's Leaders to visit NIH in 2002. This year, their visit included a full line up of science presentations, interactive exhibits, and hands-on laboratory activities. The students spent the morning in Bethesda, at the Clinical Center, discussing alcohol abuse in adolescence, learning about the importance of minority involvement in health research, and taking a tour of the building.
For the second part of their double-header program, the students headed to Rockville. At the Fishers Lane facility, the rookies broke into smaller groups for site visits. They viewed the "Drunken Brain," an interactive exhibit that shows how the brain functions normally and under the influence of alcohol. They also experienced the disorienting properties of alcohol intoxication by donning "Fatal Vision" goggles that simulate being under the influence. They even got to hold a human brain specimen from one of the world's largest brain collections.
In a series of hands-on demonstrations, NIAAA principal investigator Fumihito Ono explained how studying zebrafish advances our understanding of alcohol exposure during development. "It is very rewarding to watch these students get involved in the lab because they are so excited and full of energy," he said.
The event was a home run. "Exploring the labs and seeing where huge developments and discoveries are made was really cool," said a student from Portage Northern High School in Kalamazoo, Mich.
---
Commuters Plug In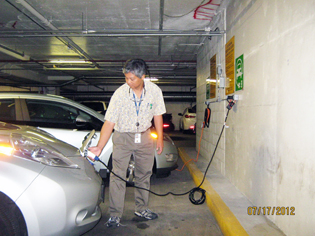 The memorable psychologist, writer, and counterculture icon Timothy Leary was famous for the line, "Turn on, tune in, drop out." Although we don't want employees to "drop out," a new pilot program is encouraging owners of electric vehicles to "turn on" a charging station while they work.
With the help of the NIH Federal Credit Union (NIHFCU), eight parking spaces have been reserved on the Bethesda campus as electric-vehicle charging stations: four in the Clinical Center garage (P-2 and P-3 levels) and two each in the MLP-6 and MLP-7 garages. Spaces are painted eco green and marked "EV" for "electric vehicle." Outlets have a kilowatt meter that records total power usage as the vehicles charge up.
Even without much fanfare, a few Chevy Volts and Nissan Leafs have been seen, dashboards blinking, powering up in the designated spaces. The pilot project will run until the NIHFCU's $2,000 donation of energy use is exhausted. However, if interest remains steady and a method to allow employees to pay for their own energy consumption is resolved, the parking staff envisions opening up additional charging stations at other locations on campus.
With an aim at reducing fossil-fuel consumption and pollution, even Leary himself might have found this program progressive…or at least "far out."
This page was last updated on Friday, April 29, 2022