Web Site Countdown
NIH Research Invisible No More
"I'm not sure of what 'intramural' means," confessed a clinical trials patient as she was testing out a new Web site for NIH's Intramural Research Program (IRP) recently.
The tester's comment reinforced what NIH scientific directors and researchers have long suspected: The intramural program is all but invisible and not well understood by the outside world. Some people know that NIH funds biomedical research at medical schools and other institutions. But few realize that nearly 10 percent of the agency's $30 billion budget is dedicated to "intramural research"—the basic and clinical research conducted on NIH campuses in Maryland, Arizona, Montana, and North Carolina.
Maybe the problem lies in the term "intramural" or maybe the IRP has failed to promote itself. The IRP may be low profile, yet its research has had a marked impact on public health. Discoveries have included the use of fluoride to prevent tooth decay; the development of blood tests to detect human immunodeficiency virus and hepatitis; the first AIDS drugs; vaccines against hepatitis, Haemophilus influenzae, and human papillomavirus; and more. Also within the IRP's domain is the Clinical Center, the world's largest hospital devoted to clinical research; the Undiagnosed Diseases Program; and the National Library of Medicine, which with its database of over 18-million journal citations, is a vital entity for researchers and the general public worldwide.
At their annual retreat in December 2008, the scientific directors announced their intention to raise the profile of NIH's intramural research and get people to appreciate the value of NIH's high-risk, high-reward science and the significant contributions being made to human health. They also hoped that NIH could attract high-quality researchers and be viewed as a premier career destination for talented tenure-track faculty.
L. Michelle Bennett (NHLBI) and Andy Baxevanis (NHGRI) were selected to co-chair a trans-NIH committee to promote the IRP. Over the past two years, the 80-member group has engaged communications and training directors, information technology specialists, researchers, clinicians, a public relations firm in Boston, and others to develop strategies for showcasing the intramural program.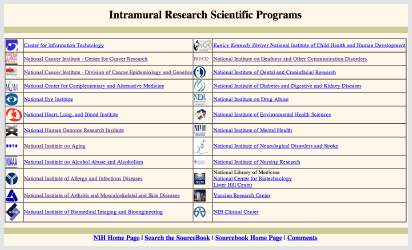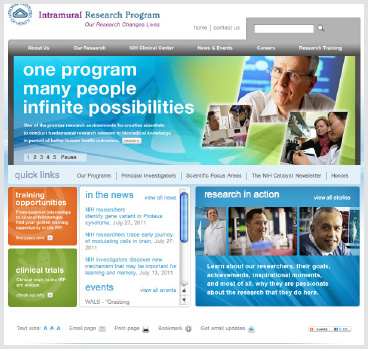 The culmination of that effort is a new IRP Web site, the first phase of which will launch in mid-September; the second phase, in 2012.
The new Web portal "represents the face of the NIH intramural program in all its creativity and diversity," said Michael Gottesman, deputy director for intramural research. "We have over 7,000 scientists working on six main campuses involved in over 2,000 research programs spanning the spectrum of biomedical and behavioral research."
Visitors to the new Web site will find stories and videos of researchers and their work in the "Research in Action" section; training and career opportunities; a new Web presence for The NIH Catalyst; links to social media such as Facebook, LinkedIn, and Twitter; and much more. In phase two, investigator profiles and laboratory pages will be added to the Web site.
Creating the IRP Web site "was a perfect opportunity to engage our intramural colleagues in the development of a new communications tool," said Baxevanis. "Their feedback was essential to our being able to convey the enthusiasm for the IRP mission."
"This is the first time that the NIH has had a public presence for the Intramural Research Program as a whole," Bennett said. "Numerous people across the NIH rolled up their sleeves to get this accomplished."
The new Web site was tested this summer by 17 people who represented a cross section of scientists, trainees, patients, and health-care professionals and included a Congressional staffer. Each participant reviewed the site individually at either a facilitated session held at the Department of Health and Human Services' Usability Lab in Washington, D.C., or conducted remotely from a home computer.
"Overall, I'm impressed with it," said one of the test participants. "It's easy to read and provides a lot of basic information about the IRP as well as specific scientific information."
Another tester was pleased that the Web site was a "one-stop search for all of IRP."
"This is a proud, shining face," said Gottesman. "The larger scientific community [and others] need to know who we are and what we do."
---
Fast Facts
The new Web site will launch on September 19, 2011, at https://irp.nih.gov.
For more information or to request Web page templates for your IC's Web site, contact Christopher Wanjek at wanjek@mail.nih.gov.
One issue remains unresolved: What can we call ourselves if not "intramural"? If you have any suggestions, please share them on one of the new IRP social media pages.
This page was last updated on Monday, May 2, 2022