Meet the New Director of the Center for Regenerative Medicine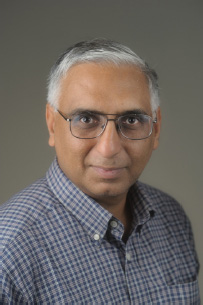 Stem cells, with the proper coaxing, have near–limitless potential. The same goes for stem cell programs. NIH's own initiative for induced pluripotent stem (iPS) cells, begun a little over a year ago, is maturing quite nicely. What was once called the NIH induced Pluripotent Stem Cell Center (NiPC) is now the NIH Center for Regenerative Medicine (NIH-CRM). In August, the center got a new director—Mahendra Rao, a former senior investigator at NIA who left the NIH in 2005 and started a successful stem cell division for the company Invitrogen. He has returned for "an opportunity to make a difference on a larger scale than with any one company," he said.
The NIH-CRM is an NIH Common Fund initiative to build a world-class center of excellence in stem cell technology —including the creation of induced pluripotent stem cells—on the NIH campus, The center will be administered by the National Institute of Arthritis and Musculoskeletal and Skin Diseases (NIAMS).
"Dr. Rao's varied experience makes him perfectly qualified to bring large groups together in order to move stem cell technologies through clinical trials and beyond to the clinic," said NIH Director Francis Collins.
A major goal for the center is to build upon existing NIH investments in stem cell research to advance translational studies and ultimately cell-based therapies in the NIH Clinical Center. The center will also serve as a resource for the scientific community, providing stem cells as well as the supporting protocols and standard operating procedures used to derive, culture, and differentiate them into different cell types.
In addition to his NIH-CRM director position, Rao will hold a joint research appointment in NIAMS and NINDS.
"Dr. Rao is an ideal choice to lead the NIH-CRM at this pivotal time for stem cell research," said NIAMS Scientific Director John O'Shea. "His unique background will serve him and the center well as we move forward to fulfill the great promise of stem cell technology." (Read O'Shea's essay)
Rao is internationally renowned for his research involving human embryonic stem cells and other somatic stem cells. He has worked in the stem cell field for more than 20 years, with stints in academia, government and regulatory affairs, and industry. He received his M.D. from Bombay University in India and his Ph.D. in developmental neurobiology from the California Institute of Technology (Pasadena, Calif.). Following postdoctoral training at Case Western Reserve University (Cleveland), he established his research laboratory in neural development at the University of Utah (Salt Lake City). He next joined the National Institute on Aging as chief of the Neurosciences Section, where he studied neural progenitor cells and continued to explore his longstanding interest in their clinical potential. Most recently, he spent six years as the vice president of Regenerative Medicine at Life Technologies (Carlsbad, Calif.). He co-founded Q Therapeutics, a neural stem cell company based in Salt Lake City. He also served internationally on advisory boards for companies involved in stem cell processing and therapy, on committees including as chair of the U.S. Food and Drug Administration's Cellular Tissue and Gene Therapies Advisory Committee, and as the California Institute of Regenerative Medicine and International Society for Stem Cell Research liaison to the International Society for Cellular Therapy.
With Rao at the helm, the NIH-CRM has limitless potential for making a difference by translating iPS cell research into real treatments.
---
History of the Common Fund
The NIH Common Fund was enacted into law by Congress through the 2006 NIH Reform Act to support cross-cutting, trans-NIH programs that require participation by at least two NIH institutes or centers (ICs) or would otherwise benefit from strategic planning and coordination. The requirements for the Common Fund encourage collaboration across the ICs while providing the NIH with the flexibility to determine priorities for Common Fund support. To date, the Common Fund has been used to support a series of short-term, exceptionally high-impact trans-NIH programs known collectively as the NIH Roadmap for Medical Research. The Common Fund is coordinated by the Office of Strategic Coordination within the Office of the Director. For more information, visit http://commonfund.nih.gov/.
This page was last updated on Monday, May 2, 2022