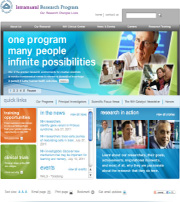 NIH Research Invisible No More
"I'm not sure of what 'intramural' means," confessed a clinical trials patient as she was testing out a new Web site for NIH's Intramural Research Program (IRP) recently.
The tester's comment reinforced what NIH scientific directors and researchers have long suspected: The intramural program is all but invisible and not well understood by the outside world. Some people know that NIH funds biomedical research at medical schools and other institutions. But few realize that nearly 10 percent of the agency's $30 billion budget is dedicated to "intramural research"—the basic and clinical research conducted on NIH campuses in Maryland, Arizona, Montana, and North Carolina.
This page was last updated on Monday, May 2, 2022