Laboratory Confessions
Who Was That Masked Man?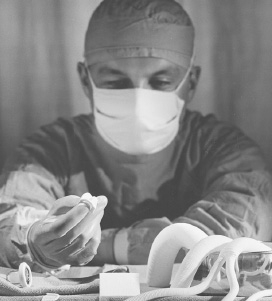 Our "laboratory confession" this issue comes from the NIH Office of History, which confesses that it doesn't know the identity of this surgeon. He is part of a new heart-valve exhibit in the south entrance of Building 10 on the NIH Bethesda campus.
The photo appeared in the World Health Organization's magazine World Health in 1965, in the June–July issue. (If you still have an issue, we commend you … maybe.) The photo is spread across pages 24 and 25, yet the surgeon is not mentioned in the article or caption. We do know that the surgeon is not Andrew Morrow, chief of the Surgery Branch in the National Heart Institute, who is featured elsewhere in the heart-valve exhibit. We have a guess of who this might be, but we don't want to bias you.
Here's your chance to be a part of history by helping us document it. Please send your guesses to Laura S. Carter, The NIH Catalyst managing editor (carterls@od.nih.gov). We hope to announce results in the November–December Catalyst.
---
Editor's Note: Have a late-night laboratory confession? We might print it if it is indecent enough.
This page was last updated on Monday, May 2, 2022