Three Minutes to Better Science Communication
Most researchers have had conversations with non-scientist friends or family members that start with a seemingly innocent question: "So, what are you working on?" Answering directly can be a challenge, especially in basic biomedical research. What is the best way for scientists to share exactly what they're studying, why, and how?
They might explain what questions they aim to answer, what their data has indicated so far, and how the new information could potentially change our understanding of a specific biological system or disease. After finishing the description, the other person—perhaps with a perplexed stare—might quietly reply, "Right… well… I don't understand what you just said, but it sounds important." Cue subject change.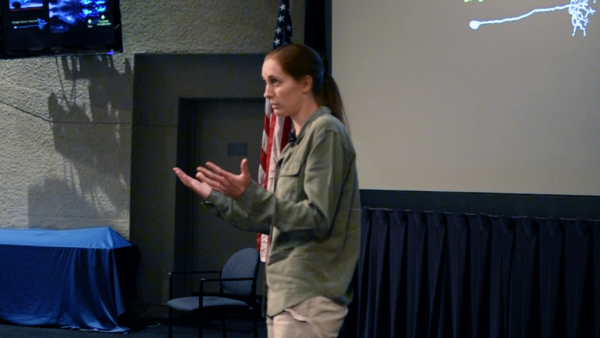 NIH's Three-Minute Talks (TmT) program just completed its second annual competition. TmT aims to help early-career scientists communicate the substance of their research and its significance to improving human health in three minutes or less — and in such a way that can be understood by a broad scientific audience. The competition is modeled on one developed originally at the University of Queensland, Australia in 2008 and now employed at other research institutions in Australia, Canada, Belgium, and more recently in the U.S., called the Three Minute Thesis 3MT®.
Recently, actor and science advocate Alan Alda visited the NIH. In a discussion with NIH Director Dr. Francis Collins and author and professor Dr. Roger Rosenblatt, Alda explained that many scientists suffer from what he calls "the curse of knowledge." In other words, experts become so knowledgeable about a subject that they forget what it's like to be unfamiliar with it. This leads them to use overly technical terms and details that leave the uninitiated confused, bored, and unable to see the value of the topic. It becomes deeply problematic when the subject is something so crucial as human health.
A successful TmT not only provides general audiences with a concise, clear explanation of the research, but also conveys the potential impact of that work, while enticing the listener to want to know more. Presenters are limited to just one PowerPoint slide (with animations and videos allowed). No sound or additional props are permitted, and of course they can't speak for more than three minutes. A panel of six judges decided the first, second, and third place winners out of fourteen finalists. Prizes include scientific training, travel support, and having a winning TmT professionally produced for video.
Fellows and grad students from three intramural programs (NIDCR, NHGRI, and NICHD) competed this year. As part of their preparation, they attended an improv workshop from the Alan Alda Center for Communicating Science at Stony Brook University. They also worked with public speaking coach Scott Morgan and had individual coaching sessions.
The audience plays a key role, as well. Applause is welcomed at the TmTs, where attendees use it to both praise finished talks and encourage speakers coping with nerves or technical difficulties. Honest feedback is a necessary for growth, and positive support is equally vital.
2015 TmT Winners
1st Place – Kathryn Tabor, NICHD, "A Clearer Picture of Startle Control"
2nd Place – Gustavo Sudre, NHGRI, "The Connectome in the Human Brain: Defining its Heritability and Association with ADHD"
3rd Place – Melissa Harris, NHGRI, "Identifying Genetic Modifiers of the Age-Related Phenotype of Hair-Graying"
Participants
Amanda Dettmer Erard, NICHD, "Chronic Maternal Stress: A Hairy Situation"
Denise Liberton, NIDCR, "The Development and Use of Three-dimensional Cephalometric Norms in Dental Research"
Senta Kapnick, NHGRI, "Understanding Cytotoxic T-Cell Function in a Model of Primary Immunodeficiency"
Parmit Singh, NICHD, "LEDGF Promotes mRNA Splicing and Targets HIV-1 Integration to Highly Spliced Genes"
Maria Bagh, NICHD, "Defining Lysosomal Acidification Defect in a Childhood Neuro-Degenerative Lysosomal Storage Disease"
Luis Fernandez de Castro, NIDCR, "The Combi-Cassette Transplantation System"
Afrouz Anderson, NICHD, "Biomarkers of Brain Development in Early Childhood"
Peter Fung, NIDCR, "Fibrous Dysplasia of the Optic Canal: Is Surgery Necessary?"
Brenna Labarre, NHGRI, "Khoesan Bushmen Have Distinctive DNA Methylation Landscapes"
Jacqueline Mays, NIDCR, "Open Wide: Pathogenic T-Cells in Oral Mucosal Alloimmunity"
Shurjo Sen, NHGRI, "Genomics of Sudden Coronary Death: What Causes Atherosclerotic Plaques to Rupture"
---
Related Blog Posts
This page was last updated on Thursday, May 5, 2022