News You Can Use: NIH Library Services
So Much More than Books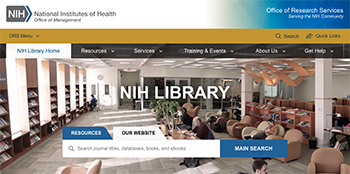 Need to know how to develop bibliometrics that will help you evaluate written publications? Want to understand how to use information-systems technology? How about getting assistance with editing your manuscripts or managing your data? The NIH Library, located in Building 10, is at your service. In addition to managing a vast collection of books and journals and helping you with research questions, the NIH Library offers a variety of services to help you acquire and manage the information you need. Here, four of them are highlighted.
The NIH Library's Bibliometrics Service program provides statistical analysis of written publications produced by scientists, grant programs, and institutions at NIH and around the world. Such analytics can help NIH staff measure the productivity of researchers, detect collaborations, identify research topics, and calculate citation-impact scores. Services include consultations on designing and using bibliometric analyses, customized analyses that will meet specific needs, and training on bibliometrics theory and techniques. In August 2018, the service presented a two-day "Bibliometrics and Research Assessment Symposium," which provided a forum to share expertise, ideas, and best practices in bibliometrics services via a blend of keynote presentations, poster sessions, and training sessions.
Custom Information Solutions Service
The Custom Information Solutions (CIS) service brings together information science and technology to develop online tools and resources that help NIH staff share their research and collaborate more effectively. The CIS team specializes in Drupal, an open-source web-content-management framework, and manages a federally approved cloud-hosting solution for the products they develop. The team uses their expertise in website development, information architecture, and data management to develop innovative information solutions. Examples include an online portfolio of epilepsy research projects, a database of Alzheimer disease preclinical studies, a portfolio of Alzheimer disease grant-funding data, and a collaborative website to share ideas and best practices for designing, constructing, operating, and maintaining buildings.
Among the events the team organizes are the annual NIH-Library-hosted Drupal GovCon event. It is one of the biggest Drupal conferences on the East Coast; nearly 1,000 people attend from all over the world and at all levels of government. This year's event was held in August 2018 on NIH's Bethesda campus; next year's event is scheduled for July 24–26, 2019.
The NIH Library provides free light and medium editing services for NIH- and Department of Health and Human Services–related work. NIH Library editors will review and suggest revisions to improve your manuscript, slide deck, poster, and more. Additional services include free and confidential plagiarism review using iThenticate; resource suggestions to help you get a draft ready for peer review; and consultation and assistance with copyright questions and the PubMed Central submission process.
Training includes special events and classes for new and experienced authors. In October 2018, the Editing Service hosted a two-hour workshop, "Choosing a Quality Journal for Publication," which featured a panel discussion with experts who offered advice on how to identify questionable journals and conferences, work with preprints, enhance the journal article submission process, and understand open-access publishing. The session concluded with an educational presentation, "Identifying Scientifically Sound Journals for Publication."
The Data Services team can help you understand how to manage your data from the beginning of your project through the post-project stage of preserving your data so it can be successfully accessed and reused over the long term. Training includes classes on data management, data visualization, data analysis, and the programming language R, which is used for statistical computing and graphics.
NIH staff are also welcome to use the NIH Library's high-performance data-sciences workstation, which comes complete with a suite of tools for data analysis, processing, and visualization for different types of data. NIH Library staff are available to provide help with the tools.
The Data Services team is also investigating how to support working with electronic lab notebooks (ELNs) at NIH and recently hosted a series of ELN meetings for staff already using ELNs as well as others who are considering them. The information gathered during these sessions will be used to help the NIH Library plan a one-day ELN forum in 2019 to further explore current ELN practices and opportunities at NIH.
---
To learn more about the services the NIH Library offers, go to https://www.nihlibrary.nih.gov/services, call 301-496-1080, or email nihlibrary@nih.gov. To stay up to date on NIH Library classes, events, resources, and services, subscribe to the NIH Library LISTSERV at https://list.nih.gov/cgi-bin/wa.exe?SUBED1=NIHLIB-L&A=1. The NIH Library in Building 10 serves the information needs of NIH staff and select Department of Health and Human Services agencies. The NIH Library is part of the Office of Research Services in the Office of the Director.
This page was last updated on Tuesday, April 5, 2022