Farewell to America's Cancer Doctor
Alan Rabson (1926–2018)
When Katie Couric told her boss that her husband had been diagnosed with stage 4 colon cancer, the first thing he said was, "Call Al Rabson." Couric, a television journalist, related this story at the celebration of Alan Rabson's life on October 30th. Rabson died at the age of 92 on July 4, 2018. Guests gathered to share laughter and some tears while remembering "America's cancer doctor," as he was called by Norman Sharpless, director of the National Cancer Institute (NCI). Rabson spoke to anyone who contacted him about a cancer diagnosis for a loved one or themselves. The day's speakers, including his co-workers, had all experienced the benefit of Rabson's knowledge and compassion.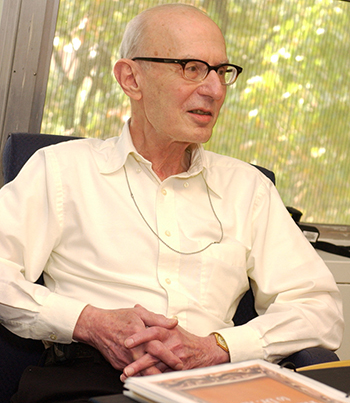 Victoria Kennedy, president of the Board of the Edward M. Kennedy Institute for the United States Senate, described her family's interactions with Rabson when her husband, the late Senator Ted Kennedy, was diagnosed with glioblastoma. Rabson didn't make any promises but did give them hope in the face of a terrifying diagnosis. Kennedy outlined four tenets of what she called "Rabsonian wisdom" about cancer: 1) There is always hope; 2) always, always get a second opinion; 3) the biggest mistakes about cancer treatment are made at the beginning and you can't go back to undo them, so take your time and do it right the first time; and 4) go to an academic medical center for treatment.
Couric joked that she would wrestle with Victoria Kennedy to be the president of the Al Rabson Fan Club. Couric called Rabson the "go-to guy" for cancer. He took so many calls and emails from people, from taxi drivers to television stars, that she wondered how he did his actual work as deputy director of NCI. As her husband's cancer progressed, Couric and Rabson became close friends; Couric is now an active advocate in raising awareness for cancer prevention and treatment.
Former co-workers Francis Collins, Jose Costa, Michael Gottesman, Elaine Jaffe, Brian Kimes, Douglas Lowy, Ira Pastan, Vivian Pinn, Dinah Singer, and Louis Staudt attended the memorial, and all spoke about Rabson as a generous mentor who encouraged, according to Singer, "novel, innovative, risky research." Pastan hammered home Rabson's advice to be pleasant and respectful of the people under you because you may end up working for them someday.
"Gratitude is the best antidote to sadness," said Rabson's son Arnold, who is the director of the Child Health Institute of New Jersey and professor of pharmacology, pathology, and pediatrics at the Robert Wood Johnson Medical School (New Brunswick, N.J.). He described his father's childhood—in the back of his family's candy store in Queens, New York—as "not easy." Al Rabson was beat up on the way to school because he was Jewish, and lost his father when he was a teen. Turned down by nearly every medical school because they had met their quota for Jewish students, Rabson was finally accepted to Long Island College of Medicine (now the State University of New York Downstate College of Medicine in Brooklyn). It was in medical school that he met Ruth Kirschstein, who would become his wife of 59 years. They were one of several married couples who came to NIH in the 1950s. Kirschstein, who died in 2009, was a highly respected and accomplished scientist and the first woman to serve as the director of an NIH institute (National Institute of General Medical Sciences). She was deputy director of NIH in the 1990s and acting director of NIH twice (in 1993 and from 2000 to 2002).
Al Rabson's research as an NCI pathologist in the NIH Clinical Center focused mainly on the role of viruses in the development of cancer. From 1975 to 1995, Rabson was director of the forerunner of the NCI Division of Cancer Biology, which transitioned under him from only conducting intramural research to also managing the funding of extramural research and cancer centers at institutions across the country. In this job, Rabson made dozens of contacts with physicians and researchers. He became deputy director of NCI in 1995 and served in that capacity until his retirement in 2015.
In 2012, NIH established the Alan S. Rabson Award for Clinical Care to honor an employee who goes to great lengths to help members of the public. As NCI Deputy Director Douglas Lowy said, we should ask ourselves, "What would Al do?"
---
To watch a videocast of the "Recognizing Dr. Al Rabson" celebration, held on October 30, 2018, go to https://videocast.nih.gov/launch.asp?26156.
To read a 1997 oral history interview with Alan Rabson, go to https://history.nih.gov/archives/downloads/rabsontranscript.pdf.
This page was last updated on Tuesday, April 5, 2022