Announcements
2016 JSPS-NIH FORUM
March 11, 2016, 1:30–7:00 p.m. (reception 5:30–7:00 p.m.)
Lawton-Childs International House (Stone House, Building 16)
Registration required by March 4: https://goo.gl/kfMZ0O
Website: http://jspsusa.org/wp/info/jsps-nih-forum/
The Japan Society for the Promotion of Science (JSPS) is one of the largest research funding agencies in Japan. Its Washington office in cooperation with the Fogarty International Center invites you to attend a forum featuring special lecturers Keisuke (Chris) Nagao, an Earl Stadtman Investigator in NCI, and Miho Matsuda, an assistant professor at Rutgers (New Brunswick, N.J.), a former NIH fellow; and presentations from former and current JSPS fellows at NIH. For more information, contact Yosuke Mukoyama at mukoyamay@nhlbi.nih.gov.
---
Pi DAY CELEBRATION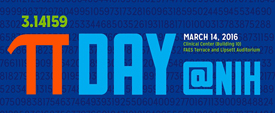 Tuesday, March 14, 2016, 10:00 a.m.–4:30 p.m.
Lipsett Amphitheater and FAES Terrace (Building 10)
Website for details: https://datascience.nih.gov/PiDay2016
To see how Pi Day is being celebrated around the world: http://www.piday.org
NIH invites you to participate in the second annual celebration of Pi Day with a day of events and activities celebrating the intersection between the quantitative and biomedical sciences. Pi Day is an annual celebration of the irrational number pi, 3.14. Join the Pi Day conversation: Include #NIH_PiDay in your tweets.
10:00–11:00 a.m. PiCo Lightning Talks (3 slides, 1 idea, 4 minutes)
11:00 a.m.–1:00 p.m. Poster and demonstration session and networking event, with food provided by FAES
1:00 p.m. Keynote by Carlos Bustamante, chair of Stanford University's new Department of Biomedical Data Science; also available on videocast (http://videocast.nih.gov/default.asp)
2:30–4:30 p.m. Workshop on Reproducible Research
Pi Day Scholars Event for high school students and their teachers (all day)
Pies by Eurest available for purchase and donation
---
NPR'S DIANE REHM: SPECIAL GUEST AT WALS CULTURAL LECTURE
Thursday, April 7, 2016, 3:00–4:00 p.m.
Masur Auditorium (Building 10)
The Wednesday Afternoon Lecture Series' (WALS) Rall Cultural Lecture will feature National Public Radio (NPR) talk-show host Diane Rehm. On her program, the "Diane Rehm Show," she has interviewed many political and cultural figures. She is also the author of two autobiographies: Finding My Voice and Toward Commitment: A Dialogue about Marriage, which she co-wrote with her husband, John Rehm, who died in 2014. She has a new book—On My Own—about her struggle to reconstruct her life after husband's long, drawn-out death from Parkinson disease. The event will be videocast live (http://videocast.nih.gov) and archived for future viewing. WALS lectures are generally held on Wednesdays from 3:00 to 4:00 p.m. in Masur Auditorium. For more information on WALS lectures go to https://oir.nih.gov/wals.
---
UNDERSTANDING THE SEX BIAS IN DISEASE
April 18, 2016, 8:30 a.m.–4:30 p.m.
Lipsett Amphitheater (Building 10)
Register at: https://ncifrederick.cancer.gov/events/SexBias/default.asp
This meeting, sponsored by NCI, NIAID, NIAMS, and the Office of Research in Women's Health, is designed to educate attendees to the need to include both sexes in their experimental design. Speakers in the NIH intramural program and from academia will give talks that emphasize the differences between sexes in autoimmunity, infectious disease, cancer, and inflammation. They will provide guidance into the experimental approaches needed to address and potentially treat disease when there are sex differences in gene expression and function. Individuals with disabilities who need reasonable accommodation to participate in this event should contact Howard Young (younghow@mail.nih.gov or 301-846-5743) or the Federal Relay (1-800-877-8339) by April 4, 2016.
---
POSTBACCALAUREATE POSTER DAY 2016
Wednesday, April 20, 2016, 10:00 a.m.–3:30 p.m.
Natcher Conference Center (Building 45)
More information: https://www.training.nih.gov/postbac_poster_day
Postbac Poster Day provides an opportunity for postbacs to share the research they have been conducting at the NIH and develop their scientific communication and networking skills. Posters will be reviewed by teams of graduate students, postdocs, and staff scientists and clinicians. The keynote address begins at 12:00 noon and will be followed by the presentation of Postbac Distinguished Mentoring Award(s) to NIH investigators selected by the postbacs. Poster sessions will take place from 10:00 a.m. to 12:00 noon and from 1:30 to 3:30 p.m. Investigators, staff scientists, and scientific administrators can make an important contribution by visiting posters and engaging their authors in discussion.
---
SYMPOSIUM ON TRANSLATIONAL GENOMICS WITH A SPECIAL FOCUS ON LIVER CANCER
March 17–18, 2016
Room 610, Building 35
Please register: https://ncifrederick.cancer.gov/events/translationalgenomics2016/
This symposium will provide a dedicated forum for the advancement, implementation, and exchange of information on the etiology, molecular pathogenesis, and translational research of liver cancer, for translation into clinical practice with the ultimate goal of improving the health of patients with cancer. For more information, contact Laura Hooper (hooperl@mail.nih.gov). Follow us on Twitter with hashtag #CEICBG16.
---
NCCIH ANNOUNCES ANNUAL STEPHEN E. STRAUS DISTINGUISHED LECTURE
Tuesday, May 3, 2016, 10:00–11:00 a.m.
Masur Auditorium (Building 10)
This National Center for Complementary and Integrative Health (NCCIH)–sponsored lecture will feature Richard J. Davidson (University of Wisconsin at Madison). His talk will be entitled "Change Your Brain by Transforming Your Mind." He will present an overview of studies conducted in his laboratory on neural changes associated with different forms of meditation. The overall conclusions from these studies is that one can transform the mind through meditation and thereby alter the brain and the periphery in ways that may be beneficial for mental and physical health and for wellbeing. For reasonable accommodation or other questions, contact Prachi Patel (Prachi.patel@patelpa.com or 301-275-4769).
---
BUILD YOUR CAREER; SHAPE YOUR FUTURE: NIH CAREER SYMPOSIUM
Friday, May 6, 2016, 8:30 a.m.–5:00 p.m.
Natcher Conference Center (Building 45)
For more information and registration: http://www.training.nih.gov
The NIH Office of Intramural Training and Education invites all NIH graduate students and postdoctoral trainees, both basic scientists and clinicians, to participate. The symposium provides an opportunity for fellows and graduate students to learn about scientific career options and to explore factors that lead to career success. This all-day program will include over 20 breakout sessions highlighting career opportunities available to biomedical scientists; panel sessions on academic, government, industry, and nonprofit career paths; and more than 80 speakers, who will provide insights into their careers, what their current job entails and its pluses and minuses, and how they got there.
---
CLINICAL AND TRANSLATIONAL RESEARCH COURSE FOR PH.D. STUDENTS
July 11–22, 2016
NIH Bethesda campus
For more info and to apply: http://cc.nih.gov/training/phdcourse
Application deadline: March 30, 2016
During this two-week intensive course, students will learn the process of clinical and translational research from concept to implementation. This training is offered by the Clinical Center at no cost. Participants are responsible for their travel and lodging. For more information, contact the NIH Clinical Center Office of Clinical Research Training and Medical Education (phdcourse@cc.nih.gov) or Terra Miller (terra.miller@nih.gov or 301-660-3519).
---
NLM HISTORY OF MEDICINE LECTURES FOR 2016
All lectures are free and open to the public
Website: https://www.nlm.nih.gov/hmd/happening/lectures/lectures_2016.html
The lecture series of the National Library of Medicine's (NLM) History of Medicine Division promotes awareness and use of NLM and other historical collections for research, education, and public service in biomedicine, the social sciences, and the humanities. The series also supports the commitment of the NLM to recognizing and celebrating diversity.
Thursday, March 10, 2:00–3:00 p.m. (Lister Hill Auditorium, Building 38A): "Future Historical Collections: Archiving the 2014 Ebola Outbreak," Christie Moffatt, archivist and manager, NLM's Digital Manuscripts Program
Tuesday, April 12, 11:00 a.m.–12:00 p.m. (Kirschstein Auditorium, Natcher Conference Center, Building 45): "Medicine at a Distance," Jeremy Greene (Institute of the History of Medicine, The Johns Hopkins University, Baltimore). The presentation—about the effects of instantaneous digital communications on medical knowledge—is part of NLM's "Images and Texts in Medical History: A Workshop in Methods, Tools, and Data from the Digital Humanities" (https://www.nlm.nih.gov/news/nlm_host_images_texts_med.html). The presentation will be live streamed at https://videocast.nih.gov/ and archived for future viewing.
Wednesday, June 22, 2:00–3:00 p.m. (Lister Hill Auditorium, Building 38A): The 2016 James H. Cassedy Memorial Lecture: "The Origins and Evolution of the Mayo Clinic from 1864 to 1939: A Minnesota Family Practice Becomes an International 'Medical Mecca,'" W. Bruce Fye (Mayo Clinic, Rochester, Minn.)
---
SEARCH FOR FAES EDUCATION COMMITTEE CHAIR
APPLICATION DEADLINE: March 21, 2016
The Foundation for Advanced Education in the Sciences (FAES) is looking for a co-chair of its Education Committee. The committee is an advisory committee composed of members who volunteer their expertise and experience to the advancement and benefit of the FAES Graduate School, in alignment with charges and priorities set forth by the FAES Board of Directors. The committee concentrates on wide-ranging program and policy matters and does not oversee current programs or regular operating procedures. There are two chairs—one is from the NIH biomedical community and has prior experience in higher education and a vested interest in supporting the NIH Intramural Trainee population; the other is from outside NIH and has experience in biomedical education. For questions, contact Christina Farias (Christina.farias@nih.gov or 301-451-5973). If interested in the position, contact Krisztina Miner (krisztina.miner@nih.gov).
---
VOLUNTEERS NEEDED TO STAFF THE NIH PAVILION AT THE USA SCIENCE AND ENGINEERING FESTIVAL EXPO
Saturday, April 16 (10:00 a.m.–6:00 p.m.)
Sunday, April 17 (10:00 a.m.–4:00 p.m.)
Walter E. Washington Convention Center, Washington, D.C.
To volunteer or learn more about the event: http://dpcpsi.nih.gov/SciFest
This April, the NIH will host family-friendly activities for the anticipated 350,000-plus attendees at the USA Science and Engineering Festival (http://www.usasciencefestival.org/). There are all kinds of opportunities for volunteers and choices of shifts to work. The festival is a national grassroots effort to advance STEM education and inspire the next generation of scientists and engineers. Our exhibitors, performers, speakers, partners, sponsors, and advisors are a who's who of science and engineering in the United States: They come from major academic centers, leading research institutes, government agencies, cutting-edge high-tech companies, museums, and community organizations. See more at http://www.usasciencefestival.org/about.html#sthash.Av8YBkQf.dpuf.
---
PFIZER'S CENTERS FOR THERAPEUTIC INNOVATION ACCEPTING PROPOSALS
Informational workshop: Thursday, April 14, 2016, 2:00–4:00 p.m.
Room 1201/1203, Building 40
Submission portal opens: May 2, 2016
Deadline to submit to the Technology Transfer Office (TTO): June 17
Deadline for TTO to submit to CTI: June 24
For more information: https://ncats.nih.gov/cti/proposals
NIH's National Center for Advancing Translational Sciences continues to facilitate a collaboration with Pfizer's Centers for Therapeutic Innovation (CTI) for NIH Researchers (http://ncats.nih.gov/cti). The program pairs NIH intramural researchers and clinicians with Pfizer resources to pursue scientific and medical advances through joint therapeutic development of biologic compounds (such as antibodies, proteins, and peptides). The goal is to identify biologic compounds with activity in a pathway or target of interest to an NIH intramural researcher and to Pfizer. Together, the partners will conduct research with the goal of moving these compounds into clinical evaluation.
Details about therapeutic areas of interest, criteria for success, how to apply and key deadlines can be found on the CTI Call for Proposals at https://ncats.nih.gov/cti/proposals. To apply, submit a completed nonconfidential preproposal brief to your NIH institute's or center's TTO by June 17, 2016, for entry in the Pfizer submission portal. The second cycle will open for preproposal submissions on September 6, 2016, with applications due by October 7, 2016.
Pfizer's CTI representatives will have office hours on the NIH main campus on April 26, May 19, and June 2, 2016, from 10:00 a.m. to 4:00 p.m., in Conference Room 3B13, Building 31. Researchers and clinicians may drop in to ask questions about CTI or to nonconfidentially discuss preproposal ideas in preparation for submission. To set up a meeting, contact Nader Halim at Nader.Halim@pfizer.com and copy NIH-PfizerCTI@mail.nih.gov.
This page was last updated on Thursday, April 14, 2022