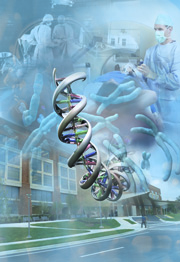 REPORT FROM THE 2013 RESEARCH FESTIVAL
Neither snow, nor rain, nor the gloom of a government shutdown could keep NIH's Research Festival from happening. It was just postponed a little.
This year's festival celebrated two 60th anniversaries: that of James Watson and Francis Crick's landmark paper that first described the DNA double-helix structure, published in Nature on April 25, 1953; and of the NIH Clinical Center, which was dedicated on July 2, 1953, and admitted its first patients four days later on July 6. In fact, the whole Research Festival took place in the Clinical Center—Masur Auditorium and in the newly opened Foundation for Advanced Education in the Sciences (FAES) Academic Center—instead of the Natcher Building (Building 45), where it's been held for years.
This page was last updated on Wednesday, April 27, 2022