Andrew Singleton: Treating Rare Diseases from Bench to Bedside
In 2010, a grieving mother whose two young children had died from a rare neurological disorder was determined to see that no other family would suffer as hers had. She turned to NIH, sure that its scientists could decipher the genetic causes of Brown-Vialetto–Van Laere syndrome (BVVL), a disorder characterized by deafness, paralysis, and respiratory failure. Neurogeneticist Andrew Singleton at the National Institute on Aging (NIA) accepted the challenge. After all, he and his colleagues had discovered the genetic mutations responsible for a similar, albeit more common, neurodegenerative disorder—Parkinson disease (PD). PD affects seven to 10 million people worldwide, but since the beginning of recorded medical history only 58 patients have been diagnosed with BVVL.
"I recognized BVVL as a tractable problem," Singleton explained. "I was able to sequence the genome of two families afflicted with it and narrow the list of possible targets down to five genes."
At about the same time, a researcher at Kings College in London discovered that one of those genes encoded an intestinal riboflavin (vitamin B2) transporter protein; a mutation in the gene causes BVVL and an extreme deficiency in vitamin B2.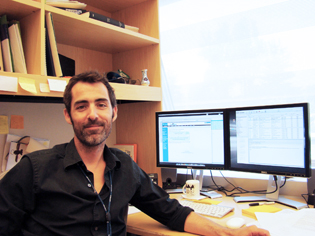 "We were beaten to the punch there," said Singleton. "But then we showed that mutations in another riboflavin transporter caused an overlapping disorder."
He has also been collaborating with clinicians in Europe who are now providing high-dose riboflavin treatment to young patients with BVVL. Results of the treatment are promising so far, but it is unclear whether it can halt or reverse the disease.
Singleton's skill in solving puzzles began when he was a boy growing up on the small Channel Island of Guernsey in the United Kingdom. He obtained a B.S. in physiology from the University of Sunderland (Sunderland, England) and a Ph.D. in neuroscience from the University of Newcastle (Newcastle upon Tyne, England), where he studied Alzheimer disease (AD) and other dementias. He continued studying neurological disorders during a postdoctoral fellowship at the Mayo Clinic (Jacksonville, Fla.) and as a research scientist at Johns Hopkins University (Baltimore).
In 2002, he was drawn to NIH, nicknamed by a colleague a "Disneyland for doctors" because it was chock full of resources for medical research. It wasn't long before he became a tenured senior investigator and branch chief of NIA's Molecular Genetics Section and the Laboratory of Neurogenetics.
"NIH allows me the flexibility to follow my ideas and interests from day to day," he said. "If I want to investigate a potentially risky hunch, I can do the experiment that same week rather than write a grant and wait six months to see if it gets funded or not."
Singleton is perhaps best known for his contribution to the discovery that mutations in the SNCA (encodes alpha-synuclein) and LRRK2 genes are associated with early-onset and familial PD. The mutated proteins are involved in the death of neurons in the substantia nigra, a brain region responsible for movement. Understanding the genetics of what initiates PD—and other neurological disorders—is a crucial first step in slowing it down or stopping its onset.
"Although the sequencing of the human genome has led to few cures, I believe that genetics is the best foundation for ultimately solving these problems," said Singleton. "What is required now is funding, acquiring sample tissue, and simply doing the work."
While Singleton has been busy solving the puzzles underlying the genetic basis of and environmental contributors to PD, AD, and other neurodegenerative disorders, he has mentored nearly two dozen young scientists who have achieved success by following his advice to "Collaborate as much as you can, go with your gut, and surround yourself with good people."
Singleton said he will never forget the good people who influenced his career, including the mother who triggered his BVVL research. With the help of in vitro fertilization and genetic testing, she has since given birth to two healthy children and sends Singleton regular updates on her family. Their photographs are prominently displayed in his office.
---
To read more about Singleton's work, visit his Web site at http://neuroscience.nih.gov/Lab.asp?Org_ID=454 or read a recent paper, "The genetics of Parkinson's disease: Progress and therapeutic implications," Mov Disord 28:14-23, 2013.
This page was last updated on Friday, April 29, 2022