Colleagues: Recently Tenured
JAMES BLAIR, PH.D., NIMH
Senior Investigator; Chief, Unit on Effective Cognitive Neuroscience, Mood and Anxiety Disorders Program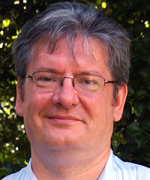 Education: University College London, London (B.S. in psychology, Ph.D. in psychology)
Training: Wellcome Trust Mental Health Research Fellow, Medical Research Council Cognitive Development Unit (London)
Before coming to NIH: Honorary scientist in the department of clinical neuropsychology at the National Hospital for Neurology and Neurosurgery (London); co-founder and leader of the Developmental Disorders group at the Institute of Cognitive Neuroscience, University College London; lecturer and senior lecturer in the department of psychology at University College London
Came to NIH: In March 2002
Selected professional activities: On the editorial board for several journals including Biological Psychiatry and Social Cognitive and Affective Neuroscience
Outside interests: Native plant gardening (20 percent of Maryland's native plants are represented in his garden); hiking; diving; enjoying movies
Research interests: I use functional magnetic resonance imaging (fMRI), psychopharmacology, and, more recently, molecular genetics to understand the neurocognitive systems mediating affect (emotion) in humans. The primarclinical goal of this work is to determine the computational impairments seen in different forms of conduct disorder. Conduct disorder—one of the most prevalent categories of mental-health problems of children in the United States—is a childhood behavior disorder characterized by aggressive and destructive activities such as defiant or impulsive behavior, drug use, and criminal activity. Until recently there has been relatively little attention paid to potentially differentiable forms of this disorder and the neurobiology of any of these forms.
Our work has shown that dissociable forms of conduct disorder can be identified and that they are associated with very different perturbations of neural circuitry. We have been able to develop fMRI biomarker tasks to index these perturbations to provide more precise indices of treatment. We are currently beginning studies to examine the extent to which currently available treatments do, or do not, "normalize" the identified pathophysiologies and hope to translate this new knowledge of the neurobiology into novel treatment strategies.
---
WILLIAM DOUGLAS FIGG, SR., PHARM.D., M.B.A., NCI-CCR
Senior Investigator; Head, Molecular Pharmacology Section, Medical Oncology Branch; Head, Clinical Pharmacology Program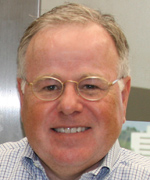 Education: McWhorter School of Pharmacy, Samford University, Birmingham, Ala. (B.S. in pharmacy); Harrison School of Pharmacy, Auburn University, Birmingham (Pharm.D.); Columbia Business School, Columbia University, New York, and London Business School, University of London, London (M.B.A.)
Training: Internship in clinical pharmacy, University of Alabama Hospital (Birmingham); postdoctoral fellowship in clinical research and drug development, University of North Carolina at Chapel Hill (Chapel Hill, N.C.)
Came to NIH: In July 1992
Outside interests: Being a spectator and a participant in a variety of sports
Research interests: My laboratory is seeking to understand the pharmacology of new anticancer agents. We are targeting prostate cancer by inhibiting angiogenesis and regulating androgens. We are designing new agents to block key targets in the angiogenesis pathway. Using preclinical models (such as the rat aorta), we have identified several potential agents and are proceeding with preclinical testing of these agents in patients who have prostate cancer. We are also trying to identify agents that can inhibit the transport of androgens in prostate cancer cells.
We are also studying the drug thalidomide's effectiveness in treating prostate cancer tumors. We recently showed in cellular models of prostate cancer that thalidomide acts as an anti-androgen and therefore blocks the androgen pathway, which regulates the development of male characteristics. In collaboration with several academic institutions, we synthesized more than 187 thalidomide analogues and are moving several extremely potent angiogenesis inhibitors we have identified through clinical testing.
I also head the Clinical Pharmacology Program (CPP), which characterizes the clinical pharmacology of new anticancer agents that are entering the NIH Center for Cancer Research clinics; analyzes phase 1 and 2 clinical trials that are conducted within the NCI intramural program; and provides direct support for many studies performed in the extramural community.
This page was last updated on Friday, April 29, 2022