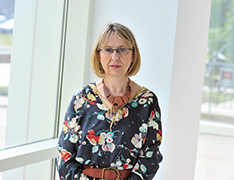 Teresa Przytycka, Ph.D.
Senior Investigator
Algorithmic Methods in Computational and Systems Biology (AlgoCSB)
NLM/NCBI
Research Topics
Dr. Przytycka is particularly interested in the dynamical properties of biological systems including spatial, temporal and contextual variations and exploring how such variations are impacting gene expression, functioning of biological pathways, and the phenotype of the organism.
Biography
After receiving a Ph.D. in Computer Science form the University of British Columbia, Vancouver, Teresa Przytycka's research has been concentrated on the theory of algorithms until, as a Sloan/DOE Computational Biology fellow, she started to apply algorithmic approaches to problems in Molecular and Systems biology. As an NIH Senior Investigator, she is heading a research group that focuses on computational modeling and analysis of biological processes, with an emphasis on hypothesis and theory-driven questions that are enabled by large-scale data.
Related Scientific Focus Areas
This page was last updated on Thursday, September 12, 2019