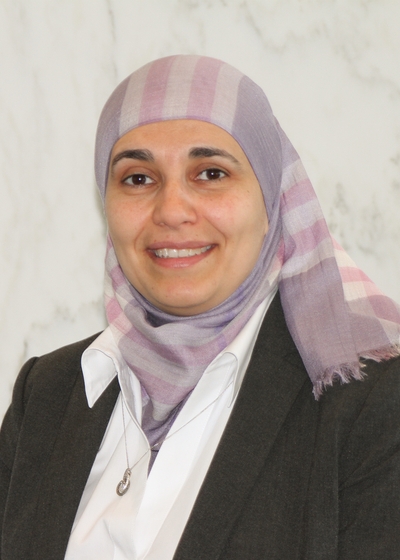 Sherine El-Toukhy, Ph.D., M.A.
Stadtman Investigator
Division of Intramural Research, Population and Community Sciences
NIMHD
Research Topics
Information technologies are ubiquitous: smartphone ownership is on the rise; wearables and mobile sensors record and monitor biological, behavioral, and contextual data; and electronic health records are a staple of healthcare. These technologies afford a means to deliver personalized interventions for a spectrum of health behaviors and overhaul our healthcare systems in areas of safety, effectiveness, patient-centeredness, timeliness, and efficiency. More importantly, health technologies afford a means to reduce or exacerbate health disparities, which remain prevalent in the US despite significant strides to address them. Dr. El-Toukhy's research is aimed at leveraging health information technologies to improve minority health and reduce health disparities. She pursues this goal through designing, implementing, and evaluating individual-and system-level interventions. El-Toukhy is a mixed methods scholar who conducts user experience, observational, and experimental studies; and randomized behavioral and biobehavioral trials using SMART, microrandomized, factorial, and hybrid designs. Her research falls under three domains:
Health information technologies
Cancer control and prevention
Minority health and health disparities
Biography
Sherine El-Toukhy is an Earl Stadtman investigator and an NIH Distinguished Scholar in the Division of Intramural Research of The National Institute on Minority Health and Health Disparities (NIMHD). Prior to joining NIMHD, she was an IRTA postdoctoral fellow in the Intramural Research Programs of The National Heart, Lung, and Blood Institute (NHLBI) and NIMHD. She received her doctorate from the University of North Carolina at Chapel Hill in Mass Communication where she also earned a graduate certificate in Interdisciplinary Health Communication. She holds a master's and bachelor's degrees in communication from Cairo University, Egypt.
Dr. El-Toukhy has a decade's worth of experience in health communication campaigns and interventions funded by national and international organizations such as the Egyptian Ministry of Health and Population, Ministry of Environment, UNICEF, and USAID. She is a recipient of several research awards including a visiting scholar award from Cairo University, Egypt; a William R. Kenan Jr. fellowship from the University of North Carolina at Chapel Hill; the 2013 Health Dissertation of the Year award from the National Communication Association and the International Communication Association; and three top-paper awards. Her work has appeared in journals such as Pediatrics, Tobacco Control, and Preventive Medicine. Her research has been funded by The National Science Foundation and The National Institute on Minority Health and Health Disparities.
Related Scientific Focus Areas
This page was last updated on Thursday, June 24, 2021