Smart Devices for Better Health
Sherine El-Toukhy leverages digital technologies to improve access to healthcare.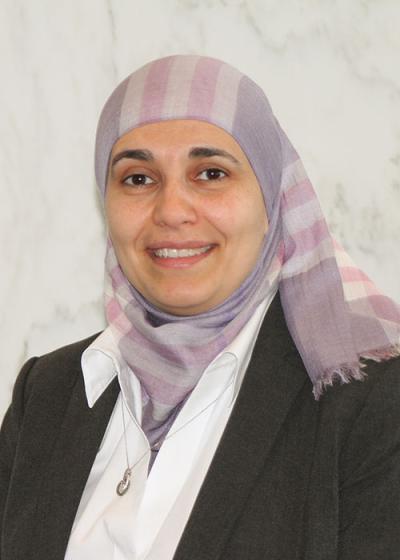 Smartphones and wearable devices like fitness trackers offer people a window into their health. They can count the number of steps you've taken today or the quality of sleep you got last night. Advanced models can even measure your current body temperature, blood oxygen levels, and heart rate. For many, these technologies that collect biological, behavioral, and environmental data have become integrated into their daily lives.
That reality might seem daunting if you've watched one too many technological dystopian dramas, but in Dr. Sherine El-Toukhy's lab, such 'health information technologies' are valuable tools that could help make the future of healthcare more equitable.
"Information technologies have been championed as a solution to some of the inefficiencies in healthcare," says Dr. El-Toukhy, an Earl Stadtman Investigator and NIH Distinguished Scholar at the National Institute on Minority Health and Health Disparities (NIMHD).
Because these devices can transmit data in real time, they have the potential to provide immediate access to healthcare, especially for traditionally underserved populations that contend with limited resources or live in remote locations. For disadvantaged individuals who might not otherwise have the means to communicate with a specialist for their medical needs, information technologies offer a channel to share health metrics instantly and consistently, even if the provider is several states away. What's more, smart devices could alert the nearest hospital in the event of an emergency.
"Health information technology affords us the chance to improve our healthcare system in several aspects, including effectiveness, timeliness, and efficiency," says Dr. El-Toukhy.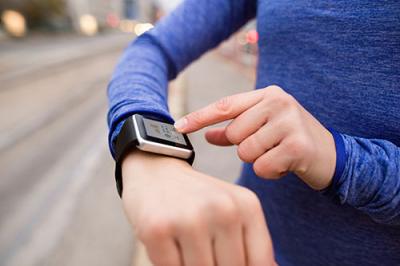 Beyond expediting communications from patient to physician, information technologies could also facilitate the flow of information from healthcare systems to the individual. This was the focus of one of Dr. El-Toukhy's studies, in which she and her collaborators set up an automatic referral system for hospital patients who self-identified as smokers or consumed alcohol in excess. The system directed patients to two digital intervention apps and the researchers observed whether proactive electronic outreach would encourage more people to try it. Preliminary data indicates that approximately 15 percent of the study's participants followed the referral to engage with the apps, suggesting that the reach of larger healthcare systems can be utilized to connect patients with useful resources and maybe modify health behaviors.
"I think the best way for us as researchers is to really partner with entities that already have something in place that we can leverage," says Dr. El-Toukhy.
For that reason, her team is working with the National Cancer Institute to introduce new elements into their existing Smokefree program. Together, they are developing a new version of a free smoking cessation app, called QuitJourney, that will include personalized 'just-in-time' messaging based on self-disclosed smoking habits. By telling the app when and where they tend to smoke, users enable QuitJourney to predict cravings and message them in anticipation of a smoking episode rather than at fixed intervals, improving its ability to help them avoid relapses.
"If I send you a message when you're driving or you're in a meeting, it's not as effective as when you actually need the message," Dr. El-Toukhy explains.
A participant in a virtual focus group tests the usability of the QuitJourney app and provides feedback to a member of Dr. El-Toukhy's team.
Equally, if not more important, as the timing of messaging is the content delivered — something Dr. El-Toukhy knows from her days making documentaries and working in mass communication. Those experiences taught her that it is vital to consider how people process information and make decisions when designing interventions. For example, she knows that people are more receptive to the advice of people who are like themselves and have gone through similar experiences.
To find the right words, Dr. El-Toukhy's lab is scouring Twitter for messages written by real smokers who have or are trying to quit. The messages range from warnings about the dangers of smoking to celebrations of abstinence and the benefits of quitting. The team has piloted tweets written in conversational language as part of QuitJourney and focus groups seem to appreciate the sense of comradery.
"It will be really useful as motivation and making you feel like you're not the only one going throught it," said one the study's participants.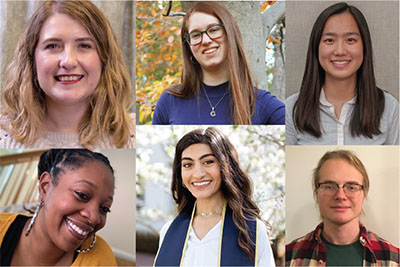 Imagining the future of information technologies built on personal data inevitably raises questions of privacy. However, Dr. El-Toukhy has found — perhaps surprisingly, given the perceived contentiousness of the matter — that privacy is not the biggest barrier in recruiting participants. She assuages people's worries by being transparent, especially with minority groups, and treating people as partners, not just participants.
"You can't be a parachute researcher — going in, taking the information you need, and then going back out," she explains. "You have to tell people what the research is for and how it's going to benefit them."
Instead, Dr. El-Toukhy points to the double-edged nature of digital technologies as a more immediate concern. While virtual healthcare has the potential to provide greater access for disadvantaged populations, it can also exacerbate existing disparities or create new ones. Consider what has happened during the COVID-19 pandemic: in the first quarter of 2020, one report from the U.S. Centers for Disease Control and Prevention (CDC) showed a 50 percent increase in telehealth visits compared to the same quarter in 2019. Yet this technological transition could leave behind those who don't have access to the internet or don't know how to navigate videoconferencing platforms. Such concerns make it clear that ensuring accessibility and usability when designing information technologies is key if they are to make an impact.
"You have to make sure things are as accessible to somebody who only has a middle school education as they are to someone who has a Ph.D.," she says. "We have to make sure that we're not leaving anyone behind."
Sherine El-Toukhy, Ph.D., M.A., is a Stadtman Investigator at the National Institute on Minority Health and Health Disparities (NIMHD).
This page was last updated on Wednesday, May 24, 2023