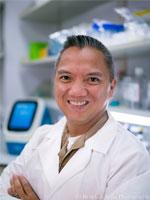 Leorey N. Saligan, Ph.D., R.N., C.R.N.P., F.A.A.N.
Senior Investigator
Symptom Biology Unit
NINR
Research Topics
Topic: The nature and causes of fatigue in relation to cancer and its treatments
Issue: Fatigue is a common and debilitating condition that affects most cancer patients. To date, fatigue remains poorly characterized with no diagnostic test to objectively measure the severity of this condition. In addition, evidence has shown that cancer-related fatigue (CRF) may be a treatment-limiting symptom and often impairs health-related quality of life.
Impact: Dr. Saligan is introducing clinically relevant approaches to phenotype cancer-related fatigue (CRF) to drive biomarker discovery. The purpose is to understand and identify biobehavioral mechanisms of fatigue to develop more effective ways to manage it and, as a result, improve patient outcomes. Dr. Saligan is also leading studies to identify biomarkers of CRF and understand functional pathways to explain its cause. In addition, he is conducting proof-of-concept clinical trials that target the biochemical and physiologic effects of active markers identified in CRF studies to validate their clinical relevance. His research program is guided by the NIH Symptom Science Model.
Related Scientific Focus Areas
This page was last updated on Tuesday, August 29, 2023