Energized by Fatigue
As a nurse and scientist, Leorey Saligan works to improve both quality of life and therapeutic outcomes for patients suffering from fatigue.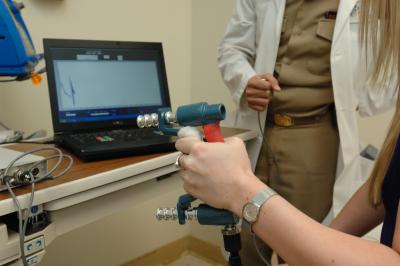 Leorey Saligan, Ph.D., R.N., C.R.N.P., knew exactly what he wanted to study for his doctoral dissertation. As a nurse practitioner, he cared for patients with sarcoidosis, an inflammatory disease that affects several organ systems. He wanted to understand the issues that most affected quality of life for these individuals, especially in cases involving the eyes. "I was pretty sure that their visual problems were having a large impact on their quality of life," he said. But he wanted evidence.
As a doctoral student at Hampton University in Virginia, Saligan decided that his best bet was to head to the NIH to conduct his patient studies. "First, I went on-line and found a job at the NIH as a Nurse Practitioner," explained Saligan. Once here, he approached the Chief of the Laboratory of Immunology at the National Eye Institute (NEI) about conducting his study and quickly found the guidance, resources and support he needed to complete his dissertation.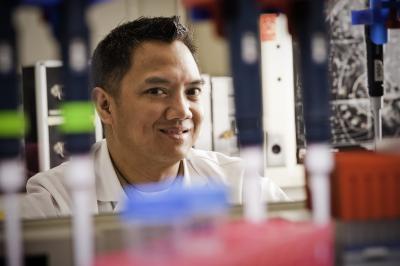 His interest thus piqued, Saligan decided to remain at the NIH to pursue research into the nature and causes of fatigue, first in relation to sarcoidosis and more recently, in association with cancer treatments. "There is no standard definition of fatigue and no known etiological mechanism," said Saligan. "It's very challenging to clinically manage fatigue because virtually nothing is known about its causes."Although Saligan's dissertation work supported his initial hypothesis, one piece of data caught him by surprise. When sarcoidosis patients with significant eye impairments were asked what symptom most affected their daily life, the overwhelming answer was fatigue.
Saligan turned to cancer patients because he wanted to study fatigue as it develops. He chose to follow men with non-metastatic prostate cancer who are treated with localized radiation. "Most of these patients are highly active with essentially no fatigue before therapy begins," said Saligan. His team used multiple clinical and self-reporting measures of fatigue to chart changes that occurred during and after localized radiation therapy.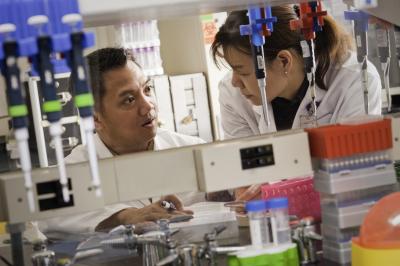 In addition to the usual challenges of study design, Saligan noted that the fatigue measures they devised had to be efficient to avoid interruptions of clinical care. "We don't have a lot of time with these patients," said Saligan. "We sit beside them while they are waiting for treatment and have them answer questionnaires and squeeze a portable dynamometer to measure skeletal muscle strength." In addition, the patients are asked to wear actigraphs as belts that Saligan calls the "Cadillac of pedometers," to measure energy expenditure, categorize types of physical activities and determine sleep/wake patterns while the patients are in their own environment.
The team has also analyzed gene expression changes, using microarrays from blood samples they collect from these same patients. Saligan and his colleagues have identified 83 genes whose expression over time is significantly correlated with changes in fatigue scores. An initial analysis of the pathways implicated by these genes—and subsequent validation studies—has generated several hypotheses about the molecular basis of fatigue development.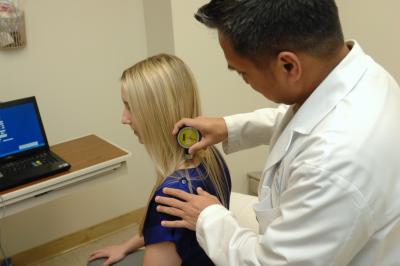 "At the moment, more than 90% of cancer patients experience fatigue while receiving standard therapies," said Saligan. "Complaints of fatigue are managed by stopping therapy or lowering the treatment dose." Saligan hopes that his research will contribute to better management of fatigue and, thereby, to improvement in overall treatment outcomes.
"Every day I get excited to come to work and answer some of the questions related to my research focus," added Saligan. "I see myself playing a lot of roles in the intramural program. I have a lot of trainees and I think our intramural program plays a vital part in nursing research. I am really pleased to provide a means for other nurses to get the same training and opportunities that I have enjoyed."
Leorey Saligan, Ph.D., R.N., C.R.N.P., is Assistant Clinical Investigator in the National Institute of Nursing Research (NINR).
This page was last updated on Wednesday, May 24, 2023