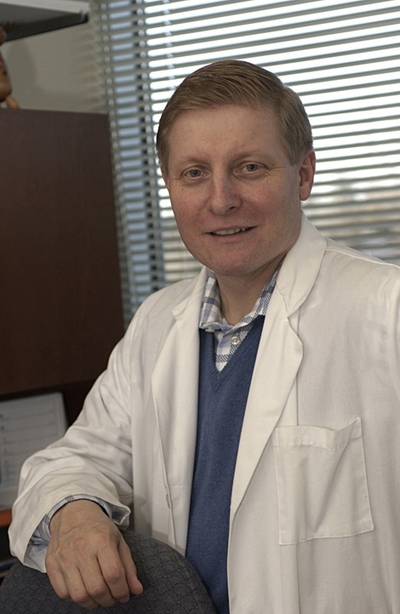 Karel Pacak, D.Sc.,M.D.,Ph.D.
Senior Investigator
Section on Medical Neuroendocrinology
NICHD/DIR
Research Topics
We conduct patient-oriented research into the etiology, pathophysiology, genetics, diagnosis, localization, and treatment of pheochromocytoma (PHEO) and paraganglioma (PGL). Projects include both translational research—applying basic science knowledge to clinical diagnosis, pathophysiology, and treatment—and "reverse translation research" by which clinical findings lead to new concepts for pursuit by basic researchers in the laboratory. Our goals are to (i) establish new and improved methods and strategies for novel diagnostic and localization approaches to PHEO and PGL; (ii) explain the molecular and cellular basis for varying clinical presentations of PHEO and PGL and establish the pathways of tumorigenesis; (iii) search for new molecular and genetic markers for diagnosis and treatment of malignant PHEO and PGL; (iv) introduce new therapeutic options for malignant/metastatic PHEO and PGL; and (v) facilitate new and improved collaborations and interdisciplinary studies. To achieve these goals, we base our strategy on multidisciplinary collaborations with investigators from several NIH Institutes and outside medical centers. We link a patient-oriented component with two bench-level components. The patient-oriented component (medical neuroendocrinology) is the driving force for our hypotheses and discoveries. The two bench-level components (tumor pathogenesis and chemistry; biomarkers) emphasize, first, technologies of basic research tailored for pathway and target discovery and, second, the further development of discoveries into clinical applications.
Biography
Dr. Karel Pacak graduated summa cum laude from Charles University, Prague, Czech Republic in 1984. In 1990 he began his postdoctoral fellowship at NINDS Under Drs. Kopin and Goldstein. Then in 1995 Dr. Pacak began his residency in internal medicine at the Washington Hospital Center under Dr. L. Wartofsky, followed by a fellowship in endocrinology, diabetes, and metabolism at NIH. He was Board certified in 1998 and 1999 in those disciplines. In 1998 he established a new Program for Neuroendocrine Tumors focusing on pheochromocytoma and paraganglioma at NICHD. He received his Ph.D. in1993 and his D.Sc. in 1998 in the field of neuroendocrinology from Charles University. In 2006 he was awarded a lifetime professorship in Internal Medicine at Charles University. Dr. Pacak is an internationally recognized expert in the diagnosis and treatment of neuroendocrine tumors, especially pheochromocytoma and paraganglioma. Dr. Pacak also established the International Symposia on Pheochromocytoma. He also helped co-found a new Asian Alliance for the Study of Neuroendocrine Tumors in 2010. He is a recipient of numerous awards including the Peter Heimann Memorial Award at Yale University, International Association of Endocrine Surgeons; NIH Director's Mentoring Award, Award for Cure from Pheo & Para Alliance, NICHD Director's Award of Merit, Pincus Taft Memorial Lecture the Highest Award from Endocrine Society of Australia, Jessenius Gold Medal from Slovak Academy of Sciences, Outstanding Clinical Endocrinologist from the American Association of Clinical Endocrinologists and recently Outstanding Clinical Investigator (to be given in 2022) from the US Endocrine Society as well as Team Science Award from American Association for Cancer Reserach. Dr. Pacak is the author of more than 520 scientific peer-reviewed articles, 140 book chapters, and 6 books.
Related Scientific Focus Areas
This page was last updated on Monday, January 30, 2023