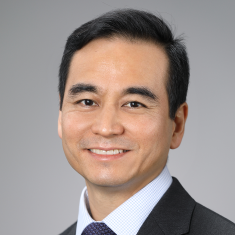 David Takeda, M.D., Ph.D.
Lasker Clinical Research Scholar
Laboratory of Genitourinary Cancer Pathogenesis
NCI/CCR
Research Topics
Using a combination of epigenomic profiling and functional genome editing, we recently described an enhancer of the androgen receptor (AR) that is activated and amplified in 80% of metastatic castration-resistant prostate cancer (CRPC). Understanding the mechanism by which this epigenetic activation occurs will have immediate implications for treating and/or preventing the development of CRPC. We are using proteomic and genetic approaches to identify the molecular processes required for enhancer activation during disease progression.
Resistance to the antiandrogen enzalutamide is accompanied by alterations in the enhancer landscape based on epigenetic profiling from tumor samples. In order to identify epigenetic drivers of enzalutamide resistance, we are systematically interrogating enhancers that are activated or decommissioned following development of drug resistance.
The presence of recurrent epigenetic alterations imply opportunities for therapeutic targeting of the cancer epigenome. We use functional genome-scale approaches to discover epigenetic vulnerabilities in tumors that serve as starting points to design novel treatment strategies to suppress oncogenic transcriptional programs.
Biography
Dr. Takeda was born and raised in Pearl City, HI, and graduated from Pomona College with a B.A. in chemistry. He received his M.D., Ph.D. from Harvard Medical School working in the laboratory of Anindya Dutta studying DNA replication. He completed residency training in internal medicine at Brigham and Women's Hospital and a hematology/oncology fellowship at the Dana-Farber Cancer Institute in Boston, MA, where he conducted post-doctoral work with William Hahn at the Broad Institute in Cambridge, MA.
Related Scientific Focus Areas
This page was last updated on Thursday, September 7, 2023