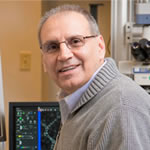 Bechara Kachar, M.D.
Senior Investigator
Laboratory of Cell Structure and Dynamics
NIDCD
Research Topics
The Laboratory of Cell Structure and Dynamics (LCSD) seeks an integrated molecular understanding of the architecture, dynamics, function, and renewal of specialized cellular structures - in particular those underlying mechanosensory function of auditory and vestibular sensory cells. The long-term goal of the program is to develop a framework for understanding the different forms of loss of mechanosensory function and to explore opportunities for preventive and therapeutic interventions.
Biography
Dr. Kachar received his M.D. degree from the University of Sao Paulo, Brazil in 1977. He did postdoctoral research on membrane structure and intercellular junctions with Pedro Pinto da Silva at the NCI and cell structure and motility with Thomas Reese at the NINDS. Dr. Kachar joined the NIDCD in 1986.
Related Scientific Focus Areas
This page was last updated on Saturday, August 31, 2019