Building Bodily Cancer Defenses
James Gulley provides new tools in the immune system's fight against cancer.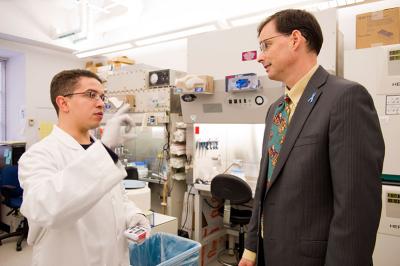 "The problem with many cancer treatments is that the side effects are often intolerable," laments James Gulley, M.D., Ph.D. "Therapeutic vaccines hold so much promise, in part, because the side effects can be controlled with Tylenol."
A medical oncologist, Gulley has planned and conducted more than 40 clinical trials involving cancer vaccines at the National Cancer Institute's (NCI) Center for Cancer Research (CCR), and he has devoted the last 14 years of his research to understanding how to harness the power of the body's immune system to more effectively fight cancer.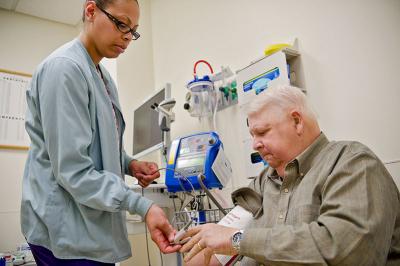 Working closely with a team of research nurses, data managers, and medical oncologists in the Laboratory of Tumor Immunology and Biology (LTIB), Gulley exemplifies the "bench-to-bedside" paradigm, especially in streamlining the process of taking novel concepts from the lab to the clinic.
In one recent case, LTIB scientists working with Gulley saw potential for a therapeutic vaccine that targets Brachyury, a molecule that is overexpressed in cancer cells but not in normal tissue. Their work led to FDA approval for a Phase I clinical trial with a therapeutic vaccine. The time from bench to bedside was exceptionally quick: four years.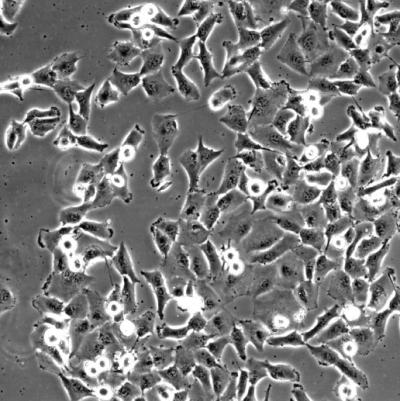 Along the way, his CCR colleagues found that elevated Brachyury levels drive the progression of cancerous tumors from a localized to metastatic disease (the epithelial-to-mesenchymal transition, or EMT). The proximity of research labs to the NIH Clinical Center helps facilitate those close interactions that encourage fast-track translational research.
"It's not just the physical proximity, but a resonance where the whole is greater than the sum of the parts," Gulley says.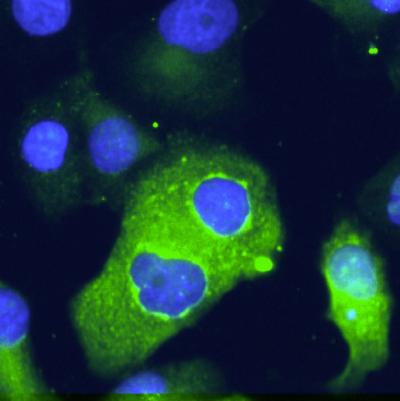 Despite faster progression into clinical trials and the great promise that many vaccines hold, it is still difficult to assess the success of cancer immunotherapies, since the metrics used in standards of care today often do not apply to vaccine-based therapies.
"Typically, with chemotherapy, we'll see a tumor initially shrink in size, but this doesn't always translate into improved survival," Gulley says. "What we are seeing with vaccines is the opposite; often, the tumor doesn't shrink much at all, but the overall survival can be improved considerably."
Gulley's group now creatively combines vaccines with standard treatments, such as chemotherapy, radiotherapy, and hormonal therapies, as a way to achieve improved patient outcomes. Initial results are encouraging, and Gulley and his team plan on working iteratively to define new standards of care for treating cancer with combination-based therapies — potentially paving the way to greater overall survival and far fewer side effects.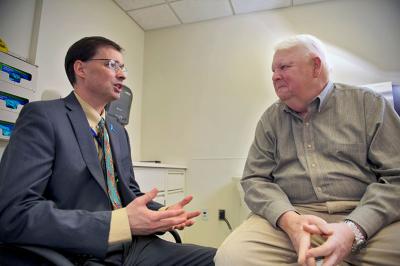 No stranger to recognition for innovative work, Gulley says receiving a 2010 Presidential Early Career Award for Scientists and Engineers (PECASE) means the most to him. After pursuing research that would be considered too high-risk by many institutions, Gulley describes the feeling of winning the PECASE as "an affirmation" that he is on the right track. He knows that vaccine-based immunotherapies are not just a high-risk/high-reward research area, but offer real possibilities to completely rethink the way we treat cancer.
James L. Gulley, M.D., Ph.D., is the Head of the Clinical Trials Group in the Laboratory of Tumor Immunology and Biology at the National Cancer Institute's (NCI) Center for Cancer Research (CCR).
This page was last updated on Wednesday, May 24, 2023