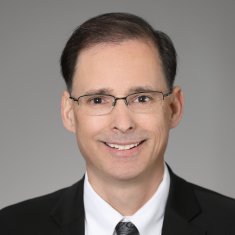 James L. Gulley, M.D., Ph.D.
Senior Investigator
Genitourinary Malignancies Branch
NCI/CCR
Building 10, Room 13N240 Bethesda, MD 20892-1750
301-480-7164
Research Topics
Dr. Gulley is especially interested in immunotherapy for prostate cancer. He works collaboratively with the Laboratory of Tumor Immunology and Biology, CCR and others, and takes promising laboratory findings and uses these to design and conduct clinical trials. These innovative, investigator-initiated studies involve the use of cancer vaccines and other immunostimulatory agents to modulate the immune response in cancer patients, and the addition of other strategies to enhance immune-mediated killing. He has been instrumental in the clinical development from first-in-human studies through large efficacy seeking studies for multiple immunotherapy agents including Prostvac, avelumab and bintrafusp alfa, a first in class bifunctional antibody targeting PDL1 and TGF-beta.
Biography
Dr. James Gulley is an internationally recognized expert in immunotherapy for cancer. He graduated from Loma Linda University in California with a PhD in microbiology in 1994 and an MD in 1995. As part of this eight-year MD/PhD Medical Scientist Training Program, he completed a dissertation on tumor immunology. He completed his residency in Internal Medicine at Emory University in 1998, followed by a Medical Oncology fellowship at the National Cancer Institute (NCI). 
Dr. Gulley serves within the Center for Cancer Research (CCR) of the National Cancer Institute as Chief of the Genitourinary Malignancies Branch (GMB), the Director of the Medical Oncology Service (CCR), and also Head of the Immunotherapy Section within the GMB. He has been instrumental in the clinical development multiple immunotherapeutic agents and has led multiple first-in-human immunotherapy studies through phase 3 clinical trials. He was the coordinating PI of an international trial of avelumab that led to regulatory approval. He serves as the coordinating PI of the international bintrafusp alfa, a bifunctional agent targeting PDL1 and TGF-beta. He also leads a number of rationally designed, cutting edge combination immunotherapy studies.
Dr. Gulley serves on many national and NIH boards and committees as well as the board of LLUH. He has been an investigator on more than 170 clinical trials, authored 325 scientific papers or chapters which have been cited over 7,500 times, serves on a number of editorial boards and has made hundreds of scientific presentations at universities or national / international meetings. He has had multiple awards including the 2010 Presidential Early Career Award for Scientists and Engineers, the highest award bestowed by the US President on investigators early in their careers. He also was awarded the 2018 Hubert H. Humphrey Award for Service to America for contributing to the health, safety, and well-being of the nation by helping to get FDA approval for avelumab for Merkel cell carcinoma and urothelial carcinoma and has received 8 NCI or NIH Director's Awards.
Related Scientific Focus Areas
---
This page was last updated on July 8th, 2021