Vision scientists discover new angle on path of light through photoreceptors
NIH study in ground squirrels suggests dual function for mitochondria in photoreceptor cells
Researchers at the National Eye Institute (NEI) have discovered that power-producing organelles in the eye's photoreceptor cells, called mitochondria, function as microlenses that help channel light to these cells' outer segments where it's converted into nerve signals. The discovery in ground squirrels provides a more precise picture of the retina's optical properties and could help detect eye disease earlier. The findings, published today in Science Advances, also shed light on the evolution of vision. NEI is part of the National Institutes of Health.
"We were surprised by this fascinating phenomenon that mitochondria appear to have a dual purpose: their well-established metabolic role producing energy, as well as this optical effect," said the study's lead investigator, Wei Li, Ph.D./B.M., who leads the NEI Retinal Neurophysiology Section.
The findings also address a long-standing mystery about the mammalian retina. Despite evolutionary pressure for light to be translated into signals and pass instantly from the retina to the brain, the trip is hardly direct. Once light reaches the retina, it must pass through multiple neural layers before reaching the outer segment of photoreceptors, where phototransduction (the conversion of light's physical energy into cellular signals) occurs. Photoreceptors are long, tube-like structures divided into inner and outer segments. The last obstacle a photon must traverse before moving from the inner to the outer segment is an unusually dense bundle of mitochondria.
Those bundles of mitochondria would seem to work against the process of vision either by scattering light or absorbing it. So, Li's team set out to investigate their purpose by studying cone photoreceptors from the 13-lined ground squirrel.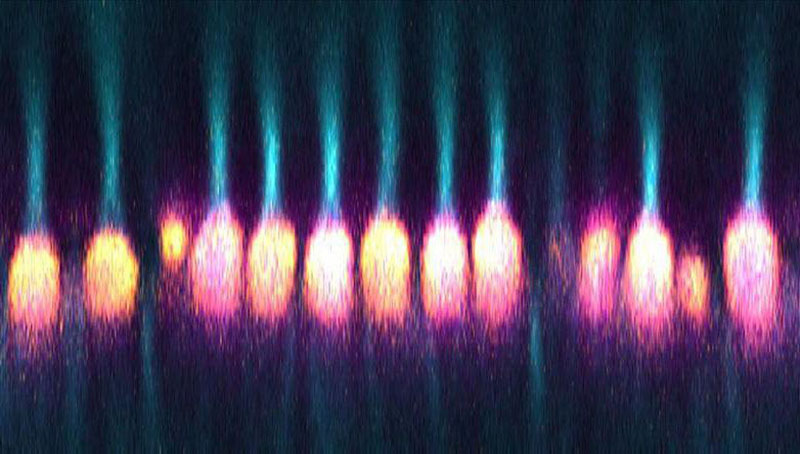 This page was last updated on Friday, May 13, 2022