PET scans may predict Parkinson's disease and Lewy body dementia in at-risk individuals
A biomarker of norepinephrine deficiency in the heart may help to detect Lewy body diseases before symptoms appear
In a small study, researchers at the National Institutes of Health have found that positron emission tomography (PET) scans of the heart may identify people who will go on to develop Parkinson's disease or Lewy body dementia among those at-risk for these diseases. The findings, published in the Journal of Clinical Investigation and led by scientists at the National Institute of Neurological Disorders and Stroke (NINDS), part of NIH, may advance efforts to detect the earliest changes that years later lead to Parkinson's disease and Lewy body dementia.
In 34 people with Parkinson's disease risk factors, researchers conducted PET scans of the heart to gain insight into levels of the neurotransmitter norepinephrine. They found that the scans could distinguish individuals who would later be diagnosed with Parkinson's or Lewy body dementia — both are brain diseases caused by abnormal deposits of the protein alpha-synuclein that form clumps known as Lewy bodies. The research was conducted at the NIH Clinical Center, currently the only location for 18F-dopamine PET scanning.
Norepinephrine is derived from dopamine, which is deficient in the brains of people with Parkinson's disease. Earlier work from David S. Goldstein, M.D., Ph.D., NINDS Principal Investigator, demonstrated that people with Lewy body diseases had severe depletion of cardiac norepinephrine, which is normally released by the nerves that supply the heart.
In the present study, the research team led by Dr. Goldstein found that at-risk individuals with low 18F-dopamine-derived radioactivity in the heart were highly likely to develop Parkinson's or Lewy body dementia during long-term follow-up, compared to individuals with the same risk factors but with normal radioactivity. PET scans work by using a radioactive tracer to visualize metabolic or biochemical processes in body organs.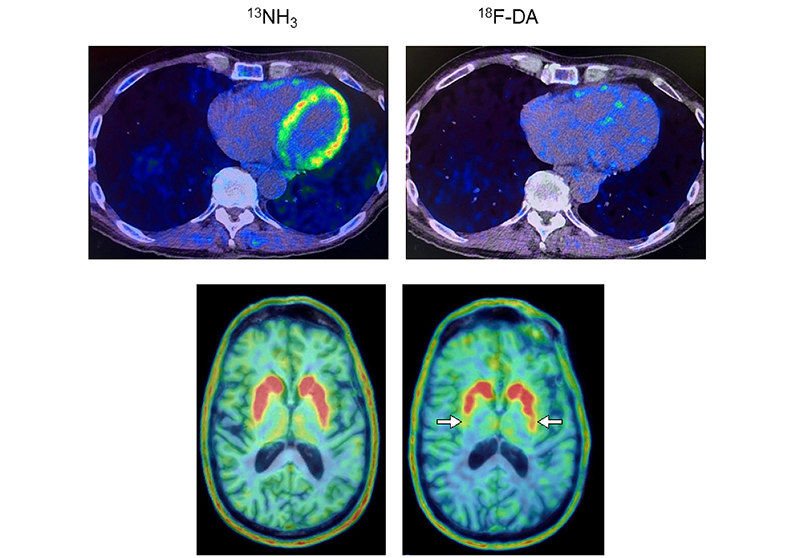 This page was last updated on Tuesday, November 7, 2023