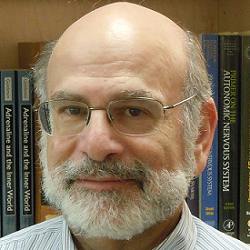 David S. Goldstein, M.D., Ph.D.
Senior Investigator
Autonomic Medicine Section
NINDS
Building 10, Room 8N260
9000 Rockville Pike
10 Center Drive
Bethesda, MD 20892-1620
301-675-1110
Research Topics
Research of the Autonomic Medicine Section (AMS) focuses on autonomic and catecholamine-related disorders, using a mainly patient-oriented approach. In the prospective longitudinal PDRisk study (NIH Clinical Protocol 09N0010) we are assessing whether in individuals who have multiple risk factors for Parkinson disease (PD) biomarkers of central or cardiac catecholamine deficiency predict the development of PD during up to 7.5 years of follow-up. As part of NIH Clinical Protocol 18N0140, "Clinical Laboratory Evaluation of Chronic Autonomic Failure," we are conducting a prospective natural history study to test the hypothesis that Lewy body neurogenic orthostatic hypotension (nOH) without signs of central neurodegeneration may evolve into PD+nOH or dementia with Lewy bodies+nOH. In this protocol we are also combining clinical catecholamine neurochemistry, 18F-dopamine sympathetic neuroimaging, and quantitative immunofluorescence microscopy to distinguish among chronic autonomic failure syndromes. In a collaborative genotype-phenotype study of alpha-synuclein/tyrosine hydroxylase colocalization in skin biopsies we are identifying which forms of familial PD are associated with peripheral intra-neuronal synucleinopathy. We are using a computational modeling approach based on homeostasis and the catecholaldehyde hypothesis for the pathogenesis of PD to predict the progression of catecholaminergic neurodegeneration in Lewy body diseases. We are applying cerebrospinal fluid catecholamine neurochemistry and multi-tracer central and peripheral neuroimaging to identify dysfunctional but extant catecholaminergic neurons—the "sick-but-not-dead" phenomenon. We are collaborating in a clinical trial of type 2 adeno-associated virus-glial cell line-derived neurotrophic factor to treat multiple system atrophy.
Biography
Dr. Goldstein graduated from Yale College and received an M.D.-Ph.D. in Behavioral Sciences from Johns Hopkins. After medical internship and residency at the University of Washington, he came to the NIH as a Clinical Associate in the NHLBI, obtaining tenure as a Senior Investigator in 1984. He joined the NINDS in 1990 to head the Clinical Neurochemistry Section and founded and has directed the Clinical Neurocardiology Section (name changed to Autonomic Medicine Section in 2019). He has received Yale's Angier Prize for Research in Psychology, the Laufberger Medal of the Czech Academy of Sciences, 2 NIH Merit Awards, the Founders Award of the Bakken Heart-Brain Institute, the Distinguished Investigator Award of the Society for Clinical and Translational Science, and the NIH Distinguished Clinical Teacher Award. He is author of more than 600 research articles and several books, including "Adrenaline and the Inner World: An Introduction to Scientific Integrative Medicine," "Dysautonomias: A Handbook for Patients," "Stress, Catecholamines, and Cardiovascular Disease," "The Autonomic Nervous System in Health and Disease," and the e-book, "Principles of Autonomic Medicine." Dr. Goldstein also directs the UCNS-accredited Clinical Fellowship in Autonomic Disorders at the NIH Clinical Center.
Related Scientific Focus Areas
---
This page was last updated on August 22nd, 2022