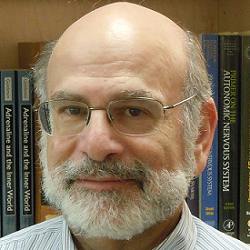 David S. Goldstein, M.D., Ph.D.
Senior Investigator
Clinical Neurocardiology Section
NINDS
Building 10, Room 5N220
9000 Rockville Pike
10 Center Drive
Bethesda, MD 20892-1620
301-496-2103
Research Topics
Dr. Goldstein's research interests are in autonomic medicine and catecholamine-related disorders. The Clinical Neurocardiology Section, which he founded and directs, carries out mainly patient-oriented research. The Section operates a renowned Clinical Neurochemistry Laboratory for assays of levels of catecholamines and their metabolites. Current research of the Section focuses on biomarkers, mechanisms, and potential treatment of catecholaminergic neurodegeneration in Parkinson's disease and related disorders.

An important new protocol in the Section NIH Protocol 17-N-0076, "Does N-Acetylcysteine Decrease Spontaneous Oxidation of Central Neural Dopamine in Parkinson's Disease?" The purpose of the study is to find out if a drug called N-acetylcysteine (NAC) might be beneficial, by decreasing damage caused by oxidative stress in dopamine neurons in the brain. For more information, see the link to the NIH Clinical Center's web page about the study at https://go.usa.gov/xXSsQ or see the YouTube video ad at https://www.youtube.com/watch?v=bbUcuxtVo6o.


Biography
Dr. Goldstein graduated from Yale College and received an M.D.-Ph.D. in Behavioral Sciences from Johns Hopkins. After medical internship and residency at the University of Washington, he came to the NIH as a Clinical Associate in the NHLBI, obtaining tenure as a Senior Investigator in 1984. He joined the NINDS in 1990 to head the Clinical Neurochemistry Section and founded and directs the Clinical Neurocardiology Section. He has received Yale's Angier Prize for Research in Psychology, the Laufberger Medal of the Czech Academy of Sciences, 2 NIH Merit Awards, the Founders Award of the Bakken Heart-Brain Institute, the Distinguished Investigator Award of the Society for Clinical and Translational Science, and the NIH Distinguished Clinical Teacher Award. He is author of more than 575 research articles and several books, including "Adrenaline and the Inner World: An Introduction to Scientific Integrative Medicine," "Dysautonomias: A Handbook for Patients," "Stress, Catecholamines, and Cardiovascular Disease," "The Autonomic Nervous System in Health and Disease," and the e-book, "Principles of Autonomic Medicine." Dr. Goldstein directs the UCNS-accredited Clinical Fellowship in Autonomic Disorders at the NIH Clinical Center.
Related Scientific Focus Areas

---
This page was last updated on September 1st, 2020