Male hormones regulate stomach inflammation in mice
Scientists at the National Institutes of Health determined that stomach inflammation is regulated differently in male and female mice after finding that androgens, or male sex hormones, play a critical role in preventing inflammation in the stomach. The finding suggests that physicians could consider treating male patients with stomach inflammation differently than female patients with the same condition. The study was published in Gastroenterology.
Researchers at NIH's National Institute of Environmental Health Sciences (NIEHS) made the discovery after removing adrenal glands from mice of both sexes. Adrenal glands produce glucocorticoids, hormones that have several functions, one of them being suppressing inflammation. With no glucocorticoids, the female mice soon developed stomach inflammation. The males did not. However, after removing androgens from the males, they exhibited the same stomach inflammation seen in the females.
"The fact that androgens are regulating inflammation is a novel idea," said co-corresponding author John Cidlowski, Ph.D., deputy chief of the NIEHS Laboratory of Signal Transduction and head of the Molecular Endocrinology Group. "Along with glucocorticoids, androgens offer a new way to control immune function in humans."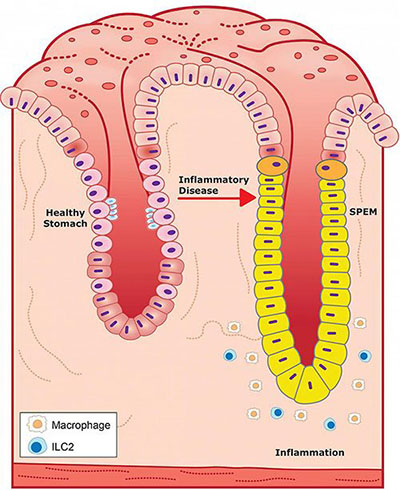 This page was last updated on Friday, January 21, 2022