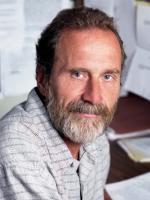 John Cidlowski, Ph.D.
Senior Investigator
Signal Transduction Laboratory / Molecular Endocrinology Group
NIEHS
Research Topics
The Molecular Endocrinology Group is comprised of 12 researchers with approximately half of the scientist focusing their efforts on glucocorticoids receptor signaling and half on apoptosis and the immune system.
The goal of our research is to elucidate how cells and tissues respond to both environmental and physiological stressors. Insights into stress signaling pathways can aid in the understanding of complex human disease processes and improve disease therapy. We focus our research efforts on the actions of glucocorticoids, a primary stress response hormone released from the adrenal gland following the activation of the stress responses.
A second focus of our research group has been to understand actions of glucocorticoids on apoptosis in the immune system and specifically their role in T-lymphoid cell apoptosis. Apoptosis, or programmed cell death, has now been associated with more than 50 human diseases including cancer, AIDS and Alzheimer's disease. Apoptosis has a strong environmental component which reflects its activation by a variety of environmental contaminants including herbicides, arsenic, TCDD, PAHs, cadmium, asbestos and diesel combustion particles. We seek to understand the molecular mechanisms that cells employ to activate and/or inhibit apoptosis with specific emphasis on defining how the function of ion channels and volume regulatory processes impinge on cell life/death decisions. In addition, recent discoveries have shown a remarkable stimulatory action of glucocorticoids on components of innate immunity and unprecedented synergy with proinflammatory signaling molecules. These are both unique areas of research that we defined.
Biography
John A. Cidlowski, Ph.D., heads the Molecular Endocrinology Group within the Laboratory of Signal Transduction (LST), and is Chief of the LST. He received his Ph.D. in 1975 from Medical College of Georgia in Endocrinology. He has published over 300 peer-reviewed articles in leading biomedical journals, as well as several book chapters. He served as Professor of Physiology and Biochemistry at University of North Carolina at Chapel Hill before joining the NIEHS in 1995.
Related Scientific Focus Areas
This page was last updated on Wednesday, April 10, 2013