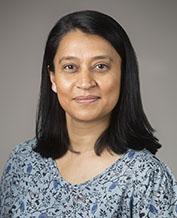 Yogita Chudasama, Ph.D.
Senior Investigator
Section on Behavioral Neuroscience / Rodent Behavioral Core
NIMH
Research Topics
Dr. Chudasama has had a long standing interest in functional neuroanatomy, and specifically elucidating the brain mechanisms underlying the control of executive function, which are both central to human cognitive behavior and adversely affected in psychiatric disorders. Her laboratory focuses on the cognitive effects of manipulating particular brain circuits, and is at the forefront in state-of-the-art behavioral testing. While her laboratory pursues basic science questions, Dr. Chudasama's work places a strong emphasis on translation to understanding human brain circuits, cognition, and dysfunction observed in mental disorders. Recently, work in her work has extended towards understanding the relationship between executive dysfunction and socioemotional dysregulation. Currently, her lab is actively investigating the network of forebrain and midbrain structures that not only steer complex executive behavior, but also regulates normal social development. To this end, Dr. Chudasama's laboratory implements a range of methodologies including behavior, neuroanatomy and psychopharmacology, as well as viral and molecular genetics to provide us with a unique perspective on the detailed circuits that support executive behaviors that often go awry in human patients suffering from poor control over their decisions, memories, and actions.
Biography
Yogita Chudasama is Chief of the Section on Behavioral Neuroscience, and Director of the Rodent Behavioral Core. Dr. Chudasama received her B.Sc (Hons) in Applied Psychology in 1991 and her Ph.D in 1995, both from Cardiff University, Wales, UK. Her Ph.D. was under the mentorship of Dr. Janice Muir where she studied prefrontal and thalamic contributions to learning, memory and attention. Her first postdoctoral fellowship (1998-2002) was in the Department of Experimental Psychology, University of Cambridge UK, with Prof. Trevor Robbins investigating psychopharmacological mechanisms of prefrontal cognitive function. Her second postdoctoral fellowship (2003-2006) was in the Laboratory of Neuropsychology at NIMH with Dr. Elisabeth Murray examining the emotional and cognitive contributions of the prefrontal cortex and temporal lobe. She was then recruited by McGill University in Montreal, Canada, and joined the faculty in the Psychology Department (2007-2015) where she established the Laboratory of Brain and Behavior. In Nov 2015, Dr. Chudasama joined the faculty in the Intramural Research Program (IRP) at the National Institute of Mental Health.
Related Scientific Focus Areas
This page was last updated on Monday, July 31, 2023