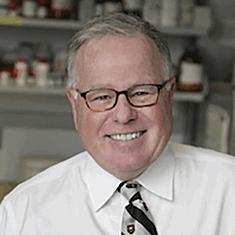 William Douglas Figg Sr., Pharm.D.
Senior Investigator
Genitourinary Malignancies Branch
NCI/CCR
Building 10, Room 5A01 Bethesda, MD 20892-1906
240-760-6179
Research Topics
Research Focus - Pharmacology and Experimental Therapeutics
A successful drug development program requires a complete understanding of the pharmacology of the agents being evaluated.
Molecular Pharmacology Section
The Molecular Pharmacology Section (MPS) has, as its primary focus, understanding the pharmacology of new anticancer agents using prostate cancer as the target disease and angiogenesis as the target pathway. Research within the Section is focused on 4 major areas:
development of anti-angiogenic agents,
understanding the androgen regulatory pathway in prostate cancer,
assessment of pharmacogenetic/pharmacodynamic biomarkers, and
developing new treatments for castration-resistant prostate cancer (CRPC).
Our laboratory has developed preclinical angiogenesis models (e.g., rat aorta, human saphenous vein) and high-throughput screening assays to identify potential angiogenesis inhibitors and characterize their molecular pharmacology. We have a strong interest in developing targeted therapies against CRPC with a particular emphasis on the rational design and development of small molecule inhibitors of angiogenesis and of protein-protein interactions that have therapeutic potential for cancer therapy.
The MPS has embarked upon an evaluation of several anticancer agents that appeared to inhibit tumor growth through novel mechanisms. Currently, in collaboration with several pharmaceutical/biotechnology companies, we are screening for compounds that inhibit angiogenesis. We are also designing new agents to hit key targets in this pathway. Using in vitro models optimized in our laboratory, we have identified several potential agents and are currently proceeding with preclinical testing that involves extensive dose-finding studies in the SCID model, and mouse efficacy studies using PC3 and LNCaP prostate cancer xenografts as well as in mouse models of prostate cancer metastases. We have conducted phase I or phase II clinical trials of these agents in patients with prostate cancer.
For the past 15 years, we have been studying thalidomide and its analogs, both in the laboratory and the clinic, with encouraging results using rational therapeutic design. The antiangiogenic properties of thalidomide reported by D'Amato and colleagues prompted its clinical evaluation in various solid tumors, including prostate cancer. Our laboratory subsequently determined that a metabolite of thalidomide was responsible for its antiangiogenic acitivity. The development of novel thalidomide analogs with better activity/toxicity profiles has been one of our ongoing research efforts, and in collaboration with several academic universities, we have synthesized more than 187 thalidomide analogs and have screened them for activity as angiogenesis inhibitors. Based on the chemical structure of thalidomide, we synthesized several additional analogs including the N-substituted and tetrafluorinated thalidomide analogues as well as the glutarimide-derived metabolite of thalidomide, 5'-hydroxythalidomide. We have identified several extremely potent compounds in 4 different model systems and are moving those forward through clinical testing. We have also clinically evaluated thalidomide and lenalidomide as single agents and in treatment combinations with chemotherapy and other antiangiogenic agents in patients with CRPC.
We have integrated pharmacogenetics research in our drug development efforts by studying how germline genetic variants can alter pharmacokinetics, response, and toxicity of various anticancer agents, thereby contributing to inter-individual variation in clinical outcomes in therapies with an already narrow therapeutic window. We have established a molecular link between these polymorphisms and their phenotype as it relates to drug treatment. Our research has focused on genetic variations in drug metabolism and transporting candidate genes. We have characterized genetic polymorphisms that regulate androgens to better understand the associations between important androgen regulatory gene variants and prostate cancer progression.
Additionally, we have evaluated the impact of selected genetic polymorphisms in the androgen regulatory pathway on clinical outcomes in patients with prostate cancer. Several studies on the pharmacogenetics of membrane transporters, including adenosine triphosphate-binding cassette (ABC) transporters and organic anion transporting polypeptide (OATP) transporters, have linked transporter genotypes with clinical outcomes. Specifically, my laboratory has been studying OATP1B3, encoded by the SLCO1B3 gene, and its involvement in steroid hormone transport. We characterized its role in prostate cancer and the molecular mechanisms controlling its expression for future drug discovery efforts. We determined that the common SLCO1B3 334GG/699AA haplotype is associated with impaired testosterone transport and improved survival in patients with prostate cancer. Our findings further demonstrated that the specific polymorphism (334T>G) in SLCO1B3 increases testosterone import and is associated with a shorter time to androgen independence in patients with prostate cancer who are treated with androgen deprivation therapy (ADT). We are therefore interested in examining whether germline polymorphisms in other androgen regulatory pathways have the potential to be useful for prognosticating the response to ADT, designing clinical trials for patients who have poor germline prognostic features, and designing novel therapies targeted against genes that influence the response to ADT.
Clinical Pharmacology Program
The mission of the Clinical Pharmacology Program (CPP) within the Office of the Clinical Director, CCR, is to fully characterize the clinical pharmacology of new anticancer agents entering the CCR clinics. Today, the CPP is the only group available for clinical pharmacology collaboration. This program is divided into 5 cores: 1) Blood Processing, 2) Bioanalytical, 3) Preclinical Pharmacokinetics, 4) Pharmacometrics, and 5) Pharmacogenetics. Dr. Figg has headed the CPP for the past 22 years.
The CPP is directly responsible for the pharmacokinetic (PK) analysis of numerous Phase I and II clinical trials conducted within the NCI. In addition, the CPP provides direct PK support for many studies performed elsewhere in the extramural community. The program provides bioanalytical support (LC-MS) and pharmacokinetic-pharmacodynamic (PK/PD) modeling and simulation of investigational agents or combination therapies to predict exposure-response in future trials (Pharmacometrics Core). The CPP can also assist with determining protein binding, drug-drug interactions, concentration-effect analysis, drug metabolism and routes of elimination for new anticancer agents.
The Blood Processing Core (BPC) can assist investigators within the NIH Clinical Center in the collection and processing of biological specimens (biological fluids). All samples will be processed according to the clinical protocol, bar-coded, and then entered into a database for sample handling and storage purposes. The BPC handles the shipment of samples to intramural or extramural laboratories.
The Preclinical Pharmacokinetics Core is open to collaboration for new anticancer agents that are being introduced into preclinical models and can develop bioanalytical assays to quantitate and characterize preclinical drug metabolism and pharmacokinetics in preclinical models.
The Pharmacogenetics Core is responsible for correlating outcome observations (side effects, efficacy, survival, and/or PK results) with genetic variance (mutations or somatic) to identify key genetic determinants and biomarkers that predict response to specific treatments.
Biography
Dr. Figg received his B.S. (Hon) in Biology from Georgetown College, his B.S. in Pharmacy from Samford University and his doctorate in pharmacy (Pharm.D.) from Auburn University. He also has a dual MBA degree from Columbia University and London Business School. Following his clinical internship at the University of Alabama at Birmingham and his fellowship training at the University of North Carolina at Chapel Hill, he joined the Clinical Pharmacology Branch of the NCI in 1992. Dr. Figg became Head of the Molecular and Clinical Pharmacology Section the following year. The section is now divided into two groups, the Molecular Pharmacology Section within the Genitourinary Malignancy Branch, CCR, NCI and the Clinical Pharmacology Program within the Office of Clinical Director, CCR, NCI. The Clinical Pharmacology Program has five unique cores: the Blood Processing Core, Bioanalytical Core, Preclinical Pharmacokinetics Core, Pharmacometrics Core and Pharmacogenetics Core. Dr. Figg has focused his research on utilizing pharmacological principles in anticancer drug development and evaluating novel agents in the treatment of cancer. Dr. Figg serves as Deputy of the Genitourinary Malignancy Branch and on several committees within the NCI: Chair of the GMB Scientific Review Committee, the Medical Oncology Fellowship Steering Committee, the Drug Development Collaborative Committee, the Technology Review Group, the NExT Committee, the NIHCC Pharmacogenetics Committee, and chairs the steering committee of the Molecular Target Laboratory. He is on the editorial board of 19 peer-reviewed scientific journals (e.g., Clinical Cancer Research, Cancer Biology & Therapy, Clinical Pharmacology and Therapeutics, The Oncologist, Cancer Chemotherapy and Pharmacology, Molecular Cancer Therapeutics, and Pharmacotherapy). He has been licensed to practice pharmacy since 1988 (Virginia and Tennessee) and in 1991 he became board certified in Pharmacotherapy. He holds adjunct appointments at four schools of pharmacy - Samford University, Virginia Commonwealth University, University of Michigan, University of Florida, University of Arizona and the University of Maryland. Dr. Figg is also an Adjunct Professor at Columbia University's College of Physicians and Surgeons, Department of Internal Medicine, Division of Oncology. He has trained Ph.D. graduate students in collaboration with mentors from Oxford University, Cambridge University, University of Pittsburgh, University of Maryland, George Washington University and the University of Aberdeen. Dr. Figg is a fellow in the American College of Clinical Pharmacy and a fellow in the American College of Clinical Pharmacology. He was named the Allen J. Brands Clinical Pharmacist of the Year in 2001, the Association of Military Surgeons of the United States in 2003 gave him the Clinical Pharmacist of the Year award, and he received the 2005 Leon Goldberg Young Investigator Award from the American Society of Clinical Pharmacology and Therapeutics. In addition, he received the 2008 Russell R. Miller Award from the American College of Clinical Pharmacy and the 2008 ASHP Award for Sustained Contribution to the Scientific Literature. In 2009 he received the AMSUS Andrew Craigie Award for Outstanding Advancement of the Profession of Pharmacy. In 2011 he gave the Philip C. and Ethel F. Ashby Lecture at the University of Oklahoma and 2005 the Keynote Lecture at the World Pharmacy Congress. Within the NIH he has received several Technology Transfer Awards, Merit Awards, Director Awards and in 2008 received the NCI Outstanding Mentor Award. Dr. Figg has over 550 peer-reviewed publications, has patented over 80 novel anticancer agents and devices and given over 150 invited scientific presentations/lectures throughout the world.
Related Scientific Focus Areas
---
This page was last updated on July 7th, 2021