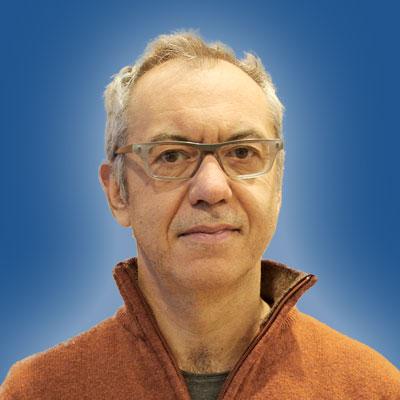 Vittorio Sartorelli, M.D.
Senior Investigator
Laboratory of Muscle Stem Cells and Gene Regulation
NIAMS
Building 50, Room 1351
50 South Drive
Bethesda, MD 20814
301-435-8145
Research Topics
We study the cellular and molecular mechanisms subtending specification, differentiation, and regeneration of skeletal muscle cells. We pursue these studies by combining cellular and molecular biological approaches, genomic and proteomic-based systems-biology, bioinformatics, and animal models.
Specific areas of interest include:
Transcriptional Regulation of Skeletal Muscle Differentiation
Biochemical and molecular characterization of individual transcription factors, chromatin regulators, and epigenetic marks during skeletal muscle specification and development. Genetic manipulation of the individual components is obtained by whole-body and conditional gene ablation in developing embryos and adult mice.
Regulatory Circuitry in Skeletal Muscle Cells
Integration of signaling pathways and logics of transcription factors and chromatin regulators. General operating principles and gene network modeling are developed based on genome-wide experimental data.
Regeneration of Adult Skeletal Muscle
Following injury, skeletal muscle vigorously regenerates. The cellular and molecular mechanisms underlying regeneration are investigated in animals in which individual genetic components have been ablated by homologous recombination.
Metabolic Role of Skeletal Muscle
Skeletal muscle is responsible for insulin-mediated glucose uptake. The role of skeletal muscle in mediating the metabolic effects of hypercaloric diet and calorie-restriction is investigated.
Objectives: The ultimate goal of our studies is to provide a conceptual and practical framework contributing to the diagnosis and treatment of human diseases affecting skeletal muscles.
Biography
Dr. Sartorelli obtained his degree in Medicine from the University of Brescia, Italy and did a Residency in Oncology at the University of Milan, Italy. He joined the Genetics Department and the Department of Medicine of the Stanford University for his postdoctoral education.
In 1990, Dr.Sartorelli was appointed Assistant Professor in the Department of Chemistry at the University of Brescia, School of Medicine. In 1993, he joined the Department of Biochemistry and Molecular Biology of the Keck School of Medicine, University of Southern California as an Assistant Professor and was recruited in 1999 at the National Institutes of Health to head the Muscle Gene Expression Group within the Laboratory of Muscle Biology of the Intramural Program at the National Institute of Arthritis and Musculoskeletal and Skin Diseases.
Related Scientific Focus Areas

---
This page was last updated on July 31st, 2018