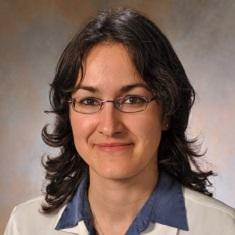 Vassiliki Saloura, M.D., Ph.D.
Stadtman Investigator
Thoracic and GI Malignancies Branch
NCI/CCR
Research Topics
Every organism's DNA carries genetic instructions for development, function, growth, and reproduction. This vital information is packaged into chromatin with the help of histone and non-histone proteins, which provide structure to the DNA. Modifications to these proteins occur by a class of approximately 100 enzymes called protein methyltransferases (PMTs) and demethylases (PDMTs). It was recently reported that these enzymes are mutated, amplified and overexpressed in a significant proportion of cancers, including squamous cell carcinoma of the head and neck (SCCHN).
PMTs and PDMTs mediate protein methylation, a process that turns genes "on" and "off" by using the histones and non-histone proteins to change chromatin shape and conformation. Dr. Saloura's laboratory studies this methylation process and how it can influence oncogenesis, therapy resistance and immunogenicity in squamous cell carcinoma of the aerodigestive (respiratory and upper digestive) tract, with a special focus in SCCHN. Their goals are to develop a research program focused on histone and non-histone protein methylation and to perform clinical trial testing of novel targeted PMT and PDMT inhibitors for head and neck cancer patients.
To achieve these goals, research efforts concentrate on two main inter-related projects:
Project 1: Elucidation of the oncogenic function of specific PMTs/PDMTs in SCCHN. We plan to elucidate the function of frequently amplified and/or overexpressed PMTs/PDMTs in SCCHN, including NSD3/WHSC1L1, SUV420H1/KMT5B and SMYD3, and to evaluate these as novel drug targets. This project will entail:
Experiments aiming to assess the oncogenic function of these enzymes by identifying their downstream genes, methylation substrates and interacting proteins.
Evaluation of the enzymes' prognostic significance in SCCHN patients.
High-throughput molecular biology techniques, such as ChIP-Seq and RNA-Seq in cell lines and cancer tissue samples, cytotoxicity assays, the development of doxycycline-inducible stably transformed SCCHN cell lines for knockdown and overexpression systems, mass spectrometry analysis, in-vitro methyltransferase assays, in-vivo mouse modeling and immunohistochemical (IHC) correlations using surgical specimens with clinical outcome of patients with SCCHN.
Project 2: The role of PMTs/PDMTs as immune modulators in SCCHN. The overall aim of this project is to understand the mechanisms through which PMTs/PDMTs affect immune cell infiltration and antigen presentation in SCCHN. The main objectives are the following:
To identify PMTs/PDMTs that epigenetically silence the expression of chemokines in SCCHN, leading to decreased T-cell infiltration.
To identify PMTs/PDMTs that epigenetically influence the expression of HLA-I molecules, antigen-presenting machinery (APM) components, and neoantigens in SCCHN.
To identify PMTs that directly methylate HLA-I molecules and/or APM components in SCCHN and to determine the phenotypic effect of methylation on the function of these potential substrates.
Relevant experiments will include a combination of in-vitro and in-vivo experiments, such as ChIP assays, ChIP-Seq, assays to measure migration to chemokines in vitro, IFN-ELISA ELISPOT assays to evaluate the induction of activated T-cell responses to upregulated neoantigens, and in-vivo mouse modeling.
Biography
Dr. Saloura received her M.D. at the University of Athens. She completed her internal medicine residency training at Hahnemann University Hospital/Drexel University College of Medicine and her Hematology/Oncology Fellowship at the University of Chicago. She did her postdoctoral training in the laboratory of Yusuke Nakamura at the University of Chicago before joining the faculty as an instructor in 2014. In 2017, she joined the Thoracic and Gastrointestinal Malignancies Branch at the Center for Cancer Research as an Assistant Clinical Investigator and became a Stadtman Investigator in 2022.
Related Scientific Focus Areas
This page was last updated on Friday, October 20, 2023