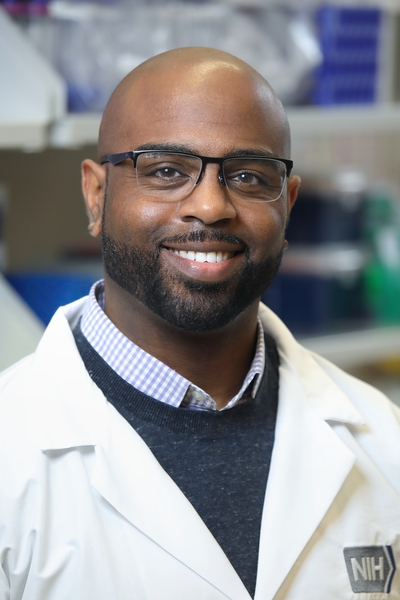 Troy A. McEachron, Ph.D.
Investigator
Pediatric Oncology Branch
NCI/CCR
Building 10, Room 1-3940
Bethesda, MD 20892
301.496.4357
Research Topics
Osteosarcoma is a heterogeneous and genomically complex disease in which the cancer cells are hallmarked by numerous chromosomal structural events such as translocations, copy number alterations, and chromothripsis. Advances in osteosarcoma treatment regimens have not significantly changed in over 30 years, nor have outcomes. Currently, the overall survival rate is approximately 70% for patients with non-metastatic osteosarcoma and 30% for those with metastatic disease.
While the genomic complexity of osteosarcoma has been well documented, the means by which the osteosarcoma microenvironment supports the progression of this disease remains elusive. My laboratory employs an integrated multiparametric approach to better understand the dynamic relationships between osteosarcoma cells and their microenvironment in both murine models of disease and patient specimens. We are specifically interested in the following:
(1) Revealing the immunomodulatory effects of specific genomic alterations and the mechanisms by which these alterations function to promote immune escape.
(2) Identifying actionable targets that increase the efficacy of immune checkpoint inhibition and adoptive cell therapies in metastatic osteosarcoma to serve as the basis for combination immunotherapy.
(3) The multi-omic analysis of clinically annotated pediatric sarcoma specimens to better define the microenvironmental and immuno-oncology landscape of different pediatric sarcomas to enable more precise treatment strategies for patients with metastatic and/or refractory disease.
Given the highly translational nature of the Pediatric Oncology Branch, our overall goal is to use the data from these investigations as the rationale for further clinical investigations.
Biography
Dr. McEachron earned his doctorate in Molecular and Cellular Pathology from the University of North Carolina at Chapel Hill in 2011. He completed postdoctoral fellowships at St. Jude Children's Research Hospital and at the Translational Genomics Research Institute. In 2016, Dr. McEachron joined the faculty of the Keck School of Medicine at the University of Southern California as an Assistant Professor in the Department of Translational Genomics (primary appointment) and the Department of Pediatrics (secondary appointment). Dr. McEachron joined the Pediatric Oncology Branch in 2021.
Dr. McEachron has been the recipient of various fellowships and awards including the Minority Access to Research Careers Fellowship, the AACR Minority Scholar in Cancer Research Award, the Ruth L. Kirschstein National Research Service Award Predoctoral Fellowship, the UNCF/Merck Postdoctoral Science Research Fellowship, the AACR Minority and Minority-serving Institution Faculty Scholar in Cancer Research Award, and the ThermoFisher Scientific Cancer Research Award. Dr. McEachron has also received grant funding from the NCI, the Concern Foundation, STOP Cancer, and the American Cancer Society.
Related Scientific Focus Areas
---
This page was last updated on January 25th, 2021